Rich Rodriguez: Michigan football team's kicking job open
Posted on Mon, Sep 13, 2010 : 3:48 p.m.
Clinging to a 27-24 lead with 27 seconds remaining Saturday, Michigan football coach Rich Rodriguez wasn't taking any chances.
After watching Brendon Gibbons miss two field-goal attempts wide right earlier in the game, he sent Seth Broekhuizen in to kick the extra point for the Michigan football team.
Broekhuizen's successful point-after gave the Wolverines a four-point lead and took the option of a potential game-tying field goal away from Notre Dame.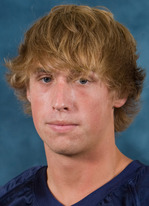 "That was a pretty critical extra point to put us up four," Rodriguez said Monday.
As he has been since the preseason, Rodriguez remains concerned with the team's kicking game. Gibbons is 1-of-4 on field-goal attempts, and had an extra point blocked in Michigan's season opener versus UConn.
Right now, Rodriguez is not sure who will kick against UMass on Saturday.
"It's going to be an open competition all week," he said. "I could not tell you today who's going to be the starting kicker on Saturday."
Broekhuizen, a redshirt freshman from Holland, isn't Michigan's only alternate. Michigan soccer player Justin Meram spent the summer kicking with the Wolverines, and now splits his time between the soccer and football fields.
"He's doing a lot of soccer, so he's not been over as much for us to get a better evaluation of him, but he's still got a chance," Rodriguez said. "That's what is probably holding him back a little bit. But he's a great soccer player, so we understand that."