Posted on
Wed, Jun 22, 2011 : 11:58 a.m.
Rich Rodriguez on his Michigan program: 'I thought we were on our way'
By AnnArbor.com Staff
How good would the Michigan football program have been in 2011 if Rich Rodriguez were still the coach?
A Big Ten title contender, says Rich Rodriguez.
In a Q&A session with Rivals.com college football writer Tom Dienhart, Rodriguez says the pieces were in place: key players on offense, an "entrenched" system, a kicking game addressed in recruiting and young players on defense that were going to be "a whole lot better."
"I thought we were on our way," Rodriguez said.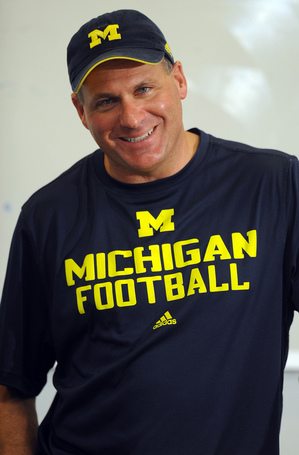 AnnArbor.com file photo
Rodriguez also answers questions about his coaching future, his relationship with West Virginia fans and the trouble at Ohio State. (Read entire interview.)
Some other comments about his time at Michigan:
On what he accomplished at Michigan: "I think we had made some steps offensively and gotten some things in place, and we had to fix some things on defense. We knew that. A lot of the guys would have been back and had more experience. The young kids who played as freshmen were going to be growing up and getting a whole lot better the next couple of years.
On why the defense struggled: "Everything I say now will sound like an excuse. But there is a difference between excuses and reality, and the reality was we had some misfortune with some injuries at key positions and we were playing a lot of young guys who were forced to play before they were truly ready."
On if he's glad he didn't sign Terrelle Pryor: "I think he would have been a great player in our system. Denard Robinson was a great player in our system. Pryor had an outstanding career at Ohio State on the field. He won a lot of games, did a lot of good things. Some of those other issues, I don't know what all is entailed in that. Did he make some mistakes? He certainly did. Has he learned from them? I'm sure he's trying to put everything behind him and move on."