Posted on
Tue, Jan 4, 2011 : 10:43 p.m.
Opinion: Rich Rodriguez receiving raw deal from Michigan as process drags on
By Pete Bigelow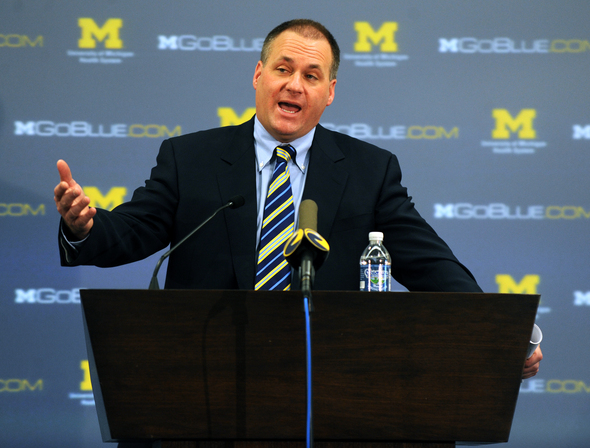 Lon Horwedel | AnnArbor.com
Right now, Rich Rodriguez is getting a raw deal from the University of Michigan.
Forget about the football for a minute.
Michigan's football coach - yes, the school still employed one as of Tuesday night - has been left hanging for far too long. An answer is long past due at this point.
On Tuesday, Rodriguez met with athletic director Dave Brandon for several hours in the afternoon. No answer came forth, no puff of white smoke rose above Schembechler Hall.
At this point, what's Brandon waiting for?
He said after the Ohio State game he'd deliver his evaluation of the program following the Gator Bowl. It's been three days. It can't be that, at this late juncture, Michigan's athletic director is unsure of his direction.
Michigan is looking awfully small right now. No matter which way this goes, Rodriguez has been damaged.
If he's going to be fired, the wait has undermined his ability to find a new job elsewhere. If he's interested in the Pitt job, his window of opportunity is rapidly closing.
It's ultimately Brandon's job to protect Michigan's future and not Rodriguez's, but at the same time, there's no reason to needlessly kick a man when he's down and almost out.
If Rodriguez is gone, it's needlessly dragged out an agonizing process for coaches and their families.
But if Rodriguez is staying put, this gets far more complicated.
Recruits have been lost from the 2011 class. Maybe Rodriguez can pull off some sort of miraculous eleventh-hour salvage job, but if he's been returning all along, why put him in that position in the first place?
But this isn't just about the 2011 class. It's about his ability to walk into a recruit's home for the next three years and say with a straight face that he'll still be coaching at Michigan.
It's about his ability to tell prospective assistant coaches that they're signing on for more than a one-year stint. It's about his ability to sell stability.
Even if Brandon delivers a contract extension out of this quagmire, Rodriguez's ability to make such promises to future Wolverines, both players and coaches, has been compromised.
Brandon had six weeks since the end of the regular season to formulate his plan. Instead of executing it, this process has been reminiscent of the way Les Miles was treated by Michigan in 2007, left twisting in the wind while Bill Martin holed up on his sailboat.
It's reminiscent, except now it's the coach already employed who has been left in a lurch waiting for an answer. Maybe Brandon has some master plan. Maybe Jim Harbaugh, contrary to published reports, is actually preparing to arrive in Ann Arbor. But the end game, right now, is irrelevant. This isn't about who may or may not coach Michigan.
This is about treating people right.
Maybe others are noticing how this has turned messy. Maybe that's what Baltimore Ravens coach John Harbaugh referred to Tuesday when, speaking about his brother, he said, "I think the Michigan thing is done now. I don't think he's going to have anything to do with that."
He doesn't want "anything to do with that."
Ouch. Sounds like he's afraid of getting cooties just by lingering too long in the vicinity of the Michigan job.
As a certified master marketing genius, Brandon should know this never-ending process is hurting the Michigan brand. Rich Rodriguez has been on hold for six weeks.
He deserves the courtesy of an answer.
And Michigan needs a coach, not another soap opera.
Pete Bigelow covers the Michigan football team for AnnArbor.com. He can be reached at (734) 623-2551, via e-mail at petebigelow@annarbor.com and followed on Twitter @PeterCBigelow.