Posted on
Fri, May 28, 2010 : 3:55 p.m.
Rich Rodriguez talks football - yes, football - and his brush with Obama
By Dave Birkett
MIDLAND - With the bulk of the work in the NCAA case against him and his football program done, Michigan coach Rich Rodriguez can spend the next two months focusing on football.
Rodriguez was happy to get back to that topic during his appearance at the Michigan sports editors meeting earlier this week in Midland.
He answered questions about the spread offense, Greg Robinson's 3-3-5 defense and recruiting, and reiterated for the umpteenth time that he sees no end in sight to the quarterback battle between Tate Forcier and Denard Robinson.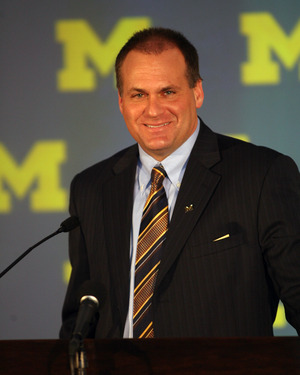 Ann Arbor News file photo
"Some coaches, they like to have one guy, a clear-cut guy," Rodriguez said. "I like to have two guys that are clear-cut guys and that way if one guy gets hurt you always have another guy.
"But that being said, I don't know right now who the starter is. And I'm not saying it for sensationalism or anything."
Forcier started every game last year as a true freshman, but he and his classmate Robinson split first-team reps during spring practice.
A run-only threat last year, Robinson looked more comfortable in passing situations during limited public consumption this off-season. He played with Michigan's first-team offense against the Wolverines' second-team defense in the spring game, and he wowed teammates with his remarkable athletic ability in practice.
Rodriguez cautioned that both quarterbacks are young and bound to experience more growing pains - "I don't know if they're shaving yet but they're getting close to seeing some stubble," he said - but he expects a fierce competition come August.
"I'll find out probably the first couple weeks in training camp if one guy has taken charge of it or not," Rodriguez said. "If it happens that way, it happens that way. If not, it may not be sorted out until the first couple games, if then. But I better have at least two guys I feel comfortable we can win with, and I do think we'll have two.
"(True freshman Devin Gardner is) going to be in the mix as well because he's a competitive guy, and even though he's a true freshman, he'll challenge them a little bit. But clearly Tate and Denard, because of the fact they were here last year and have some experience, have an edge right now. But it's going to be a fun race."
More Rodriguez: • On going to a 3-3-5 defense: "The reality is Coach Robinson has run a lot of 3-4 and 3-3-5 stuff in his past and did some last year, even though people didn't recognize it as much. And all we did in the spring was actually simplify things so there's not a lot of big differences between what we did at times last year and what we did this spring. … It's not what we ran at West Virginia, which when we left it was pure 3-3-5 and that was the deal and that's what they grew up in. This was combining some things we did last year and simplifying some things so our young guys would be ready."
• On having Robinson back for a second year as defensive coordinator: "I think that'll help from a standpoint that he knows our guys and the rest of the guys have been with us a couple years so they know our guys. … He knows exactly the pieces we have on defense. Offensively, we know what we have. And that's the thing that stability gives you more than anything else, it gives you the ability to know how to fix your problems and what you got to go forward with."
• On recruiting: Rodriguez said coaches met last week to pare down their list from 150 or so targets to around 70 prospects. Michigan has four verbal commitments and expects to sign a class of 15 or 16 this winter.
• On expansion: "I am not saying this on any knowledge other than my own projection that I think we're going to do something as a league, and the timing is probably right But I don't know that for sure. I don't think we'd add anybody to our league that wouldn't bring value
• Finally, Rodriguez was asked what he misses about coaching small-college football the most. He talked about how tight some of his teams at Glenville State were and said he vowed then, "if I ever go coach at a big school I want to take the same approach."
"I think we had the same kind of relationships when I coached at West Virginia and I think we're developing the same kind of relationships here at Michigan," Rodriguez said. "Winning games and having some championships and all that's fun, but it's the relationships (that matter most). When a kid calls you 10 years after the fact and tells you what he's doing and has a wife and two kids or what have you, it's pretty neat.
"When President Obama came to speak (at Michigan's commencement last month) I get a phone call from a young man that was a receiver for me at Clemson. He said, 'Coach, I'm on President Obama's secret-service staff. I'm helping protect him, just didn't know if you were going to be in the office, I'll come by and see you.' And I hadn't heard from him this guy in 10 years. I said, 'How long you been there?' He said, 'I've been on the job about six months.' I said, 'Where are you staying?' He said, 'I can't tell you that.'"
Dave Birkett covers University of Michigan football for AnnArbor.com. He can be reached by phone at 734-623-2552 or by e-mail at davidbirkett@annarbor.com. Follow him on Twitter @davebirkett.