Rich Rodriguez: Tate Forcier's future with Michigan football team 'undetermined'
Posted on Fri, Dec 31, 2010 : 12:15 p.m.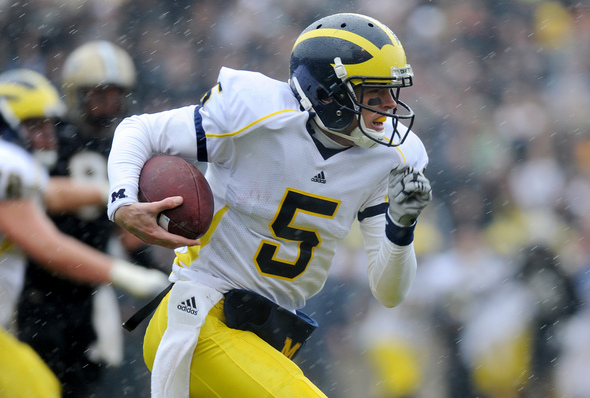 JACKSONVILLE, Fla. - Tate Forcier's future with the Michigan football team is unknown.
One day after Michigan officials announced their backup quarterback was ineligible for the Gator Bowl, coach Rich Rodriguez said Friday he didn't know whether Forcier would return.
"His status with the school is as a student, first and foremost," Rodriguez said. "That's undetermined at this point."
Rodriguez said he did not learn of Forcier's academic status until Thursday. Forcier, a true sophomore, flew back to Detroit shortly thereafter Thursday night.
He appeared in eight games this season for the Wolverines, completing 54 of 84 passes for 597 yards, throwing four TDs and four interceptions. Last year, he started all 12 games as a true freshman.
True freshman Devin Gardner will serve as Denard Robinson's backup in Saturday's bowl game against Mississippi State (1:30 p.m., ESPN2).
Michigan intends to pursue a medical redshirt for Gardner, who played in three games early in the year but suffered through a lower-back injury over the second half of the season.
But if Gardner plays Saturday, he'd be ineligible to seek such a ruling from the NCAA. "Our plan is to have Denard play every snap on offense," said Rodriguez, well aware that game action would end Gardner's hopes of winning back a fourth year of eligibility.
Rodriguez said that Gardner's injury was no longer a concern.
"He was banged up quite a bit the last half of the year," Rodriguez said, "but he's feeling as good as he's felt in a long time. Hopefully Denard will stay healthy. If not, Devin is ready to go."