Posted on
Thu, Jan 6, 2011 : 8 a.m.
Rich Rodriguez's firing leaves Denard Robinson in tenuous spot at Michigan
By Pete Bigelow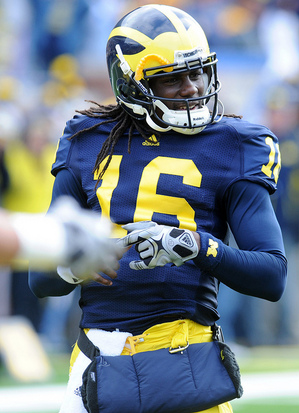 Melanie Maxwell I AnnArbor.com
Should he return to the University of Michigan, Denard Robinson will be an early frontrunner for the Heisman Trophy in the 2011 college football season.
Should he transfer in the wake of Rich Rodriguez's firing, the dynamic quarterback will spend the season on the sidelines, per NCAA transfer rules.
Those are his choices.
"He's got a hard decision to make, one way or the other," said Art Taylor, his coach from Deerfield Beach High School. Robinson, a true sophomore, was the cornerstone of the Michigan football team's offense in 2010, and so much more.
Seemingly out of nowhere, he won the starting quarterback job in training camp, became a Heisman Trophy candidate in his second game and rewrote the NCAA record book by the end of the season.
He ranked third in the country with 1,605 rushing yards and 14 rushing touchdowns, Michigan's most dynamic threat in a decade.
But that success emerged from Rodriguez's particular version of the spread offense - not to mention Robinson has been steadfastly loyal to a coach who believed in his quarterbacking skills when others didn't.
Taylor lamented the possibility that Robinson's talents could be squandered in a system not tailored to his strengths.
"There's no doubt in my mind he would have been a Heisman Trophy finalist in 2011," Taylor said. "That offense he was in was really made for him. It's not that he couldn't do a drop-back, but then you are taking a great weapon away ¬- his legs."
Asked following the Gator Bowl whether he'd stay at Michigan if Rodriguez was fired, Robinson said, "No response." He could not be reached for comment Wednesday.
During his press conference Wednesday, Michigan athletic director Dave Brandon acknowledged that coaching changes bring risk of attrition. Ultimately, he said he cannot hire a coach based on possible consequences.
But by the same token, Brandon said he'd seek a coach who could modify his schemes for the strength of current players.
"One of the things that I look for is a coach who can modify their approach and their attack based on the personnel that they have," he said. "I think that's an important discussion to have with any candidate. …
"I will be interested to hear from candidates, how do they think about that and how will they try to take advantage of that, as opposed to 'there's only one way to win and this is the way.'"
Taylor was unsure whether that would be enough to sway Robinson.
"'Modify' is a big word," he said. "If a coach doesn't run the spread, I don't know. A coach is going to run what he wants to run. It sounded like a lot of mixed thoughts going out there."
Taylor knows first-hand the difficulties a coaching change can cause with players - but also knows they can be overcome. Earlier this year, he took over the Cooper City High School program, which was coming off consecutive 1-9 seasons. In his first year, Taylor led the team to an 8-3 record that included a playoff victory. But in Robinson's case, Taylor thinks his standout pupil is in a tenuous position.
"I think he might wait and see who is going to get in there," he said, "but he's also got to think of his future."
Pete Bigelow covers the Michigan football team for AnnArbor.com. He can be reached at (734) 623-2551, via e-mail at petebigelow@annarbor.com and followed on Twitter @PeterCBigelow.