Posted on
Wed, Dec 8, 2010 : 10:47 a.m.
Rich Rodriguez's first Gator Bowl, Will Campbell's status at guard and more Michigan football news
By Pete Bigelow
The game took place nearly 30 years ago. The details are still fresh in Rich Rodriguez's mind.
"It's funny how you remember certain things," he said of his first Gator Bowl in 1982. "It was a night game at the time. It was a little chilly. It was my sophomore year."
Rodriguez, a backup tight end for West Virginia, didn't start against Florida State. But he did play on the kickoff team. Right from the start, he knew it wasn't his night.
"It was really wet, and I probably just fell down or tripped in the biggest puddle of mud, and I was soaked from head to toe. I was just drenched."
He froze. Standing on the sideline, he thought about changing into a dry uniform at halftime. Florida State dominated from the start, and West Virginia lost, 31-12.
"Even though it was raining and muddy, we still couldn't stop them," Rodriguez said. "They were that fast."
It was the first of Rodriguez's four Gator Bowl appearances. As coach of the Mountaineers, he lost to Maryland, 41-7, in 2004, lost to Florida State, 30-18, in 2005, and beat Georgia Tech, 38-35, in his final game as coach at West Virginia.
Now he returns to the Gator Bowl as the Michigan football coach as the Wolverines (7-5) face Mississippi State (8-4) on at Jan. 1. (1:30 p.m., ESPN2) David Molk a finalist for Rimington Trophy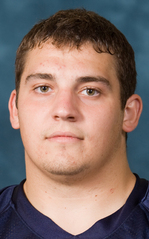 Michigan center David Molk is one of six finalists for the Rimington Trophy, presented annually to the nation's best center.
The other finalists are: Stanford's Chase Beeler, Arizona's Colin Baxter, Ohio State's Mike Brewster, TCU's Jake Kirkpatrick and Auburn's Ryan Pugh. The winner will be announced Thursday night during the ESPNU awards show.
Molk was named to the Big Ten's first team by coaches, and the all-Big Ten second team by media members.
He's the second Michigan player named a finalist for the Rimington award. David Baas shared the award in 2004 with LSU's Ben Wilkerson.
A simple plan Given that the team has four weeks to prepare for the Gator Bowl, it would be easy to assume the Wolverines would use the extra time to assemble a complex, detailed game plan.
They'll actually do the opposite.
"You can maybe try to do too much," Rodriguez said. "I can remember the Sugar Bowl against Georgia, we actually simplified it more than any game all year, because we knew the atmosphere, and we didn't want our guys to think too much."
West Virginia defeated Georgia, 38-35, in the 2006 Sugar Bowl.
"I'll talk with the coaches, and we'll actually try to do less, try to hone in on what we're doing well," he said.
Looking ahead to 2011 Michigan returns 10 of its 11 starters on the offensive side of the ball next year. Left guard Steve Schilling is the unit's only departure.
Ricky Barnum played for a few snaps against Ohio State and has backed up Schilling all season. Barnum, a redshirt sophomore from Lakeland, Fla., is the early frontrunner to replace him. Elliott Mealer is another potential starter. And do not discount Will Campbell, the defensive tackle-turned-guard who has caught the eyes of his teammates.
"He saw huge improvement over the last few weeks," Schilling said. "With these 15 (bowl) practices, he could really challenge for that spot too."
Pete Bigelow covers Michigan football for AnnArbor.com. He can be reached at (734) 623-2556, via email at petebigelow@annarbor.com and followed on Twitter @PeterCBigelow.