Posted on
Mon, Nov 1, 2010 : 5:59 p.m.
Rich Rodriguez's reality check: No wave of magic wand will fix Michigan defense
By Pete Bigelow
The line of questioning started with an innocuous query on what was learned watching film of Saturday's loss to Penn State.
Then it gained steam. Rumors of a staff shakeup? False. The head coach will increase his role with the defensive unit? True. Will inexperience melt away by the end of this season? Unknown.
By the time Rich Rodriguez finished answering -- pretty candidly, too -- the cacophony of questions about the Michigan football team's woebegone defense at Monday's press conference, he couldn't help but chuckle.
"Everybody wants to focus on the negative," he said Monday. "People turn on the TV. A negative story is coming on. The world is coming to an end. There's a bombing. There's something tragic.
"But if it's positive, it doesn't sell. That's why everybody watches reality shows, right?"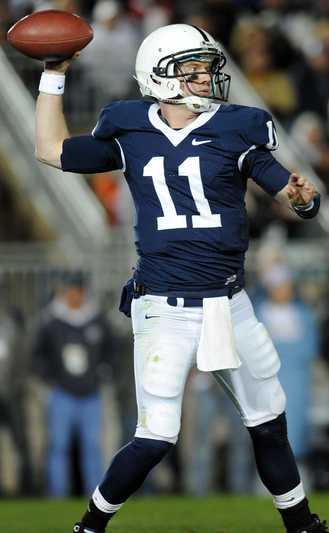 Melanie Maxwell | AnnArbor.com
On the contrary, even Erik Estrada and
The Situation
might be tempted to turn off their televisions when the Wolverines have aired at various times this fall on the Big Ten Network and ESPN.
The Wolverines: the true story of what happens when a team on its third defensive coordinator in four years is forced, by defections and injury, to play six true freshmen in its secondary.
Check for local listings.
It's not only been a reality show, but has given a reality check to anyone who had higher aspirations than a fourth-tier bowl game. In their three-game losing streak, the Wolverines (5-3 overall, 1-3 Big Ten) have surrendered 34, 38 and 41 points, to Michigan State, Iowa and Penn State, respectively.
The defense reached a low point against the Nittany Lions, allowing third-string quarterback Matt McGloin, a former walk-on starting his first career game, to guide the offense to 435 total yards.
Rodriguez said Monday that he can't "wave a magic wand" and fast forward the learning process for the herd of true freshmen in the lineup. He said some of the answers lie in recruiting.
"We've got to get faster and more athletic defensively, that's the first thing," he said. "That was painfully obvious to me watching the film."
But there are improvements he expects to see over the 2010 season's final four weeks.
Third down has been a trouble spot all season. The Wolverines have allowed opponents to convert 44.8 of their third-down attempts and Penn State went 10 of 16 Saturday.
Rodriguez said there's been a lot of focus on the offensive turnovers in recent weeks, but the lack of forced turnovers on defense has been equally vexing.
It's been three-and-a-half games since the Wolverines intercepted a pass (the last one was Cam Gordon's in the second quarter against Indiana).
It's been five-and-a-half games since the Wolverines recovered a fumble (the last one was in the second quarter against UMass).
"We're almost next-to-last in the country or way back there," Rodriguez said of turnovers gained. "Those are big-play, momentum-type things. We need that stat to change."
Turnovers can be caused by players anticipating offensive missteps, Rodriguez said, anticipation that comes with experience. He understands the frustration, but stressed there are no quick fixes, that it will take time for young players to develop.
"If I had that answer right now, wouldn't I have already done it?" he asked.
Pete Bigelow covers Michigan football for AnnArbor.com. He can be reached at (734) 623-2556, via email at petebigelow@annarbor.com and followed on Twitter @PeterCBigelow.