Posted on
Sun, Dec 18, 2011 : 1:15 p.m.
Roundup of coverage from Virginia Tech's Sugar Bowl press conference
By AnnArbor.com Staff
The Virginia Tech football program held a press conference on Saturday and stories from the event are popping up from the numerous media outlets that cover the Hokies.
Here's a roundup of some of those stories in advance of Virginia Tech's Jan. 3 game against Michigan in the Sugar Bowl:
From The Richmond Times-Dispatch
Disrespect motivates Hokies
It seems No. 11 Virginia Tech has spent more time defending its Sugar Bowl selection than celebrating it.

And frankly, the Hokies are a little ticked off about it.

"We're aware of what the national media or whoever else is saying about whether or not we belong in this game and it's disrespectful, it really is, to have the success that we've had in this program since 1993 and to have the wins we've had and things like that to the point where you have to defend yourself for being in a bowl game like that," Tech running backs coach Shane Beamer said.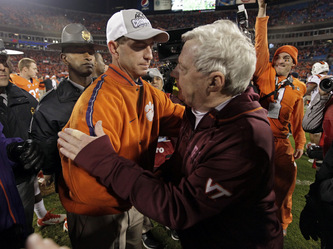 AP Photo
From The Newport News Daily Press
Can Virginia Tech turn ACC title game sting into Sugar Bowl ring?
On the Sunday after Virginia Tech's 38-10 loss to Clemson in the Atlantic Coast Conference championship game, Hokies offensive coordinator Bryan Stinespring had his itinerary for an impending recruiting trip prepared and ready to go.

That was before coach Frank Beamer essentially told Stinespring and his assistant coaches to rip up those plans for recruiting visits. Beamer deemed it more important to remain in Blacksburg for a few days and review film from the game with players.

"We watched the film all day Sunday - a couple of times," Stinespring said.

"We didn't get things done that we needed to get done in that type of game, things that we're accustomed to doing."

While the shock over Tech receiving a bid to play in the Sugar Bowl against No. 13 Michigan (10-2) has worn off for the players and coaches, at least a little of the hangover from the conference championship game loss is still present.

From The Roanoke Times
Given a surprise shot in the BCS, Hokies want to send seniors out on a high note at Sugar Bowl
The sting of a 40-12 loss to Stanford in last year's Orange Bowl was bad enough for Virginia Tech's players without thinking of what it meant for one of the most decorated players in school history.

Quarterback Tyrod Taylor didn't deserve to out like that, and his teammates knew it.

"I still regret last year's game against Stanford because of what Tyrod meant to this program in his four years, all the plays he's made and what he put into this program, this team," senior safety Eddie Whitley said. "It was sad to let them guys go out like that."

Whitley and his teammates hope to send this senior class out on a high note now that they've been given a surprise chance to play in yet another Bowl Championship Series game.

From The Washington Post
Sugar Bowl 2012: Virginia Tech knows it has plenty to prove
Virginia Tech coach Frank Beamer has spent the weeks since the Hokies' surprising at-large berth into the Sugar Bowl talking about how the selection showed Virginia Tech's newfound prestige within the college football world. But on Saturday at the team's bowl media day, the Hokies couldn't escape the annual questions about the program's struggles in big games.

It's well documented at this point that Virginia Tech is 1-19 against top five opponents, but Beamer is also just 8-10 in bowl games. This year's Sugar Bowl will be Virginia Tech's sixth appearance in a Bowl Championship Series game and it has just a 1-4 record during that time. The one win came over Cincinnati in the 2009 Orange Bowl.

Those shortfalls, combined with all the criticism the Hokies have taken in recent weeks about being selected to face Michigan in the Sugar Bowl, seems to be all the ammunition Virginia Tech needs.