Posted on
Thu, Nov 11, 2010 : 9 a.m.
Roy Roundtree remains at the center of renewed Purdue-Michigan football rivalry
By Pete Bigelow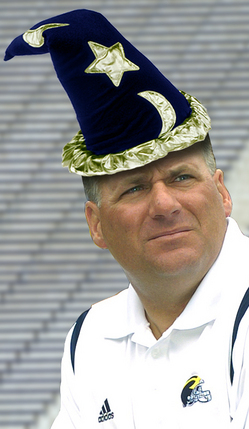 Illustration by Rich Rezler
Choosing a college should have been a simple process for Roy Roundtree.
A standout wide receiver in high school, he set two criteria for selecting a school. He wanted to play in a powerhouse conference, and he wanted to play close to home so his mother, Sheila, could attend his games.
A smattering of smaller schools offered him scholarships, but through that filter, his list narrowed to Nebraska and Purdue. Lincoln sat 746 miles away from his home in Trotwood, Ohio.
By default, Purdue was his choice.
The problem, of course, with such a neat and tidy selection process is that it could not account for one small consideration - Roundtree didn't really like Purdue.
"It was kind of boring to me when I took my visit there," he said. "But I didn't have nowhere else to go. So it was like, 'this is where I'm going to be for the next four or five years."
That changed when Michigan hired Rich Rodriguez.
As West Virginia's coach, Rodriguez showed a lot of interest in the talented receiver from Trotwood-Madison High School. Roundtree liked the coach, but had zero interest in playing in Morgantown. Ann Arbor was a different story. He liked Rodriguez. He liked the town and the school's academic options. Last but not least, his mom was a longtime Michigan fan.
"I couldn't pass up the Big House, man," Roundtree said. One day before national letter of intent signing day, he changed his commitment, unwittingly rekindling a dormant rivalry between Michigan and Purdue, one that continues Saturday at Ross-Ade Stadium (12:01 p.m., Big Ten Network).
Purdue coach Joe Tiller had spent more than a year wooing Roundtree, a perfect fit for his spread offense. Livid at the last-minute switch, he fired a verbal salvo that still has legs nearly three years later. "If we had an early-signing date, you wouldn't have another outfit with a guy in a wizard hat selling snake oil get a guy at the last minute, but that's what happened," Tiller said.
With one catchy quote, Roundtree's simple college selection process morphed into one of the more compelling stories in the history of a rivalry that began in 1890.
Two hats on signing day The comment took Roundtree by surprise.
Not so much the well-known part, the words that painted his new coach as a nefarious dealer of exaggerated promises, but the second part that often gets clipped in the sound byte.
"It makes you wonder about the guy, the people surrounding him, the people in that building who would let that happen," Tiller said. "I can say this: We won't go back in that building again."
That building: Trotwood-Madison High School.
Initially, Roundtree worried about the prospect of the Boilermakers spurning kids that followed him. In time, he couldn't be accountable for whatever vengeance Purdue leveled.
"Coach Tiller, he came at me hard and felt like I disappointed him," Roundtree said. "But I had to plan for my future and where I wanted to spend those years."
Today, he just shakes his head at the thought of the recruiting process.
Months of monotony followed by one week of indecision - that's how it played out. Roundtree did not take an official visit to Michigan until the week before signing day.
"It was a big decision, and we wanted him to make that decision," his mom, Sheila, said. "He knew his mom was a Michigan fan, but I had to keep my mouth closed. This was about what was best for him." By the time he walked into Trotwood-Madison High School that February morning, he knew.
Wearing a Purdue tie into a ceremony to announce his decision, Roundtree curiously brought two hats to a podium.
Only one of his closest friends, fellow Trotwood and Michigan teammate Brandon Moore, knew what would transpire. The night before, Roundtree called him with a favor to ask.
"I was like, 'Brandon, you got an extra hat?' And he was like, 'For what?' And I told him, I said, 'I'm going to Michigan,'" Roundtree said. "So when it was time to make my call and I said I'm going to Michigan, everyone was like, 'Wow, are you serious?'"
A rivalry that's alive Friction between the two schools has only escalated.
Current Purdue coach Danny Hope and Rodriguez exchanged heated words last year during a prickly post-game handshake, in which Hope accused Rodriguez of making comments that resulted in the one-game suspension of lineman Zach Reckman.
"Thanks, Coach, we appreciate what you did," Hope said.
Michigan had just lost a game it should have won, 38-36, on its home field. In Rodriguez eyes, the comment added insult to injury.
"I usually go over and shake hands and tell you good luck in the next game," Rodriguez said after the game. "To come over and say something about that? Whatever."
Both coaches declared the feud over this week.
Michigan can't truly move forward until Rodriguez beats Purdue, a school that has beaten the Wolverines in consecutive seasons for the first time since the mid-1960s.
Given his history with Purdue and the sniping between coaches, Roundtree would prefer to stay low-key. But as if on cue, all eyes are centered on him this week.
He's coming off the best game of his career, a nine-catch performance against Illinois last week that led to a school-record 246 yards and two touchdowns.
Roundtree had surpassed the previous record, a 197-yard performance from Jack Clancy on Sept. 17, 1966 versus Oregon State, by halftime.
It was a breakout performance from a receiver who seems destined to succeed in the spread offense. Low key? Everyone noticed.
"At work, it was crazy when I got back," Sheila Roundtree said. "I told him after Saturday, he almost had me feeling like a star. I think I'm going to have to start signing autographs.
"Everyone was like 'Oh, he had an awesome game,' and I was like, 'I know. I was there.' To be honest, I'm just glad everyone gets a chance to see him play like we knew he could all along."
For Roundtree, the performance validated his college decision.
"They made it a big deal, but it's OK now. I know where I'm at," he said. "Coming here just changed my whole life. … Ain't nobody bring me down just because I went to Michigan."
Pete Bigelow can be reached at (734) 623-2556 or e-mailed at petebigelow@annarbor.com. Follow him on Twitter @PeterCBigelow.