Posted on
Wed, Nov 10, 2010 : 2:22 p.m.
Roy Roundtree's number isn't Rich Rodriguez's No. 1 concern and more notes
By Pete Bigelow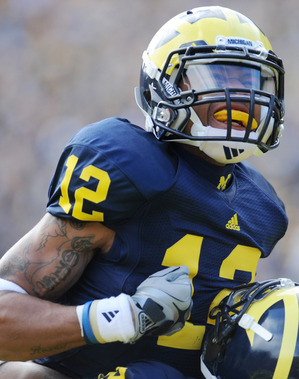 Melanie Maxwell | AnnArbor.com
Roy Roundtree said Monday he wants to wear the No. 1 jersey, like so many of the standout wide receivers in Michigan's past.
His coach is listening.
"I won't have it as a competitive situation," Michigan football coach Rich Rodriguez said Wednesday. "It has to be someone that has earned it on and off the field. Roy has earned the right to be considered with that, and we'll talk about that in the off-season."
Roundtree, a sophomore, caught nine passes for a school-record 246 yards in Saturday's triple-overtime win against Illinois. He leads the Wolverines with 45 receptions for 656 yards and four touchdowns.
Derrick Alexander, Anthony Carter and David Terrell are some of the marquee names of Michigan's past who donned the No. 1 jersey. No one has worn it since Braylon Edwards in 2004.
(Cornerback J.T. Floyd briefly wore it as an incoming freshman during summer practice in 2009, before Rodriguez realized he created a flap by issuing the number to a non-receiver).
Rodriguez didn't specify any particular criteria Roundtree needs to meet to earn the No. 1, only that he had to meet the "standard" of what the jersey has meant.
Still, Rodriguez seemed to have mixed feelings.
"I'm not a big believer in a magic number, even if it has a great tradition," he said. "I'm a believer in a player making the number, not the number making the player."
Injury report Linebacker Jonas Mouton did not practice Tuesday because of a chest injury, and Rodriguez said he'd be evaluated on a daily basis leading up to Saturday's game against Purdue (12:01 p.m., Big Ten Network).
Should Mouton be unable to play, Rodriguez said that Mark Moundros would probably see significant time at "will" linebacker.
Against Illinois, Mouton led the Wolverines with 14 tackles, including one for a loss, and a pass break-up. His absence would be a blow to a defense coming off, statistically, its worst game of the season.
"He has had a seriousness about him all season in wanting to prove himself," Rodriguez said. "… He has made a lot of big plays out there. … We're different with him in there, because he's such an explosive athlete."
Denard Robinson (dizziness) remains on track to start against Purdue, and Rodriguez said that Fitzgerald Toussaint (shoulder) has returned to practice and could be available Saturday.
Beware of Siller Purdue coach Danny Hope expects Sean Robinson to start Saturday. Even if he cannot play, redshirt freshman Skyler Titus would probably be called upon to start before Wolverine-killer Justin Siller.
Not only has Siller, a 6-foot-4 receiver, not played quarterback in two seasons, he's nursing an injured foot.
Still, the Wolverines are leery of seeing him Saturday.
"I think you have to pay a little bit of attention," Rodriguez said. "We even talked about watching the '08 game and being prepared for some of those things."
In their 2008 meeting, Siller riddled the Wolverines for 266 passing yards and three touchdowns and rushing for 71 yards and another score while making his first college start.
Pete Bigelow covers the Michigan football team for AnnArbor.com. He can be reached at (734) 623-2551, via email at petebigelow@annarbor.com and followed on Twitter @PeterCBigelow.