Posted on
Sat, Aug 14, 2010 : 5:40 p.m.
Running back competition is wide open on Michigan football team
By Pete Bigelow
When it comes to which players are receiving first-team snaps this summer, members of the Michigan football team cannot say much because protocol dictates they remain tight-lipped.
When it comes to which players are receiving first-team snaps at running back, the Wolverines cannot say because it's simply too hard to keep track.
"I don't know who's been running with the ones the most, because so many different guys have cycled through there," offensive lineman Stephen Schilling said.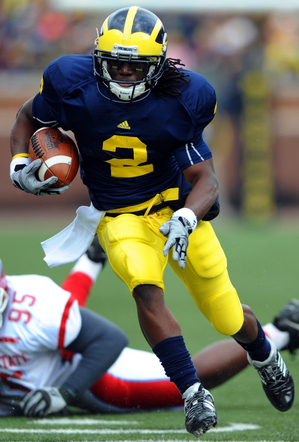 File photo
Running back may be the most wide-open competition of the summer.

The Wolverines have no less than six candidates vying for starting jobs or significant playing time.
"That is one of the most interesting races for people to watch," coach Rich Rodriguez said. "I don't want to say running back, but who are the running backs going to be?"
Rodriguez said he expects to use at least two - and probably three - backs in a regular rotation that won't be set until the week before Michigan opens the season Sept. 4 against UConn.
No established favorite exists among the one junior, two sophomores, one redshirt freshman and two true freshmen competing to replace last year's leading rushers, Brandon Minor and Carlos Brown, who both graduated.
Winners may be determined by what role they fill.
If the Wolverines want pure speed, they have two candidates in 5-foot-6, 180-pound sophomore Vincent Smith, who tore his ACL against Ohio State last November, and junior Michael Shaw, the most experienced member of the candidates.
If they want a combination of size and speed, they can turn to Michael Cox, who scored two touchdowns against Delaware State last year, Fitzgerald Toussaint, who missed last season with a broken collarbone, and true freshman Austin White.
If they want to revisit Michigan's three-yards-and-a-cloud-of-dust era, they've got true freshmen Stephen Hopkins, the team's biggest back at 227 pounds.
For good measure, the Wolverines return slot receivers Martavious Odoms and Kelvin Grady, who have taken occasional handoffs in previous seasons.
"You'd be more concerned about having no talent there," said Rodriguez, when asked if using a running back-by-committee would be a concern.
On the contrary, that's the approach he has favored in his first two years in Ann Arbor.
Under Rodriguez, no Michigan running back has rushed for more than 533 yards in a single season. Last year, Michigan backs carried 20 or more times in a game only twice. (Minor against Iowa; Brown against Illinois).
But in 2009, four Wolverines running backs with at least 48 carries averaged more than 5 yards per carry (Brown 5.9 ypc, Smith 5.8 ypc, Minor 5.2 ypc, Denard Robinson 5.1 ypc).
Nine different Wolverines scored rushing touchdowns last year.

Through the first week of training camp, Rodriguez said it was hard to project which candidates might make similar contributions this fall. Now that the Wolverines are practicing in full pads, that will change.
"No question," Rodriguez said. "You can see that a little bit. … We'll see who will start to step up."
Have a question about the Michigan football team? Email Pete Bigelow at petebigelow@annarbor.com. Follow him on Twitter @PeterCBigelow.