Posted on
Tue, Dec 14, 2010 : 5 p.m.
Ryan Mallett still has some 'traditional rivalry hatred' of Ohio State
By AnnArbor.com Staff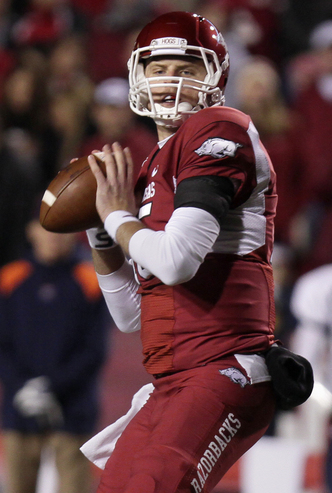 AP Photo
By Kurt Voigt AP Sports Writer
FAYETTEVILLE, Ark. — Ryan Mallett spent only one season as a Wolverine, but part of him will always be a Michigan man.
Mallett learned all he needed to know about the Michigan-Ohio State rivalry during that one season. It's a lesson that will be on the quarterback's mind when he leads No. 8 Arkansas (10-2) against the No. 6 Buckeyes (11-1) in the Sugar Bowl on Jan. 4.
"It's going to be a fun game," Mallett said. "It's two great teams. Obviously, I had the traditional rivalry hatred (at Michigan). I've still got a little Michigan in me from that. I've never really been a big fan (of Ohio State)."
Just how deep does that rivalry run for Mallett?
"I don't know if it's something you can say on air or in the paper," Mallett said.
Mallett left Michigan after his freshman season when Rich Rodriguez was hired as the Wolverines' coach, bringing with him an offense that didn't fit the pocket passer. Mallett transferred to his home state to play for Arkansas in coach Bobby Petrino's wide-open offense.
The decision has paid off for Mallett, who redshirted his first season after transferring. In two seasons as the Razorbacks' quarterback, the record-breaking junior has Arkansas in its first BCS bowl game.
Awaiting Mallett next month in New Orleans will an Ohio State team making its sixth straight BCS bowl appearance. The Buckeyes are eager to break an 0-9 mark against the Southeastern Conference in bowl games.
To do it, Ohio State will have to slow down the Razorbacks, who led the conference in passing (338.4 yards per game) this season and averaged 37.3 points per game. Mallett has thrown for 3,592 yards and 30 touchdowns.
"We're very familiar with Ryan Mallett because of course we played against him when he was at the University of Michigan," Ohio State coach Jim Tressel said. "In fact, I was hoping we were done with him when he transferred, and here we are getting him when he's at the height of his career.
"He is a tremendous football player, lightning quick release. Smart as a whip, you can tell just through his numbers the way he's grown into being one of the great, great quarterbacks in all of the country."
Mallett played in 11 games his freshman season at Michigan, throwing seven touchdowns and five interceptions. He played sparingly in the season finale that year against the Buckeyes, finishing 1 of 3 passing for eight yards in a 14-3 home loss.
"The most memorable part for me is it was cold," Mallett said. "It was freezing, sleeting, snowing and raining. I got in there, ran about four plays and that was about it. It was a big game, obviously. Up there, that's a good rivalry and it had some big guys."
While Mallett has faced plenty of questions about facing his old rival, he hasn't brought the subject up with his teammates.
"He hasn't talked about that game one bit," Arkansas tight end D.J. Williams said. "But from a player's standpoint, he's not worried about Michigan playing Ohio State right now, because that's not what we're preparing for right now."
Petrino said Mallett has improved in three years at Arkansas by keeping his emotions under control and preparing well. Those are traits the quarterback will need when he takes the field against his old rival.
"I'm sure that will mean something to him," Petrino said. "Ryan has just matured so much since he's been here. You can't really say enough about the leadership he's given to our football team."