Posted on
Fri, Nov 4, 2011 : 5:59 a.m.
Michigan's Ryan Van Bergen: 'There's no one in college football as strong as Mike Martin'
By Kyle Meinke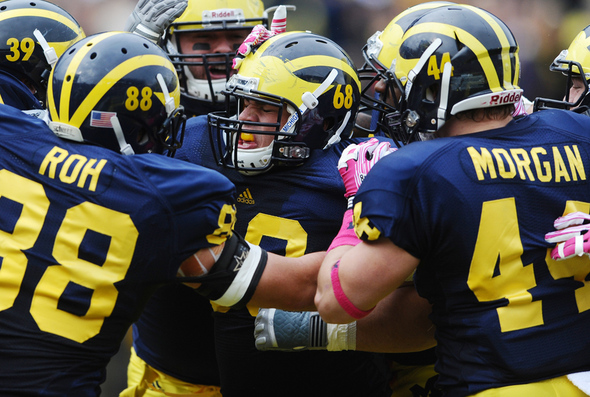 Melanie Maxwell I AnnArbor.com
Mike Martin
can bench press 225 pounds 40 times -- something only six players have done in the past six years at the NFL Combine -- and is one of the strongest players ever to play for the
Michigan football
team.
So, why would Purdue try to block the All-Big Ten defensive lineman one-on-one?
That's what linemate Ryan Van Bergen has been asking himself. He still doesn't have an answer, but does have a conclusion.
"Purdue decided to block him one-on-one and zone me? Good luck to the guard that's gotta block him," Van Bergen said this week. "I'm confident there's not one guy in the Big Ten who can block Mike Martin one-on-one, run-blocking or pass-blocking. He's too strong, too quick, got too many tools."
Van Bergen then took then one step further, adding, "There's no one in college football as strong as Mike Martin, I'd be wiling to bet."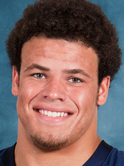 The No. 13 Wolverines (7-1, 3-1 Big Ten) will need that kind of physicality when they travel to
Iowa
at noon Saturday on ESPN. The Hawkeyes are 5-3, 2-2 in league play and coming off an ugly 22-21 loss to
Minnesota
, but are unbeaten at home.
They also play a physical brand of football that has given Michigan fits this year, most notably in its lone loss at Michigan State. The aggressive, smash-mouth Spartans "beat up" the Wolverines in that game, safety Jordan Kovacs said.
That was particularly true up front, as Michigan was blown off the line on both sides of the ball and pushed around in a 28-14 loss. The Wolverines allowed seven sacks and were out-rushed 213-82.
Iowa is of that physical mold as well. In fact, coach Brady Hoke said Iowa will be the most physical team Michigan has faced this year — and, he clarified, that includes the Spartans.
"Oh, yeah," Hoke said. "They always have been (the toughest), in my opinion. I always thought they were well-coached and physical. It's a fun week. As a D-line coach, this is fun. I love this."
So, how does Michigan avoid getting out-toughed against a team tougher than Michigan State?
It'll start up front with Martin and the defensive line.
Iowa's physical approach starts with its running game. Tailback Marcus Coker is a punishing runner between the tackles. He had 32 carries for 252 yards last week against Minnesota, and isn't afraid to take it into the teeth of a defense.
"They're going to run the ball, run the ball, run the ball, and they're going to dare you to try to stop it," Van Bergen said. "They're not going to change their scheme up, they're not going to mess around and do some weird counters or something like that. They're going to run zone, and we know it's coming at us.
"It's about, 'We think we're better than you, so we're going to run it.' Hopefully, we're going to stop it."
The Wolverines did that against Purdue, thanks largely to the defensive line becoming disruptive. They held the Boilermakers to just 89 yards rushing, with Martin spearheading the attack.
The senior from Redford had his first two full sacks of the season and was a factor throughout the game. His first sack resulted in a safety and the second -- on which he fought off two blocks -- forced a punt.
He finished with a season-high seven tackles and has 28 on the season.
"He's an aggressive enforcer," Van Bergen said. "He's dominant. You have to account for him on every play, and you have to use two guys."
If — and when — offenses double-team Martin, that opens up things for the other defensive linemen. The front four played much better against Purdue, after getting handled against Michigan State.
That will be a key to not getting pushed around in another physical road game.
"There are so many times when (Martin's) done a really really good job in there and somebody else made the play," defensive coordinator Greg Mattison said. "I was just happy for him to see him get the reward, because he has really worked hard."
Kyle Meinke covers Michigan football for AnnArbor.com. He can be reached at 734-623-2588, by email at kylemeinke@annarbor.com and followed on Twitter @kmeinke.