Posted on
Sun, Jan 22, 2012 : 2:29 p.m.
'Saddened' Brady Hoke, Michigan football players react to death of longtime Penn State coach Joe Paterno
By Kyle Meinke
Michigan football coach Brady Hoke, like so many others around the country, was saddened to learn today of the death of former Penn State coach Joe Paterno.
Although the Wolverines did not play Penn State this past season, Hoke grew to respect the longtime Nittany Lions coach while he was a Michigan assistant from 1995-2001.
He released this afternoon a lengthy, heart-felt statement after learning of Paterno's death from a short battle with lung cancer. He was 85.
The statement read, in full:
"I am certainly saddened by the news today of Coach Paterno's passing. College football has lost one of its greatest, a coaching icon. Even though I was just an assistant when our teams faced one another, I feel honored to have shared the field with Joe. His players' love for him, it shows how he touched their lives and it tells who he was as a man.
"He will be missed. His mark on Penn State and college football will never be forgotten. Our thoughts and prayers go out to Joe's family and friends and the entire Penn State community."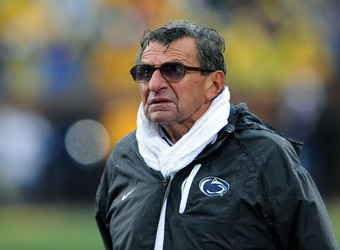 File photo
Several players, past and present, took to Twitter to also respond to Paterno's death. A sampling:
Former defensive end Brandon Graham: "R.I.P Joe Paterno!! I am happy I was able to meet him At least once!"
Receiver Jerald Robinson: "My condolences go out to the Paterno family, such a great coach and so sorry for your loss....God Bless and yet another Great coach has been sent to Heaven"
Tailback Justice Hayes, in a series of tweets: "Deh killed my dude Joe Pa!!!!!!!!!!!!!!! ... I'm upset ....!! He literally passed away because he wasn't coaching nomo... They knew that would happen.!! And the messed up part is that they deleted my man's out of Penn st history... So after this week or two, they gone sweep em off to the side"
Former defensive lineman Ryan Van Bergen: "Rest in peace #joepa. My condolences to your family and all of the psu players coaches and staff that loved you. Great man, coach,& mentor"
Linebacker Kaleb Ringer (an early enrollee from 2012 class): "Somebody should be put in jail, for killin off joe pa like that!!!!"
Former defensive tackle Mike Martin: "A lifetime of work that cannot be replaced. Truly a #CategoryOfOne! #RIPJoePa "
Former tight end Kevin Koger: "R.I.P. Coach Joe Paterno"
Receiver Roy Roundtree: "That's Sad Joe Pa passed away. #RIPJOEPA prayers out to his family and friends!"
Tight end Brandon Moore: "RIP Joe Pa, a True Legend of the Big Ten"
Former receiver Desmond Howard: "Condolences to the Paterno family for their great loss. 'A human life is a story told by God.' ~Hans Christian Anderson"
Kyle Meinke covers Michigan football for AnnArbor.com. He can be reached at 734-623-2588, by email at kylemeinke@annarbor.com and followed on Twitter @kmeinke.