Posted on
Mon, Jan 30, 2012 : 12:44 p.m.
Sam Grant becomes 4th recruit in 4 days to list Michigan as finalist, but head elsewhere
By Kyle Meinke
The Michigan football team's 2012 recruiting class was ranked the best in the country through July, according to several analysts.
But the Wolverines' progress has stalled.
They received just three commitments since the start of last season, which had seemed harmless because their start was so strong. But now they've finished runner-up on four key pieces since Thursday, and it is beginning to appear the class might finish with more holes than was originally anticipated.
It is still a strong class, one that is ranked No. 4 by Scout and and No. 5 by Rivals. But, it also no longer is the Big Ten's best class, as Ohio State has climbed to No. 3 in both rankings.
The latest player to spurn Michigan is three-star tight end Sam Grant, who announced Monday he is heading to Oklahoma. He listed the Wolverines as his other finalist after decommitting from Boston College.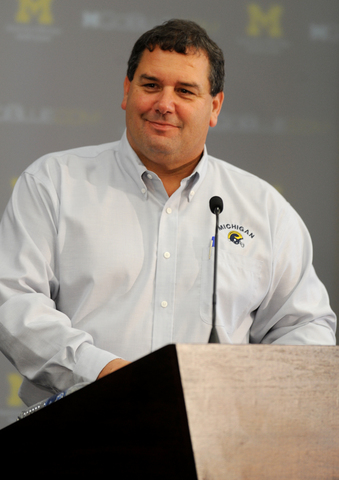 Melanie Maxwell | AnnArbor.com
The Wolverines were considered the favorite to land Grant because high school teammate
Kyle Kalis
already has pledged to them, and they also are moving toward a West Coast offense that accentuates the tight end.
They also lose their top two players at the position from last season in seniors Kevin Koger and Steve Watson. So, there would have been opportunity to earn early playing time, a key to landing big-time prospects.
But the Wolverines whiffed. Again.
Grant's decision closely follows the Sunday night commitment of cornerback Armani Reeves to Ohio State. The four-star prospect — ranked by Scout and Rivals as one of the country's top-five players remaining at his position — had Michigan as his other finalist.
Scout Midwest recruiting analyst Allen Trieu said cornerback is the biggest remaining hole in this class, and that getting Reeves was Michigan's best shot at addressing this need. But it finished second.
The Wolverines have only one cornerback, Terry Richardson, for 2012. Another commit, Anthony Standifer, was dropped from the class.
A pair of offensive linemen also joined the parade of recruits who have chosen to head elsewhere. Four-star Alex Kozan chose Iowa on Sunday and five-star Josh Garnett picked Stanford on Thursday.
The Wolverines are strong in top-end talent at offensive line, but would have preferred to land at least one and probably two more recruits at that position.
They might not be done yet, though. Michigan is a finalist for four-star Jordan Diamond of Chicago. He's expected to announce his decision Friday, two days after signing day.
The Wolverines are considered by Scout to be the leader to land his services. But will they?
Kyle Meinke covers Michigan football for AnnArbor.com. He can be reached at 734-623-2588, by email at kylemeinke@annarbor.com and followed on Twitter @kmeinke.