Posted on
Tue, Aug 7, 2012 : 11:40 a.m.
Slimmed down Will Campbell says he owes Michigan football fans a great senior season
By Nick Baumgardner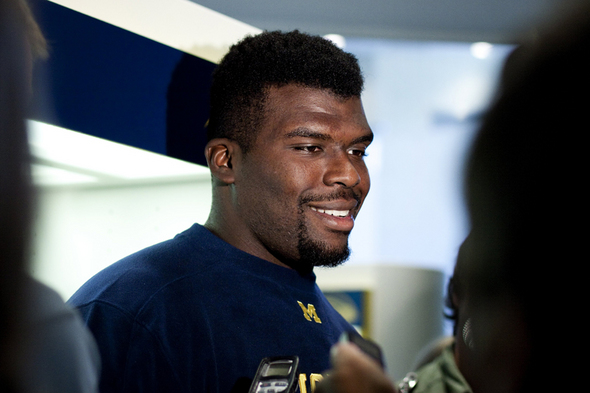 Jeffrey Smith | AnnArbor.com
In past years,
Will Campbell
likely wouldn't have addressed the media following the first day of fall practice.
Not by choice, but more out of necessity.
Overweight and out of shape for most of his career, Campbell generally spent the first week of Michigan football practice catching his breath and figuring out how he'd make it through the first month of the season.
Not this time, though.
"I'm not huffing and puffing anymore," the senior defensive tackle said after practice Monday. "I'm not dying right now."
There's more than one reason why Campbell wasn't "dying" after the first day of practice this season.
Actually, there's 46 reasons.
After beginning his highly-touted Wolverines career in 2009 at a whopping 356 pounds, Campbell weighed in Monday at a svelte 310 pounds.
He talked all spring about his desire to find a way to leave an imprint at Michigan for his final season, as did Michigan coach Brady Hoke.
Campbell was in better shape during spring drills, and had to fight through more adversity during the summer with an off-field arrest and the internal punishment that came along with it. But, apparently, he didn't rattle off the tracks.
For the first time in his career, and probably the first time in his life, Campbell is physically ready to live up to his five-star billing.
Why? Because he's got a few "IOU's" to work off.
About 110,000 of them.
"This is my last go-around," Campbell said. "I owe Michigan and these fans a lot.
"I came in with big expectations and didn't live up to them. And now, it's time to pay (up)."
Outside of intense off-the-field training this summer, Campbell was finally able to shake some of the poor eating habits that have haunted him over his time in Ann Arbor.
He tried to go with a "no wheat" diet for a short period of time, but found that to be difficult for energy purposes. So instead, he ditched any and all sweets.
The toughest omission? Honey buns.
"Will shows off his stomach more than I do," Michigan quarterback Denard Robinson joked. "You can tell that he lost that weight. And he did it for the team, he didn't just do it for himself.
"That's himself holding himself accountable, and we trust him and respect him for that."
Campbell's dedication to jump-starting his on-field career one last time hasn't just impressed teammates, it's also impressed the coaching staff.
So much so that they paired Campbell up with freshman defensive tackle Ondre Pipkins in the team's mentorship program. At 6-foot-3, 340 pounds, Pipkins will likely encounter some of the same weight-related challenges Campbell went through during his career.
And if Campbell has any say, his young roommate won't make the same mistakes he did.
"We look after someone, and Pee Wee, I happen to be his mentor," Campbell said. "I've been trying to talk with him, get in his head and make sure he doesn't make the same mistakes I did.
"I'm trying to make sure he gets the point way before I did."
Campbell's already cleared the biggest roadblock standing between himself and the football field. That, of course, being his health.
But whether or not he can be productive this season remains to be seen. Michigan needs it to happen in the worst way, and Campbell will have to prove he can be at his best when the lights come on Sept. 1 against Alabama.
Physically, he seems ready. Mentally? He'll have to wait and see.
It's been a long four years for Will Campbell, almost an eternity. And with one year left, anything less than a stark turnaround just doesn't seem to be acceptable.
"He's worked his tail off during the summer from everything I've heard from players on this team," Hoke said. "He really was a guy who led by example.
"I'd be surprised if he didn't (have a good season) because of his work ethic and his toughness and his leadership."
Nick Baumgardner covers Michigan sports for AnnArbor.com. He can be reached at 734-623-2514, by email at nickbaumgardner@annarbor.com and followed on Twitter @nickbaumgardner.