Posted on
Sat, Nov 13, 2010 : 6:18 p.m.
Sloppy field conditions, big punts and reopening the kicking competition
By Michael Rothstein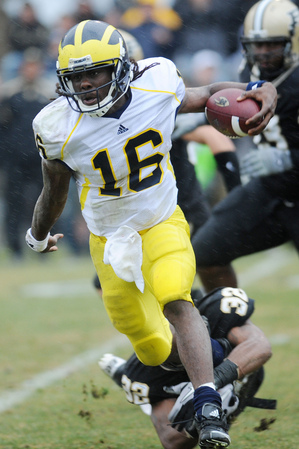 Melanie Maxwell | AnnArbor.com
WEST LAFAYETTE, Ind. - Michigan receiver Roy Roundtree needed to be conscious of his feet. It had nothing to do with his footwork, though.
He literally had to make sure he lifted them during every stride.
In a slippery, sloppy 27-16 Michigan victory against Purdue that included 10 turnovers and a steady wind with rain that ranged from a drizzle to downpour, Roundtree couldn't afford to slip.
"It was very wet," the redshirt sophomore receiver said. "I had to get a little muff thing to keep my gloves, my hands inside so my gloves can stay dry. It really wasn't cold, just really slippery.
"You had to make sure you picked up your feet off the grass out there because you didn't want to fall down."
The quality of field conditions at Ross-Ade Stadium varied depending who you asked.
Defensive backs coach Tony Gibson didn't see too players falling down. Neither did quarterbacks coach Rod Smith, although Smith acknowledged both quarterbacks Tate Forcier and Denard Robinson struggled holding on to the wet balls.
"It was real slippery," junior receiver Junior Hemingway said. "There were certain parts of the field that were slippery, the ball was slippery.
"Everything was slippery today."
Part of the issue may have been the natural grass at Ross-Ade. Many schools, including Michigan, have switched to the more common and easier-to-maintain FieldTurf.
But at Purdue, grass still rules.
"I felt like I was playing on a high school field," Forcier said. "You know, it's something you just have to adjust to. It's part of the game."
Record-setting day While Robinson broke the school record for total offense with 3,407 yards in 2010 - surpassing John Navarre's record of 3,240 in 2003 - the big record-setter of the day was Purdue defensive end Ryan Kerrigan.
Kerrigan set the Big Ten record for fumbles forced, stripping footballs for the 13th and 14th time Saturday and breaking a record held by former Illinois defensive end Simeon Rice and former Iowa safety Bob Sanders.
He also tied Purdue's single-game sack record with four against Michigan. The Wolverines had allowed just four sacks all season before facing Purdue.
"He's a monster," Forcier said. "But that's what's cool about playing in the Big Ten. You get to go against people like that, and he's going to the NFL next year.
"He's an animal, for sure."
The records, though, meant little as Purdue lost. And Kerrigan and the Boilermakers still need two wins to qualify for a bowl.
"It's tough to think about right now," Kerrigan said of the record. "It's something I probably won't think about until after the season. It was a tough loss to stomach since we were so close all game, especially at the end."
Injury update Michigan played Saturday without its two most consistent defenders in defensive tackle Mike Martin and linebacker Jonas Mouton.
Martin was held out because of lingering ankle injuries and Mouton missed the game due to an injury to his chest muscle.
"It was coach's decision," Martin said. "Whatever he felt was right to do was right to do."
Adam Patterson made his first career start in place of Martin. Mark Moundros made his first defensive start in place of Mouton.
Martin and Mouton, who did not want to discuss their injuries, both indicated they expect to return next week against Wisconsin.
Both were excited to see their defense play their best game of the year.
"It felt great to see the young guys making plays, guys that haven't," Mouton said. "Mark Moundros came in and did a great job. It was great to get this win."
One big boot Punter Will Hagerup boomed the ball, not intentionally but that's just how it came off of his foot. With the wind helping, it ended up being one of the best ever at Michigan.
Hagerup, a freshman, hit a 72-yard punt in the fourth quarter, the longest at Michigan since 1984 when Monte Robbins booted a 78-yarder against Michigan State.
Actually, Hagerup - who was born in 1991 - is the first Michigan player to break Robbins' hold on the top five longest punts in school history.
"It was a heavy ball," Hagerup said. "Tom (Pomarico) did a good job snapping it and I just kind of drove it. It wasn't very high but the wind kind of caught it and it went well."
Back to competition For a while, it appeared as if redshirt freshman walk-on kicker Seth Broekhuizen had solidified the kicking job for the Wolverines.
After another missed field goal against Purdue along with a missed extra point, he no longer has a strong hold on the job.
Michigan coach Rich Rodriguez said after the game redshirt freshman Brendan Gibbons, who is on scholarship, might receive another chance to win the job.
"Probably," Rodriguez said. "It's just again a disappointing day. They've been kicking great in practice, but struggled all year.
"But (Seth is) clearly the better one in practice, so you got to go with that."
Combined, Michigan's kickers are 4-12 this year.
This and that Michigan has swept its Indiana opponents in the state this year, beating Notre Dame, Indiana and Purdue. … The Wolverines recorded their 300th win in November. … Purdue played three quarterbacks in the first four minutes Saturday and Justin Siller got the start, marking the first time in Boilermakers' history they started four quarterbacks in a year. … Purdue freshman Ricardo Allen's 94-yard interception return was the fourth-longest in school history.
Michael Rothstein covers University of Michigan basketball for AnnArbor.com. He can be reached at (734) 623-2558, by e-mail at michaelrothstein@annarbor.com or follow along on Twitter @mikerothstein