Posted on
Sun, Oct 9, 2011 : 1:11 a.m.
So goes Shoelace, so goes Michigan: Denard Robinson's halftime adjustments make the difference
By Kyle Meinke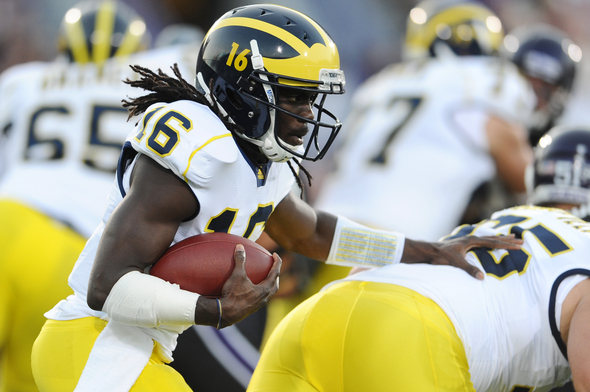 Melanie Maxwell | AnnArbor.com
Denard Robinson
, as he is wont to do, played fast against
Northwestern
. It benefited him on the ground, as it so often does.
It cost Michigan's junior quarterback through the air, though, as he threw three ill-advised interceptions in the first half — each of which badly missed their mark. The turnovers led to 10 Northwestern points, the difference in a 24-14 halftime deficit for the Wolverines.
Each pick looked progressively worse as his mechanics abandoned him.
But Robinson settled down in the second half, when he went 7-for-8 passing for 149 yards. He didn't throw a second-half touchdown, but also didn't throw a second-half pick. That helped his 12th-ranked Michigan football team reel off 28 unanswered second-half points Saturday to beat Northwestern, 42-24, in its first road game of the season.
What was Robinson's problem? He said he was playing too quickly, which caused issues in his fundamentals.
"I guess I get too excited," Robinson said. "I have to just calm down."
Robinson said his second-half turnaround began with a conversation he had during halftime with offensive coordinator Al Borges.
What was said? Slow down, focus on your footwork and set your feet. That, apparently, was the key.
Robinson finished 17-for-26 passing for 337 yards, two touchdowns and three interceptions and ran for 117 more yards as Michigan (6-0, 2-0 Big Ten) played one its best halves of the year — on the road, no less.
"I stepped into the throws like I was supposed to — like coach told me to," Robinson said.
In the first half that, that wasn't the case.
Robinson's first pick came on Michigan's second drive. He was targeting senior Junior Hemingway, but the pass was badly overthrown. Hemingway had no chance. Northwestern turned the pick into a touchdown to take its first lead, 14-7.
Robinson's second pick came on a fake throw. He didn't square himself, and missed badly again.
On the third, Robinson threw off his back foot toward a sea of purple shirts. It was the worst pick of the three.
But he recovered with that efficient second half, one he actually left with a left hand injury he characterized as a "boo-boo."
Coach Brady Hoke was impressed with Robinson's maturity in the second half, and how he took Borges' message to heart.
"He's a competitor," Hoke said. "He's a sharp guy, tremendous energy and leader on our team. Him and Al talked a little bit, and talked about what we wanted to do offensively.
"And, again, you go back to making sure your fundamentals and techniques (are sound). I mean, that's all we talked about was fundamentals and techniques."
Kyle Meinke covers Michigan football for AnnArbor.com. He can be reached at 734-623-2588, by email at kylemeinke@annarbor.com and followed on Twitter @kmeinke.