Posted on
Thu, May 19, 2011 : 5:59 a.m.
Final news, notes, observations and thoughts from the Big Ten spring meetings
By Michael Rothstein
CHICAGO —The three-day Big Ten Conference spring meetings wrapped up Wednesday afternoon at the Palmer House Hilton in downtown Chicago and while nothing was definitively decided here, there were substantive discussions about multiple issues.
Will the Big Ten go to a nine-game conference football schedule? Will the basketball schedule creep into the beginning of December?
League commissioner Jim Delany also floated the idea of adding the cost of attendance to scholarships, which would essentially be an extra stipend for each athlete at a school. He also discussed two sites — Indianapolis and Chicago — for the league's marquee championship events.
Here's a smattering of news, notes and analysis from three hectic days in Chicago.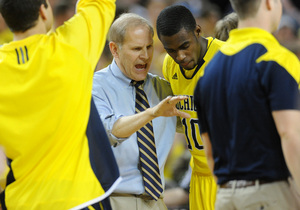 Michigan is on the road again in the Big Ten/ACC Challenge, this time at Virginia. Wolverines coach John Beilein, who had been banking on a Challenge home game, has already brought out the same philosophy he had last season going to Clemson.
"Any time you play and we're on the road again, we've got to turn it around and make it a win situation by saying it's a chance to get a good road win," Beilein said. "As difficult as that is."
The much-discussed nine-game football schedule didn't come to a resolution in Chicago. There had been a preliminary vote taken earlier this year about whether to go forward with the idea and Big Ten Senior Associate Commissioner for TV Mark Rudner said it passed. Now it is working out all of the logistics. He also said the earliest likely date for the switch would be 2017.
Every football coach talked here except Penn State's Joe Paterno. It ranged from 46 seconds (Jim Tressel) to multiple times throughout the week (multiple coaches). The informal discussion also left for wide-ranging interviews, which is helpful for the media.

Michigan State athletic director Mark Hollis and Michigan athletic director Dave Brandon were two of the more entertaining athletic directors at the meetings — mostly because they were tweeting about their July golf challenge between the two ADs while they were in the conference rooms. For the media waiting outside, it provided a small bit of enjoyment.

In deciding between Indianapolis (Lucas Oil Stadium) and Chicago (Soldier Field) for the Big Ten title game, I'd be in favor of Indianapolis. Taking weather out of the equation — and December in Chicago can be frigid — allows for a truer playing field. Also, Indianapolis is more compact than Chicago and easier for fans to get around. Chicago, though, is more fun.

Football coaches seemed to have real differences on an early signing date as well as the aforementioned nine-game schedule. That's not surprising as different decisions would positively or negatively impact different schools.
Indiana basketball coach Tom Crean said his team had "an excellent off-season" but not everybody is healthy. Derek Elston had an abdominal issue that required surgery last week. Maurice Creek "is improving" but still can't play. Verdell Jones III missed the whole spring with a knee injury but now weighs 198 pounds.
"We didn't have a full gamut of players for our workouts but everybody got better at something," Crean said. "With the exception of Derek, who was very limited obviously in what he could do."
Nebraska athletic director Tom Osborne said there were no major issues into the transition to the Big Ten. "It's just a matter of getting acclimated to personalities," Osborne said. Nebraska officially joins the league July 1.

Nebraska football coach Bo Pelini said it is "too early to tell" how moving to the Big Ten will change recruiting at the school, but that so far he has been received well in traditional Big Ten pockets.
Michael Rothstein covers University of Michigan basketball for AnnArbor.com. He can be reached at (734) 623-2558, by email at michaelrothstein@annarbor.com or follow along on Twitter @mikerothstein