Posted on
Sat, Apr 17, 2010 : 7:47 p.m.
Spring game fans brave chilly temperatures while players relish game-like conditions
By Jeff Arnold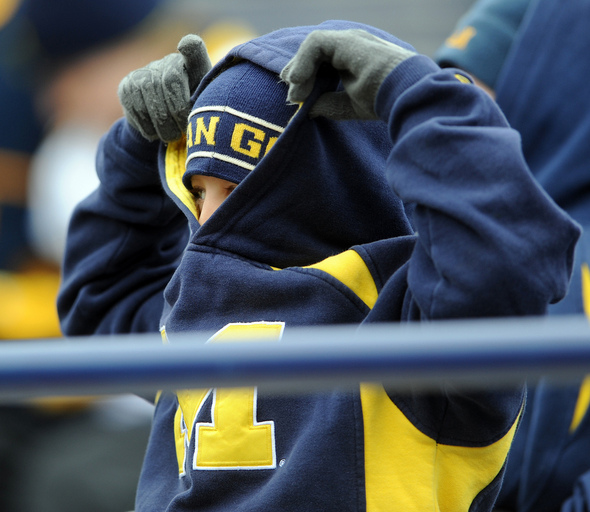 As a 20-year season-ticket holder, Ben Maves knows the drill when it comes to football Saturdays.
Maves, a Tecumseh resident, arrived at Michigan Stadium at 8 a.m., three hours before the alumni flag football game and five hours before the spring practice. His tailgating menu included regular staples like bratwurst and hot dogs, but it also included one additional necessity.
A portable fire pit.
"There were definitely a lot of people who came over to get closer to our fire," said Maves, who sat on the top row of the bowl during Saturday's festivities. "It was the key to a good tailgate."
Temperatures hovered in the mid-40s, two days after Ann Arbor enjoyed an 80-degree day. The announced crowd of 35,000 fans bundled in coats, hats and scarves to brave the conditions, which seemed more appropriate for Ohio State weekend than spring football.
Michigan players who call Midwestern states home said they are accustomed to roller-coaster temperatures in the spring. The same can't be said for some of their warm-weather teammates.
"It really didn't bother me, but the Florida and Texas kids weren't as used to it," said tight end Kevin Koger, an Ohio native. "They talk all the time that the weather keeps changing. But it's part of playing at Michigan. You just have to deal with it. To me, it was just good football weather."
Breaking out

Sophomore receiver Roy Roundtree had the day's longest touchdown reception, scoring on a 97-yard pass play while Denard Robinson was in at quarterback. Roundtree finished the play, sprinting 67 yards after making the catch.
"Last year, when I got caught from behind in the Illinois game, it really got into my mind," Roundtree said. "When I got the ball today on the post route, I was like 'No one's catching me today."
Keeping an eye out
St. Louis Rams defensive end James Hall said his pro career keeps him from keeping too close of tabs on his alma mater, but he expects to see a turnaround.
"As a former player, we're always going to hold them to a higher standard," said Hall, who served as a referee for Saturday's alumni game. "That's always big-time talk in the locker room - what's your college team doing during the season - but the expectation is always high at Michigan."
Players understand part of Michigan's struggles came after the Wolverines lost a collection of players in coach Rich Rodriguez's first season. But now in year three, former linebacker LaMarr Woodley expects to see a change for the positive.
"When he came in with this new offense, he really didn't have anything," Woodley said. "Now, he has an opportunity to turn that around and he's getting the guys he needs in the right spots and things will change up."
Desmond Howard, who won the Heisman Trophy during his Michigan career and who now works as an ESPN analyst, said he remains loyal to Rodriguez and his efforts to get Michigan back on track.
"I've been around this game a long time and I don't know any coach that isn't trying to make progress," said Howard, who served as an honorary coach during the alumni game. "Nick Saban is trying to make progress and he just won a national championship. That's just the nature of the sport. You can't rest when you've won and you can't rest when you haven't won big yet. Obviously, (Michigan) wants to win big."
Walking wounded

Long-time running backs coach Fred Jackson sported a walking boot at Saturday's game after a collision with tight end Kevin Koger during a recent practice. Jackson said Saturday he wasn't athletic enough to get out of the way. 
Koger wasn't quick to take all of the blame - or any of it for that matter.
"Supposedly, I'm the one who broke his foot - supposedly, though," Koger said. "It was a 86 on film, but there's no name on the back (of the jersey). So it could have been any 86."
Uh, Kevin, there's only one No. 86 on Michigan's roster.
Despite that, Koger still holds Jackson partly accountable.
"He's lost a couple of steps over his years," Koger said. "It's kind of tragic, but what's he doing on the field anyway? It's a live situation and he's on the field. I'm not saying he deserved it, but I don't know what he expected being on the field."
Best of the best
For 18 years, Jackson has coached running backs at Michigan, working with guys who were all-Big Ten players, All-Americans and guys with long NFL careers.


Th current group of running backs, he said, might do one thing better collectively than any other unit he's ever had.
His group of Michael Shaw, Michael Cox, Fitzgerald Toussaint and the injured Vincent Smith block really well.
"I think I've got the best blocking tandem, I didn't say running back tandem, but best blocking tandem I've had," Jackson said. "I've got three or four guys that based on the
pictures and movies, how you want to see it done. It's more than I've ever had at one time."
The award goes to ...
Nine Michigan players were the recipients of end-of-spring awards as selected by coach Rich Rodriguez's staff. Fifth-year senior defensive tackle Greg Banks was honored with the Meyer Morton Award, which goes to the player that has demonstrated the greatest development and showed the most promise. Senior linebacker/fullback Mark Moundros was given Frederick Matthaei Award, given to the players that showed exceptional leadership and drive.
Other recipients included offensive guard Patrick Omameh (sophomore award), redshirt safety Cam Gordon (top freshman who shows the greatest potential for desire and character), senior left guard Stephen Schilling (Dan Dierdorf Award) while Mike Cox, Darryl Stonum, Adam Patterson and Obi Ezeh, who were also given awards for being the most conditioned.
On the mend
Several players did not participate in Saturday's final workout due to injuries. ... Troy Woolfolk broke his right pinkie finger while trying to deflect a Devin Gardner pass. Other injured Wolverines included offensive lineman Perry Dorrestein (back), receiver Junior Hemingway (knee) safety Jared Van Slyke (knee) and offensive lineman Elliott Mealer (foot).
AnnArbor.com sports reporter Michael Rothstein contributed to this report. Jeff Arnold covers sports for AnnArbor.com and can be reached at (734) 623-2554 or by e-mail at jeffarnold@annarbor.com.