Posted on
Mon, Sep 19, 2011 : 5:59 a.m.
Squib kick misses mark, freshmen see time and other notes from Michigan's win against EMU
By Kyle Meinke
The Michigan football team's victory against Eastern Michigan on Saturday showed a lot of good, a little bad and a touch of ugly.
The Wolverines' special teams, at times, looked ugly in the 31-3 rout. Michigan's squib kick with 39 seconds left in the first half is a perfect example. The stratagem can work sometimes, but this was not one of them.
The call was especially egregious against a team such as the Eagles, who passed just six times the whole game. Could they have traversed a long field in such a short time?
Likely not.
But the squib gave the Eagles the ball at their own 47-yard line, and they needed just four plays — all runs — to get into position for a 50-yard field goal. That's just too easy.
The game was a blowout, and Eastern Michigan missed the field goal anyway, so this point is moot as far as Saturday is concerned. But that play call made little sense, and could cost Michigan against a more able opponent.
Other notes from Saturday's win:
Michigan misses Hagerup
Michigan was crushed in the field-position battle in the first half, when its average starting point was its own 14-yard line. Eastern Michigan averaged its own 42-yard line.
That partly was due to inequality in punters.
Eastern Michigan's Jay Karutz was solid all day, averaging 43.6 yards per attempt and topping out at 53. Michigan's Matt Wile averaged 35.0 yards per attempt and topped out at 41.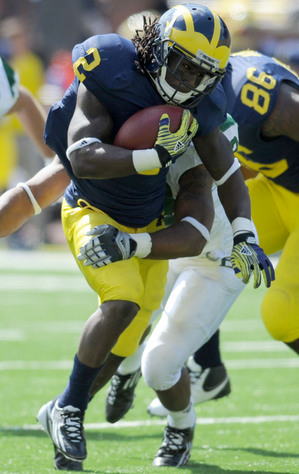 Angela J. Cesere | AnnArbor.com
Wile, a freshman, has been serviceable while starter
Will Hagerup
serves his four-game suspension, but there's no doubt Michigan misses the sophomore. He will sit out Saturday against
San Diego State
(noon, BTN), then return for the Big Ten opener against
Minnesota
.
The sorest moment came with little more than 3 minutes left in the first quarter. Wile, standing deep in his own end zone, punted to his own 39-yard line. A 15-yard return gave the Eagles the ball at Michigan's 24-yard line and led to their only three points of the day.
Return of a kick return
Michigan has yet to record a kickoff return of longer than 25 yards this year. Its average of 18.6 yards per return is 102nd in the country.
Junior Vincent Smith, who excelled in the run game against Eastern Michigan but had kick returns of 17 and 14 yards, just might not have enough vertical speed to get the job done.
While Darryl Stonum's redshirt hurts Michigan in the passing game, the return game also has been afflicted.
Young guys see field
Michigan's comfortable second-half cushion allowed several young players to see the field, most notably freshmen cornerbacks Raymon Taylor and Blake Countess, freshman tailback Thomas Rawls and sophomore quarterback Devin Gardner.
Each of those players is considered an important piece to Michigan's future.
Rawls had two carries for 4 yards, Gardner had one carry for 7 yards and Taylor and Countess each had one tackle.
The one unexpected note here was the lateness of Gardner's entrance, which came with 1:17 left in the game. That seemed especially late, considering the blowout.
It was surprising when starting quarterback Denard Robinson came on the field to start a series with 10:46 left in the game and Michigan leading 28-3. This seemed to be a good moment for Robinson to bow out. The only reason that comes to mind for sticking with Robinson is maybe the coaching staff wanted to get more snaps for a unit that had just 89 plays in its first two games.
Still ...
Other true freshmen who played were kicker Matt Wile; linebackers Desmond Morgan and Brennan Beyer; and defensive end Frank Clark. Redshirt freshmen who played were linebacker Jake Ryan and safety Josh Furman.
Johnson's role diminishing
Sophomore safety Carvin Johnson played little against Eastern Michigan and recorded only one tackle. After struggling with communication and alignment issues against Western Michigan, Johnson, who started three games and appeared in nine as a freshman last year, clearly is slotted behind starters Jordan Kovacs and Thomas Gordon and might have a hard time seeing the field.
Roundtree, Hemingway come up empty
Michigan's top wideouts of Roy Roundtree and Junior Hemingway did not record a catch against Eastern Michigan. Perhaps more astounding: They were targeted, by my unofficial count, two times.
Robinson's troubles in the passing game were glaring and gruesome against Eastern Michigan, and the receivers' limited impact (five catches) surely is a function of that.
Ranking
The victory boosted Michigan into both major top 25 polls. The Wolverines are 22nd in the AP ranking and 21st in the USA Today poll.
Losses by the right teams had a role in Michigan's ascension, but Michigan's play so far indicates there are more than 20 or 21 teams better than the Wolverines right now.
Still, Michigan will be favored to win its next three games and doesn't play a road game until Oct. 8 against Northwestern, so it might be there to stay — at least for a while.
Kyle Meinke covers Michigan football for AnnArbor.com. He can be reached at 734-623-2588, by email at kylemeinke@annarbor.com and followed on Twitter @kmeinke.