Posted on
Thu, Dec 30, 2010 : 6:01 a.m.
Stanford coach Jim Harbaugh isn't the only answer should Michigan football fire Rich Rodriguez
By Pete Bigelow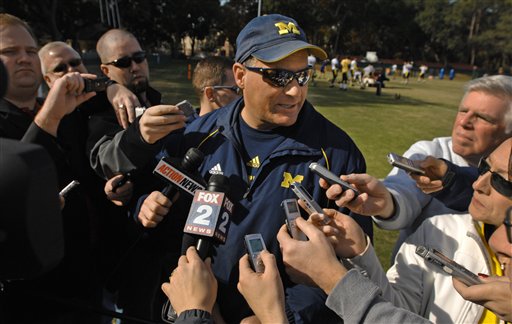 Associated Press
JACKSONVILLE, Fla. - A big-splash hire.
That's what Michigan wanted. That's what then-athletic director Bill Martin delivered.
Will it be that way again?
Should Michigan athletic director Dave Brandon fire football coach Rich Rodriguez in the days following the Gator Bowl, he'll no doubt desire to make a home-run hire for college football's winningest program.
No doubt, his target would be Stanford coach Jim Harbaugh, college football's hottest commodity and a Michigan Man to boot, a choice that would recapture ties to a storied past and present the possibility of an elite future.
That's his logical choice, and probably the right one.
But with any number of college and NFL teams chasing after Harbaugh's services as well, Brandon would be wise to remember that he's not the only option.
Unlike the Les Miles-or-bust stampede that left the Wolverines topsy-turvy for almost a month before Rodriguez emerged three years ago, Brandon need not deliver the biggest name on the board.
Should he elect to make a change, in fact, recent history would suggest Brandon would be just fine with a choice that didn't immediately have pundits gushing with congratulatory praise.
Look no further than this year's BCS championship game for the evidence. Auburn hired Gene Chizik as its football coach fresh off 3-9 and 2-10 seasons at the hotbed of college football known as Iowa State. Fans showed up at the airport to boo their new coach.
Two years later, the Tigers are playing for a national title.
It was no different at Oregon. Fans and media members considered Chip Kelly an underwhelming replacement for Mike Bellotti. Kelly had never served as a head coach at any level.
Heck, he had only been the Ducks' offensive coordinator for two seasons. Before that, he was the offensive coordinator at New Hampshire.
Buying the highest-price coach on the market might work - see Alabama's national championship under Nick Saban. But it's certainly not the only way, and definitely not the Oregon way.
"We didn't go out and buy the most expensive coach," said Bellotti, who served as athletic director and made the Kelly hire. "You get ahead by improving the brand name, whether that's new facilities or being on TV or winning on TV or new uniforms.
"Those things affect recruiting, and that's the fast way to change your team."
Chizik and Kelly aren't the only small-time success stories out there. The current Top 25 - heck, the current Top 10 - is littered with them.
Prior to building Texas Christian into a defensive power and the No. 3 team in the country over a decade, Gary Patterson caught on with the Horned Frogs after serving as defensive coordinator at New Mexico.
Bret Bielema was considered a rather ordinary and unexciting internal hire when he replaced the retired Barry Alvarez at Wisconsin in 2006. The Badgers are currently the No. 4 team in the country.
When Stanford hired Harbaugh after three seasons at San Diego, there were plenty of people who thought the leap was too great from the Toreros to the Cardinal.
They're now the No. 5 team in the country. Perhaps there's no greater example of a small-hire success story than the man whose team currently sits at No. 6 in the country, a guy who has beaten Michigan seven straight meetings.
Jim Tressel spent 14 straight years coaching - you could say languishing - at Division I-AA Youngstown State before being hand-picked to replace John Cooper at Ohio State, a move at the time some considered to be on par with Notre Dame's hire of Gerry Faust.
"In hiring a head football coach, you need someone who has energy, proven ability to win and recruit, and someone who can communicate to people where you are going with the program," Bellotti said.
Who could that person be for Michigan? Brady Hoke from San Diego State? Utah's Kyle Whittingham? A coordinator not yet mentioned in the realm of consideration? All this is to serve as a reminder that, should Brandon fire Rodriguez, he doesn't need to necessarily make a big splash. He needs to hire a great football coach.
That may indeed be Jim Harbaugh. But he's not, and shouldn't be, considered Michigan's only option.
Pete Bigelow covers the Michigan football team for AnnArbor.com. He can be reached at (734) 623-2551, via e-mail at petebigelow@annarbor.com and followed on Twitter @PeterCBigelow.