Posted on
Tue, Aug 21, 2012 : 7:36 p.m.
Status of Fitz Toussaint and Frank Clark still undecided, Brady Hoke says
By Nick Baumgardner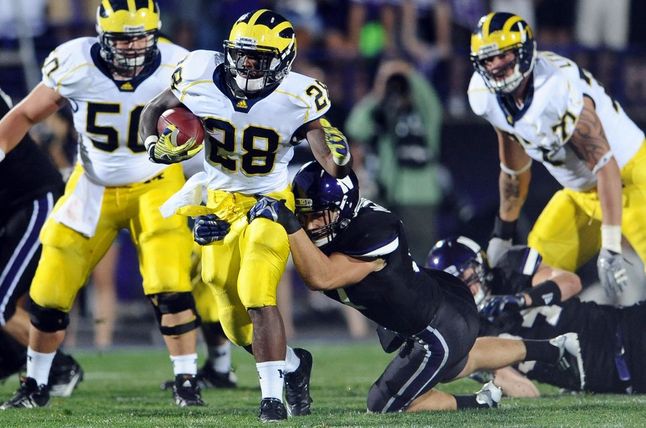 Melanie Maxwell | AnnArbor.com
Brady Hoke
stil isn't sure whether or not he'll play junior running back
Fitz Toussaint
in the season-opener against Alabama, and he's still not sure when, exactly, he'll decide.
Asked Tuesday what Toussaint has to do to get clearance from Hoke for the 2012 debut, the Michigan football coach was again rather vague.
"He's got to demonstrate that (he'll) do the right things," Hoke said.
Hoke was also asked whether or not his choice to take his time with the decision could be viewed as a bit of gamesmanship with Alabama, as the Crimson Tide seemingly now have to prepare for both Toussaint and sophomore running back Thomas Rawls.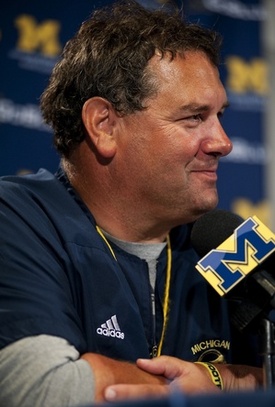 That notion was quickly shot down, though, as Hoke said that's in no way a reason for his delayed decision.
"I really don't care (about that)," said Hoke, whose team will battle the Crimson Tide on Sept. 1. "No, it's not."
Toussaint, along with suspended sophomore defensive end Frank Clark, returned to practice last week after beginning fall camp away from the field due to a drunken driving charge last month.
The running back is scheduled to appear in court to face one count of operating a vehicle while intoxicated on Aug. 28, which is just four days before the Wolverines open the season against the Crimson Tide in Arlington, Texas.
Hoke said Toussaint's court date will not have an influence on whether or not he plays.
As for Clark, Hoke said the sophomore end is in the same situation as Toussaint -- in that he hasn't made up his mind whether or not he'll see game action in the season opener.
Clark, who is facing a second-degree home invasion charge after being accused of stealing a laptop from a campus dorm room, is due in court on Sept. 11, three days after Michigan's first home game of the year against Air Force.
"(Clark is) in the same boat (as Toussaint) right now," Hoke said. "They've both got an oar."
Nick Baumgardner covers Michigan sports for AnnArbor.com. He can be reached at 734-623-2514, by email at nickbaumgardner@annarbor.com and followed on Twitter @nickbaumgardner.