Posted on
Tue, Apr 17, 2012 : 5:59 a.m.
6 risers and fallers from Michigan football team's spring camp
By Kyle Meinke
It was an uneventful spring camp for the Michigan football team -- and that's a good thing for a club that has 15 starters back from an 11-2 campaign.
Coach Brady Hoke wasn't changing up schemes. He has most of his playmakers back. He has established leaders, and depth at several key positions (with both lines being a notable exception).
He mostly was looking to get out healthy after 15 practices, and he did that, aside from some lumps here and there. But a few surprises did emerge along the way.
It's prudent to not read too much into the spring game -- which featured Denard Robinson for only one series, for example, and only base schemes on both sides of the ball, for another.
But, judging from what we saw Saturday, bolstered by camp reports from players and coaches, here are some risers and fallers from Michigan's spring:
RISING STOCK

Joey Burzynski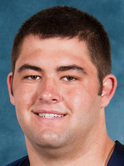 The sophomore offensive lineman was mentioned by Hoke and coordinator
Al Borges
as a player who was standing out at left guard this spring -- but so was
Elliott Mealer,
and it was assumed the fifth-year senior was the leader at the position.
As it turns out, Burzynski has run with the first unit since about the midway point of camp, and got the call at left guard for the spring game. He was the biggest surprise of camp, and provides an unexpected source of depth on an offensive line that badly needs it.
Looking ahead: Burzynski will try to lock down the left guard spot in fall camp, battling Mealer and incoming freshman Kyle Kalis for the job.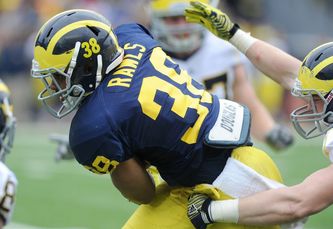 Angela J. Cesere | AnnArbor.com
Thomas Rawls
Running backs coach Fred Jackson has lauded Rawls since he first stepped foot on campus, and had fans in a tizzy last fall when he likened the Flint native to a faster version of Heisman Trophy winner Mark Ingram.
Rawls ended up carrying the ball only 13 times. Coaches have since said he exhibited poor vision last year, and too often tried to power through tackles. Now, he's avoiding them altogether and reading his holes quicker. It showed this spring, as he shimmied his way into consistent carries, and again in the spring game, when he was the first alternate for starter Fitz Toussaint in the backfield. He scored the day's only two touchdowns.
Looking ahead: Rawls helped himself in a big way this spring, and will be in a head-to-head battle with senior Vincent Smith for the non-Toussaint carries this fall. Smith is a proven blocker and pass-catcher, but Rawls is a powerful and more dynamic rusher.

Russell Bellomy

The redshirt freshman quarterback doesn't have a powerful arm, but he displayed in the spring game the accuracy and mobility coaches have raved about throughout camp. He moved the offense consistently, and Hoke isn't asking for much more than that from his backup.
It's important the Wolverines have a reliable No. 2 in the chute, since Robinson's running exposes him to frequent bang-ups. Bellomy showed he could be that guy -- and was certainly more impressive than current No. 2 Devin Gardner in the scrimmage. He completed six of his nine passes against the second-unit defense.
Looking forward: Hoke was clear that Gardner remains Michigan's No. 2 quarterback, which means Bellomy is the No. 3. Neither will supplant Robinson at No. 1. That means the best Bellomy can do is challenge Gardner for the backup role -- and he could do that, especially if the Gardner Experiment at receiver develops into something more.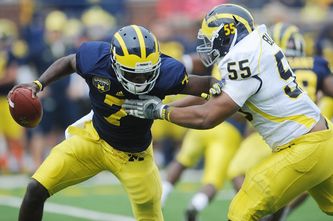 Melanie Maxwell I AnnArbor.com
FALLING STOCK
Devin Gardner

Speaking of Gardner ... he wasn't dreadful in the spring game, but he was close. He took a sack on his first snap, threw an interception on his second and things didn't get much better from there. He completed only two of his seven passes. Hoke said Gardner remains the backup quarterback, but could that change? It's more likely now than it was before the start of camp.
The junior also took snaps at receiver this spring, in an effort to utilize his athleticism. He's one of the Wolverines' best overall athletes, and his 6-foot-4 build makes him an attractive option at wideout, where Michigan lost top big-play threat Junior Hemingway.
Looking forward: Now that Bellomy is surfacing as a capable option as a backup quarterback, would it behoove the Wolverines to promote him to the No. 2 quarterback spot and slide Gardner to wideout? That will be a burning question heading into fall camp. As for now, Gardner needs to iron out his issues in the passing game, if he is to remain Michigan's quarterback of the future (with Bellomy gaining ground, and five-star recruit Shane Morris set to join the program next year, that's no longer a certainty).

Elliott Mealer

Mealer came to Michigan as a four-star tackle and ranked among the top 30 players nationally at his position. Now a fifth-year senior, he has played in only 10 games, and started none of them.
After Michigan moved its top two left guards to other positions this spring, it appeared Mealer, a career utility player, was primed to earn a starting spot. He was mentioned consistently by coaches as a starting candidate, and he appeared to be the favorite after redshirt freshman Chris Bryant was moved to right guard. But he was beaten out by Burzynski for first-team reps in the spring game, and could be headed back toward utility duty.
Looking forward: Mealer will still receive a steady diet of reps as Michigan tries to develop depth on its offensive line. His direct competition for playing time will be Burzynski and Bryant, as well as Kalis.
Melanie Maxwell | AnnArbor.com
Defensive line
The position was expected to be a work in progress, after it lost three starters from last year, and that proved to be the case. The Wolverines aren't so bad at end, where Craig Roh (strong side) and Brennen Beyer (weak side) played well. Their backups, Keith Heitzman and Frank Clark, respectively, showed promise.
But Hoke said the middle was "soft" in the spring game. Will Campbell and Jibreel Black started at tackle and flashed potential, but aren't anywhere near the level at which Mike Martin and Will Heininger played last year. Their backups, Quinton Washington and Richard Ash, have a long way to go before they're ready to contribute.
Kyle Meinke covers Michigan football for AnnArbor.com. He can be reached at 734-623-2588, by email at kylemeinke@annarbor.com and followed on Twitter @kmeinke.