Posted on
Fri, Dec 16, 2011 : 2:26 p.m.
Struggling punter Will Hagerup battling for his job, Michigan coach Brady Hoke says
By Kyle Meinke
Michigan football coach Brady Hoke said today that Will Hagerup might lose his spot as the Wolverines' starting punter for the Sugar Bowl.
"No question," Hoke said, when asked if freshman backup Matt Wile was pressing Hagerup for starting duties against Virginia Tech (11-2). "We'll see who punts in the bowl game."
Michigan will begin implementing its bowl game plan at today's practice, which will be the first of seven in Ann Arbor before the team breaks for Christmas, then reconvenes in New Orleans. Hoke, who is the punting coach, will have a watchful eye over Hagerup and Wile.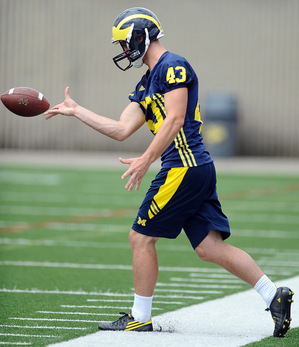 Hagerup was tremendous last year as a freshman, when he averaged 43.6 yards per punt, the second-best clip in school history among those with at least 30 attempts. He's struggled mightily this year, though, since returning from a
four-game suspension to begin the season
.
He is averaging 36.8 yards per punt, nearly seven yards off last year's mark. His longest is 50 yards, a mark he exceeded 10 times last year, including in seven different games.
Hoke said Hagerup is struggling with "overswinging," for lack of a better word, and consistency.
"I'm going to use an analogy, which probably is really bad, because I don't golf and I'm really a bad golfer," Hoke said. "When you're at the longest drive, guys rear up and they want to try to kill it. Well, sometimes, William does that with his punting, instead of having a consistent swing at the ball.
"It's just consistency, how you set the ball, where your hand is, and the mental imagery of when you do it the right way."
Wile, meantime, averaged 41.1 yards while filling in during Hagerup's four-game suspension and had two 50-yarders -- that is, one more than Hagerup in the following eight games.
Wile's best game was his last outing, when he averaged 49.0 yards on four attempts against San Diego State. In other words, he nearly averaged Hagerup's long for the season.
But Hagerup returned the following week, and Wile hasn't punted since.
That could change against Virginia Tech.
When pressed about the realistic chance Wile would get the nod in the Sugar Bowl, Hoke said, "Yeah, I wouldn't have said it if it wasn't (serious)."
"Matt's done a nice job," he added.

Practice schedule

Hoke said the team's first two bowl practices were "high energy, high tempo and we got to do a couple things with the young guys in scrimmage situations."
Now, they'll turn toward intensifying practices and installing the game plan for Virginia Tech.
Hoke said the practices Monday and Tuesday will be intense before backing off on Wednesday. The team will practice seven times before breaking for Christmas.
Players will report to New Orleans on Dec. 28.

Odds and ends

Hoke said he anticipates all players will make the trip to New Orleans, and that the team is "OK" with injuries. ... Hoke said there might be a few "wrinkles" for the bowl game. ... Hoke said playing a high-profile bowl, such as the Sugar Bowl, helps with recruiting. He has been out on the recruiting trail this week while his team was not practicing. ... Hoke said he doesn't think Michigan will seek a sixth year for linebacker Marrell Evans, affirming what he said Monday night at the team's bust.
Kyle Meinke covers Michigan football for AnnArbor.com. He can be reached at 734-623-2588, by email at kylemeinke@annarbor.com and followed on Twitter @kmeinke.