Posted on
Fri, Dec 30, 2011 : 3:07 p.m.
Sweet-dancing Fitz Toussaint has 'blossomed' this season for Michigan football team
By Kyle Meinke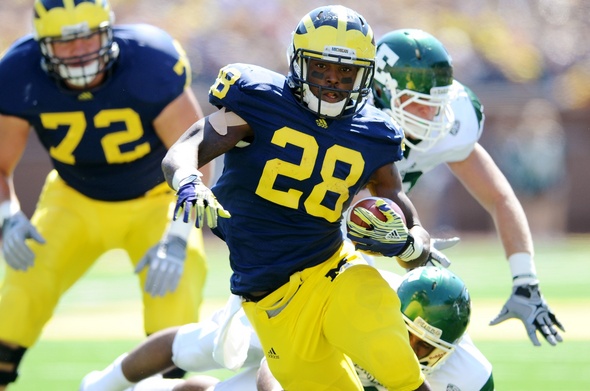 Melanie Maxwell | AnnArbor.com
NEW ORLEANS -- The Big Easy is known for its song and dance, and Fitz Toussaint, who shares a surname with a well-known local jazz musician, is feeling at home.
On his first full day in New Orleans, the Michigan football team's sophomore tailback engaged the Saints cheerleaders in a dance-off at a team dinner. He held his own, borrowing from "Cali Krump" dance moves he's seen on TV.
He called it a tie.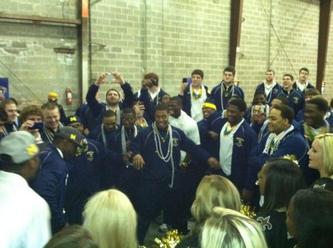 "I follow after those guys, and that's something I like to do," said Toussaint, adding it's between him, receiver Junior Hemingway and tight end Ricardo Miller for best dancer on the team. "It actually gets me in shape, it helps my feet. ... Energy. It's all about energy.
"I go to some clubs ... not to dance, but by the end of the night, I end up dancing anyway. It's one of my passions."
His moves on the field aren't so bad, either.
Toussaint rose to prominence this season. He got the start in the opener after a trying fall camp, then eventually separated from the pack to earn lead-back status — and carries — by the Purdue game.
That decision was made after offensive coordinator Al Borges met with running backs coach Fred Jackson one day, telling him, "Let's just leave him in there. Leave him in there, and see what he does. Let's let him carry it a few."
Toussaint said he found out about becoming the lead back through the media, not from the coaching staff.
"It was kind of like, (they) still wanted it to be a competition," Toussaint said Friday morning at a hotel in New Orleans. "(They) wanted us to keep working for that job."
By the end of the season, Toussaint was rolling. He broke 100 yards rushing in four of the final five games and had 678 yards in that stretch.
That's more than any tailback all of last season.
"The more I got to touch the field, the more I got to touch the ball, the more I got comfortable," Toussaint said. "So, I think that really helped me a lot, and that really got me acclimated."
Toussaint finished with 1,011 yards in the regular season, the first Michigan tailback to break the 1,000-yard barrier since Mike Hart in 2007.
He said his biggest improvements were his vision and patience, which he picked up simply by getting more snaps.
"Every phase of Fitz's game got a little better every week," Borges said. "He went from spring practice, and he'd just run into bodies. His vision was questionable.
"He's always fast, always explosive, but he wasn't always running where he should run. But, once he played more and got a feel for where his help was coming from, with regard to our blocking schemes and such, he just blossomed."
The biggest knocks on Toussaint coming into the season were his health issues and vision. As he answered those questions, though, it became his blocking.
He got just two carries for seven yards against Michigan State after failing to pick up blitzers early in the game.
But Toussaint said he learned a lot from watching junior Vincent Smith, who, despite his 5-foot-6, 172-pound frame, is considered the team's best blocking back.
"He is the guy who gave me all the experience I have now," Toussaint said. "As he went out there, I took mental reps. I just fed off of that, and I just went out there, and I was able to pick those guys up."
Toussaint has become an important piece to Michigan's offense not only for his carries but also for residual effects such as taking pressure and attention of quarterback Denard Robinson.
He'll have his work cut out for him in the Sugar Bowl matchup Tuesday against Virginia Tech, which ranks seventh in the country in scoring defense and is 16th against the run.
Part of why they are so good is because defensive coordinator Bud Foster uses a unique scheme that crowds the box.
"That presents some real issues for us offensively," Borges said.
But, that's something Toussaint said he's seen each game this year, in part because of the threat posed by Robinson's rushing ability and also the ongoing struggles in the passing game.
He's danced around that coverage brilliantly.
Kyle Meinke covers Michigan football for AnnArbor.com. He can be reached at 734-623-2588, by email at kylemeinke@annarbor.com and followed on Twitter @kmeinke.