Posted on
Sat, Sep 3, 2011 : 3:42 p.m.
Tailgating compromises at Ann Arbor Golf and Outing Club receive mostly positive reviews
By Pete Cunningham
Changes to tailgating policies at Ann Arbor Golf and Outing Club implemented for the current football season seem to be working.
Prior to Michigan's season-opener against Western Michigan, large groups tailgated comfortably in their usual spots. Tto emergency vehicles -- one ambulance and one fire truck -- called to the popular fan destination prior to game time in response to a grease fire and a case of dehydration, were able to get in and out with ease.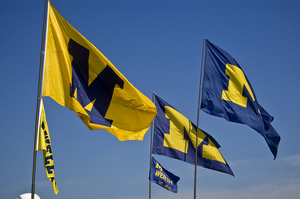 Joe Tobianski | AnnArbor.com
Before the 2009 football season, parking at the private nine-hole course -- located on the southeast corner of Stadium and Main streets, across from Michigan Stadium -- operated on a first-come, first-serve basis. The result was what the board of directors deemed to be a safety hazard as tailgaters set up without order.
The last two football seasons, the parking directors have pointed tailgaters to spots, causing an uproar among longtime tailgaters, who could go to their usual spots. Prior to this season, tailgaters could reserve large spots for six vehicles or more.
Anthony Mastrogiacomo of Milford had a tailgate of more than a dozen vehicles on the northeast corner of the course. He said being able to reserve the spots beforehand relieved the stress of game day. This is the fifth year he's tailgated at Ann Arbor Golf and Outing.
"We took the opportunity because we wanted the security of having our spot week in and week out," Mastrogiacomo said. "Being graduates, we don't mind paying that extra money ahead of time to have the security of the spot.
Will Feltz, a self-described lifelong fan from Clinton, has tailgated at Ann Arbor Golf and Outing for seven years. He didn't like having to reserve so many spots for the entire season, but he said it was a nice compromise from what has happened the past two years.
"I think it's better that they did that than not letting us do it at all," Felts said. "It's not as appealing as is it used to be. ... It sucks trying to get six people together, that's the bad thing about, but this year has been better than last year."
Contact Pete Cunningham at petercunningham@annarbor.com or by phone at 734=623-2561. Follow him on Twitter @petcunningham.