Posted on
Thu, Sep 29, 2011 : 5:55 a.m.
Talking with Michigan redshirt freshman linebacker Jake Ryan
By Pete Cunningham
After a redshirt season last year, Michigan linebacker Jake Ryan has started this season strong with 15 tackles, including three for loss, and a pair of fumble recoveries. Still, defensive coordinator Greg Mattison made a point to call him out at Tuesday's press conference.
Ryan talked about the criticism and more. Among the other topics was, of course, his long golden locks:
Q: What's with the hair? Have you always had long hair?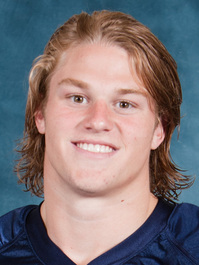 Jake Ryan:
"No. It's probably been about a year and three months. I started it last year during spring ball. Just decided I wanted to grow it out because one of my buddies in high school grew it out for about three years and it's just a new look. I've had a buzz my whole life. This is the longest it's ever been."
Q: Do you like having long hair?
JR: "Yeah, I mean it's definitely annoying, it's really annoying, but I definitely do like it."
Q: What's your favorite coach Hoke saying?
JR: "Be aggressive. I think that's one of our biggest things. ... It's a defensive thing to just knock 'em back and be aggressive with who you're playing."
Q: Coach Mattison called you out in the press conference, saying he wanted to see more out of you, particularly late in the game. Do you like that they're holding you to a higher standard even though this is your first year starting?
JR: "I love that. It's always going to be tough, but I just have to keep on working and keep on improving."
THURSDAY LIVE CHAT
Come back to AnnArbor.com at noon Thursday for a live chat with Kyle Meinke. He'll recap the Wolverines' win over San Diego State, discuss news that emerged this week and preview the game against Minnesota on Saturday.
Q: What trophy game are you looking forward to the most?
JR: "Just starting out in the Big Ten, I think this is a big game for us. Just starting out in the Big Ten and it's the Brown Jug game, so I mean it's definitely huge starting out with that one. ... I'm just trying to focus on Minnesota right now."
Q: How difficult is it playing against a mobile quarterback like Minnesota quarterback MarQueis Gray?
JR: "It's tough. They're good runners and stuff like that, but it's definitely fun. It's definitely fun getting out there and playing against them."
Q: What's been your biggest adjustment from high school to college?
JR: "I want to say just my technique and stuff. Getting around the ball and ripping and doing pass rush moves and stuff like that. I mean, I never knew that in high school. I had a little bit of it. I had the swim moves and stuff, but not everything right now. And I think that's been a big jump for me from high school."
Q: What could you get away with then that you can't get away with now?
JR: "Just running to the ball. It was like, I would just go to the ball. Kind of like a grade school thing, do whatever you want kind of routine, but that's definitely not the case in college. It's a team thing."
Q: Other players have talked about how difficult fall camp was. Was there a moment for you that was like, 'Man, this is tough'?
JR: "It's always going to be tough, but they're good coaches, they know what they're doing and we're going to keep on pushing through and we're going to come out, hopefully, victorious."
Q: Was there a moment that you didn't want to be there?
JR: "No. I mean, we're going to go through it and just do the best we can."
Q: Is there anything you're doing to create turnovers or anything the team is emphasizing that you think is leading to all the turnovers?
JR: "We're always working on ripping the ball out and then punching the ball out from the back, which I think Ryan (Van Bergen) did (against San Diego State). Yeah, I mean, there's always good things that you can do to rip the ball and create turnovers."
Q: How comfortable do you feel with four games under your belt?
JR: "I'm comfortable. But there's always things you improve on and I just have to keep moving forward, get things corrected and keep it going."
Q: Where do you think you need to improve the most?
JR: "I think my pass rushing. I think I need to get that down and get a little bigger in the weight room. ... Those are a couple of things that I need to improve on."
Q: When do you think you made your biggest jump since you've been on the team?
JR:"Spring ball. I was getting practice a lot and got a lot of things down in my head. I think I stepped up there and, I don't know, I think I did a lot better in spring ball."
Q: Was it something specific that you feel you improved on the most in the spring?
JR: "I don' know. I think just getting in to film and getting practice in, those are just the main things. Just repetition and creating perfection for my position."
Q: Tell me about your bracelet.
JR: "I'm Catholic so, it's the Virgin Mary, I just wear it all the time. My aunt made actually made it."
Pete Cunningham covers sports for AnnArbor.com. He can be reached at 734-623-2561, by email at petercunningham@annarbor.com and followed on Twitter @petcunningham.