Posted on
Sat, Oct 16, 2010 : 9:58 p.m.
Tate Forcier shows moxie in relief role during Michigan's loss; Denard Robinson should be OK
By Pete Bigelow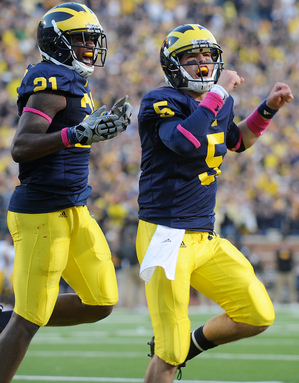 Melanie Maxwell I AnnArbor.com
Tate Forcier spurred a lot of chatter Saturday when he started warming up on the sidelines during the second quarter.
He wasn't planning on entering the game. But after being caught by surprise two weeks ago against Indiana, Michigan's backup quarterback has made it a point to stay loose throughout the game.
"You never know what will happen," Forcier said Saturday. "If my name is called, I'm ready."
One quarter later, the Wolverines needed him.
Denard Robinson aggravated an preexisting shoulder injury and exited the game with 11 minutes left in the third quarter. This time, Forcier was ready.
He rallied the Wolverines to three fourth-quarter touchdowns and could have directed another scoring drive had Vincent Smith not fumbled away a promising drive on the Iowa 14-yard line.
In the end, it wasn't enough to overcome the Hawkeyes, who held for a 38-28 victory at Michigan Stadium. But for the second time this season, Forcier stood out in a relief role and earned respect.
"Forcier did a tremendous job of coming back," Iowa quarterback Ricky Stanzi said. "That was a gutsy performance and he just played a heck of a game in the second half and really made some nice plays."
Forcier finished 17 of 26 passing for 239 yards in less than two quarters of work, throwing one TD pass, running for another score while throwing two interceptions.
He received a loud round of applause upon entering the game, then energized the Michigan offense.
"I really didn't think they were expecting to play me," Forcier said of the Hawkeyes. "I think it kind of shocked Iowa when I went out there. We just started throwing the ball a lot, and that's when we started moving the ball."
He completed six passes for 105 yards to receiver Junior Hemingway, who caught a 45-yard touchdown strike down the left sideline that closed the deficit to 35-21.
Later in the fourth quarter, Foricer threw toward Darryl Stonum on four consecutive plays - completing three passes - before glancing in Hemingway's direction again on a deep pass down the right sideline that he underthrew for a 31-yard reception.
Even though it wasn't the perfect pass, Forcier had confidence that Hemingway, starting for an injured Martavious Odoms, would make the play.
"After I saw what Junior did for Denard against Indiana, I trusted him," said Forcier, recalling Hemingway's 42-yard grab in the waning moments that set up a game-winning score versus the Hoosiers.
"He went up and got it."
Hemingway finished with a nine catches for a game-high 134 receiving yards and a TD. Stonum finished with nine catches - seven from Forcier - for 97 yards.
"Everybody just was excited when Tate got in," receiver Roy Roundtree said. "He just showed what he can bring to the table. I don't know who was game game planning, but when Tate got his chance, he showed up."
It was the second time this season that Forcier stood out in a relief role. When Robinson got hurt against Bowling Green, Forcier entered the game and completed 12 of 12 passes, setting an school record for single-game accuracy.
He'll return to the bench, most likely by the team's next game.
Michigan coach Rich Rodriguez said trainers ruled Robinson out for the remainder of Saturday's game, but that given the bye week ahead, expected Robinson would be ready to play against Penn State in two weeks.
Asked after the game if he would reconsider his starting quarterback after Forcier's performance, Rodriguez nearly choked on the question.
"Denard Robinson's our starting quarterback," he said definitively. "Tate Forcier's a pretty good quarterback too."
Pete Bigelow covers the Michigan football team for AnnArbor.com. He can be reached at (734) 623-2551, via email at petebigelow@annarbor.com and followed on Twitter @PeterCBigelow.