Posted on
Sat, Aug 7, 2010 : 8:04 a.m.
Team-by-team Big Ten notes on Terrelle Pryor, Joe Paterno and more
By Dave Birkett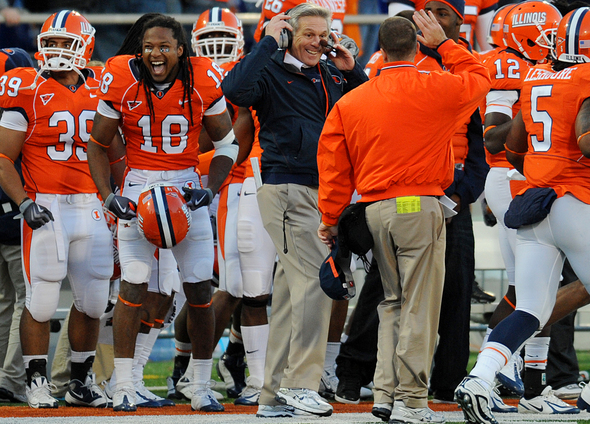 Melanie Maxwell | AnnArbor.com
With orders from above to overhaul his staff after a miserable 3-9 season, Illinois coach Ron Zook added six new assistant coaches this offseason.
"The coaching staff, the way they've gotten together, the way they've jelled, as I sit in there, I've been able to look at things a little bit differently," Zook said. "I've been able to step back and maybe not be quite as involved.
"And that's been kind of a relief. When you can kind of give your suggestions and talk about things that maybe people have tried to do to us in the past or going to try to do to us, just let your players play."
Among the new faces are coordinators on both sides of the ball. Paul Petrino replaces Mike Schultz, who lasted just one year as Illinois offensive coordinator, and Vic Koenning takes over at defensive coordinator for Dan Disch and Curt Mallory.
Disch, now the linebackers coach, is the only assistant with more than one year on staff.
Zook said the changes have energized him and his team.
"I think probably on paper our football team is probably a better football team than it was two years ago," Zook said. "But it still goes back to you got to win games and that's the bottom line."
Indiana

Quietly, Indiana has assembled perhaps the top receiving corps in the Big Ten.
Juniors Tandon Doss and Damarlo Belcher ranked among the Big Ten leaders in receiving yards last year. Fifth-year senior Terrance Turner had more catches (46) than Michigan's leading receiver Roy Roundtree (32). And there's a buzz circulating about redshirt freshman Duwyce Wilson, a former high school long-jump champ.
So how does Indiana coach Bill Lynch plan to spread the wealth?
"It's not a problem," Lynch said. "It's an opportunity for us to figure out how to get the ball in all those guys' hands. They each bring something different."
Doss is one of the best run-after-catch guys in the Big Ten. The 6-foot-5 Belcher is a rangy target who's a threat in the red zone. And Turner is steady veteran leader.
"The other thing that's good is having a fifth-year senior quarterback in Ben Chappell," Lynch said. "When he talks, they listen. And that's much better than having a really good receiving corps with the freshman quarterback where they're all in his ear. They're not going to get in Ben's ear because he's in control of the situation and they know it."
Iowa

It's been six years since Iowa beat Ohio State, but the Hawkeyes must get past their nemesis if they want to win the Big Ten title this fall.
"One thing's for sure, if you're going to try to win a Big Ten championship, you're going to have to find a way to compete with them and beat them," Iowa coach Kirk Ferentz said. "And not many people have had much luck doing that."
Iowa nearly pulled the upset last year, losing in overtime, 27-24, despite the absence of starting quarterback Ricky Stanzi. The victory clinched a Rose Bowl trip for Ohio State.
This year's game is in Iowa City, and though Ohio State is a preseason top-five team, the Hawkeyes are well-equipped to beat them.
Stanzi is back, Iowa has the deepest group of running backs in conference and Adrian Clayborn leads a defense that held OSU quarterback Terrelle Pryor to just 93 yards passing last year.
"We had a great game with them last year," Ferentz said. "Great football game. If I wasn't a coach, I really would have enjoyed the game. We came out on the short end of it. It was tough to enjoy it. Great college football game. But over the long haul nobody can dispute what the records say."
Michigan State
If Clayborn isn't the best defensive player in the Big Ten, than Michigan State linebacker Greg Jones is.
Jones finished third in the nation with 154 tackles last year and postponed a chance at NFL riches to try and help the Spartans compete for a Big Ten championship.
"He has a great physical presence on the field," Michigan State coach Mark Dantonio said. "He's a first-team all-Big Ten player, first-team All-American player, and certainly through the middle of our defense gives us a guy who can make plays throughout our entire defense and all over the field."
Beyond Jones, the Spartans have several question marks on defense. MSU led the Big Ten in pass efficiency defense and ranked third with 36 sacks last year, but they forced the fewest number of turnovers in the league and gave up 37 or more points in four of their final five games.
Two incoming freshmen, Max Bullough and William Gholston, will figure heavy into the playing rotation.
"There's no reason to be overconfident," Dantonio said. "We have some things that we need to prove. I think that's very evident."
Minnesota
Say this about Tim Brewster, he's not afraid to play anyone.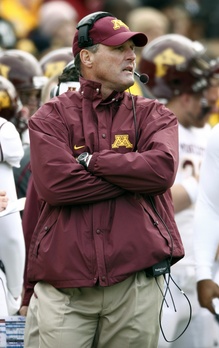 AP photo
When Brewster took over as Minnesota coach three years ago, he made it a point to upgrade Minnesota's boring non-conference schedule. He brought in USC for a home-and-home series that ends this year, and signed two-year deals with Oregon State and Texas, though the Longhorns recently backed out of their contract.
Brewster said the Gophers are "very close to replacing Texas with another marquee non-conference BCS opponent."
"We're going to take a very aggressive stance and approach to non-conference scheduling, because it only helps us," he said. "We want to be a championship-caliber program at the University of Minnesota, and we think to do that we've got to bring the spotlight to us."
Northwestern
Dan Persa has big shoes to fill as Northwestern's quarterback.
His predecessor, Mike Kafka, led the Big Ten in passing yards and total offense a season ago, and most believe the Wildcats' hopes of snapping a 61-year-old bowl drought rest on Persa's shoulders.
"He's chomping at the bit," Northwestern coach Pat Fitzgerald said. "On the field he can do everything we asked our quarterbacks to do. No. 1, he understands the tempos that we want to play at and he understands schematically what we want to do. And I think the best hallmark of a quarterback is he gets on the field, he makes the other 10 guys that much better. I believe that's Danny Persa."
Persa played sparingly last year, making an emergency start against Iowa and attempting just 34 passes for the season. But Fitzgerald said Persa's experience with the program is comforting heading into a big season.
"It helps you sleep a little bit better at night," Fitzgerald said. "But more importantly, Mick McCall and our offensive staff do a great job developing our quarterbacks. And they're doing a great job developing the next guys in Evan Watkins and our two freshmen that will be on campus starting on Saturday.
"We think we have a good plan on developing quarterbacks. I believe our system is quarterback friendly."
Ohio State
In an AnnArbor.com survey of 11 anonymous Big Ten players earlier this month, Ohio State quarterback Terrelle Pryor was named both the league's most exciting and its most overrated player.
Pryor came to Ohio State with tremendous hype - he was the nation's No. 1 recruit - and in two seasons has mixed spectacular with inconsistent play. He had just 160 yards passing in his final two regular-season games last year, then looked unstoppable in a Rose Bowl win over Oregon, throwing for 266 yards and running for 72.
"Terrelle's had an interesting career in that his freshman year he was thrust in there a little bit more than any of us had planned, himself included, with a veteran team and trying to find his way and his identity and his acceptance," Ohio State coach Jim Tressel said. "And I thought by the end of the year he really progressed. And then his sophomore year, all of a sudden it was a brand new huddle and he was supposedly the veteran and supposedly the guy that was going to kind of lead that group. And I thought he had to figure out the difference between what he had experienced before and what he was experiencing in his sophomore year.
"I thought he learned a great deal throughout the regular season his sophomore year. And I thought it really started to really crystallize in his mind during bowl practice."
If Ohio State lives up to its preseason expectations and Pryor builds on his finish to last year, he might find himself in the Heisman Trophy discussion come December.
"I feel good about where he is right now," Tressel said. "He's always thinking about football. I was sitting over there in the ESPN truck (during Big Ten football media days) and he called and had an idea. … He is just always thinking about it. I think he's anxious to get this season underway."
Penn State
Joe Paterno insists the health problems that bothered him most of the summer aren't very serious, but the 83-year-old coach looked and sounded different when he met with reporters in Chicago earlier this month.
His voice was softer and he spoke more deliberately, though he answered questions about his retirement the way he always has.
"As long as I enjoy it I'll continue to coach, unless I don't think I can do a good job or anybody else doesn't think I can do the job," Paterno said. "We'll talk about that later, but right now I have no plans whatsoever as far as whether I'm going to go another year, two years, five years or what have you."
Poor health or not, Paterno hasn't been on the road recruiting much in recent years. The last time he visited a prospect in home was 2008, when he met with Pryor.
As for the season, Paterno said his health issues haven't affected his preparation.
"What did Mark Twain say, the rumor of my death has been overexaggerated or something,," Paterno said. "I didn't lose any time. As I said, the problem I had was not having control of some things, and I had to be careful that I didn't get myself in a position where I would embarrass myself.
"But as far as looking at tapes and talking to kids and getting ready for different things, there was really no difference except I couldn't make as many public appearances."
Purdue
Ralph Bolden seemed poised for a breakout season after running for 935 yards and nine touchdowns as a sophomore. Then he tore his ACL in spring practice.
Now?
"We'll have to wait and see" if he can play this year, Purdue coach Danny Hope said. "But he's progressed well. It's a funny thing, because after he had the injury, the same day I never really saw him limp. Then he had the ACL surgery. And then after the surgery I never saw him limp.
"I think he's going to be a fast healer. There's a possibility we can get him back this year. Only time will tell."
Sophomore Al-Terek McBurse enters camp as the starter. McBurse was one of the Big Ten's best kick returners last year, but played sparingly on offense after some initial eligibility issues.
"He's fast," Hope said. "He has good speed, probably can run 4.5. A little over 200 pounds. A great receiver out of the backfield. He can make you miss. He's an excellent ball carrier. So we like Al-Terek McBurse. We think we can win with him. He's a talented player."
Wisconsin
John Clay gets most of the headlines at Wisconsin, and rightfully so after rushing for a Big Ten-best 1,517 yards and 18 touchdowns last year. But the Badgers are fortunate to have one of the league's most dependable quarterbacks in Scott Tolzien.
Tolzien ranked second in the Big Ten in completion percentage last year, and enters this fall as the clear-cut starter after winning the job in camp a season ago.
"As a head coach it's an unbelievable feeling to know that answer's already there," Wisconsin coach Bret Bielema said. "And to have that answer be Scott Tolzien, for any of you that's interviewed Scotty, he's a perfectionist, he's a detail guy. I think as a person he's really grown, even from a year ago to where we are today, so much."
Bielema said Tolzien has "unbelievable confidence" and made amazing strides last year.
"The best quote I saw him from out of season was somebody asked him about what he learned during the winter film studies, and he said, 'I'm just finally happy that the guy on film is me,'" Bielema said. "I thought that was an interesting perspective, because he's speaking the truth. He got to watch himself perform in the pressures that were involved, and hopefully it's made him a better player."
Dave Birkett is a sports reporter for AnnArbor.com. He can be reached by phone at 734-623-2552 or by e-mail at davidbirkett@annarbor.com. Follow him on Twitter @davebirkett.