Posted on
Thu, Dec 1, 2011 : 5:59 a.m.
The biggest thing the Michigan football team must tighten up before the bowl game: pass defense
By Kyle Meinke
Melanie Maxwell | AnnArbor.com
The Michigan football team's turnaround this season was predicated on defense. That's why the Wolverines aren't alarmed after giving up 34 points last weekend to offensively challenged Ohio State.
But it's clear there's work to be done before they are ready to play in a high-profile bowl, perhaps even the BCS.
The Buckeyes entered the Michigan game 118th in the country in passing — that's worse than even the Wolverines' beleaguered defense from a year ago — and had been struggling to score points.
Ohio State freshman quarterback Braxton Miller walked into Michigan Stadium having never completed more than eight passes in a game and surpassing 100 yards just twice. He walked out of it, though, with 14 completions for 235 yards and two touchdowns, all career highs.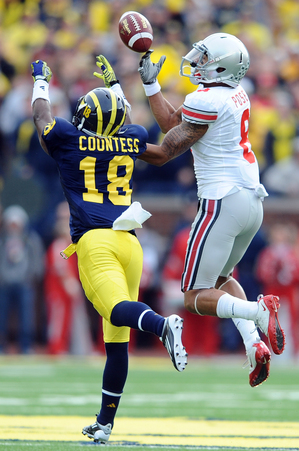 Melanie Maxwell | AnnArbor.com
Most alarmingly, the Wolverines had consistent breakdowns on deep balls. They will try to shore that up for their bowl game, particularly if they were to draw a BCS invite. Michigan likely would play Houston in the Sugar Bowl, if they're eligible for an at-large bid.
Houston, led by Heisman Trophy candidate quarterback Case Keenum, has the nation's top passing offense. That could pose problems for the Wolverines, who were shredded by Ohio State' passing game.
"You have to hold your coverage a little longer, you have to be a little more disciplined with our eyes, and we didn't do that as well as we needed to," Michigan coach Brady Hoke said.
Miller completed first-half touchdown passes of 54 yards to a wide-open Corey Brown and 43 yards to DeVier Posey. Converted-free safety Troy Woolfolk appeared to be culpable on both plays.
Woolfolk has struggled since moving from cornerback to free safety after the Michigan State game. He has supplanted former starter Thomas Gordon for three games, while Gordon started the other two.
Gordon, named the starting free safety in the fall, had played well throughout the season. Michigan didn't allow a single 40-yard play in the seven games he was the full-time starter. They have allowed six in the five games since Woolfolk moved to safety (although he's not responsible for all of them).
They both have seen time in recent weeks, with Gordon playing most of the second half against Ohio State after Woolfolk's rough start.
"We think they're both competing well, practice-wise," Hoke said of what determines who plays at free safety. "I think they both give us something as a team. Thomas, I think he was in on the goal-line stand, which really was a pivotal time in the game.
"Thomas did a nice job in that sequence. Troy did a couple good things in other sequences during the game."
Defensive lineman Mike Martin said Michigan, which ranks among the country's top 10 in scoring defense, was surprised by Ohio State's aggressive playcalling in the passing game. He said they weren't prepared for so many play-action passes.
Miller, who was averaging just 10 passes per game in Big Ten play, started five of his team's seven first-half drives with a pass, and seven of 11 for the game. He attempted 25 passes overall, more than twice his average.
"They beat us like that, and it's something we talked about on the sideline, having to adjust a few things to make sure we could get some more pressure on them," Martin said.
Hoke said part of the problem was the Wolverines were not applying enough pressure on Miller, which allowed the quarterback to find his targets deep.
Martin, a captain who has been at the center of the defense's turnaround and this week was named a second-team all-Big Ten selection, said his biggest area of focus leading up to the bowl game will be fixing that.
"We're going to have to put in time on days where we're not working with coach and we're not practicing," he said. "We're going to have to get in on the bags and work on some pass rush technique, obviously. We need to get more pressure."
Kyle Meinke covers Michigan football for AnnArbor.com. He can be reached at 734-623-2588, by email at kylemeinke@annarbor.com and followed on Twitter @kmeinke.