Posted on
Thu, Oct 7, 2010 : 6 a.m.
Sacrifice, hard work helped nose tackle Mike Martin become a part of the Michigan football team
By Michael Rothstein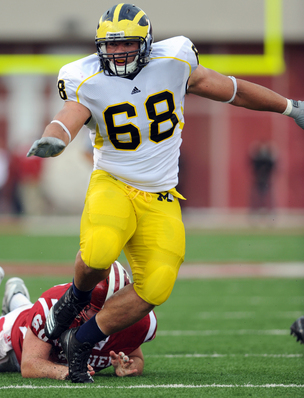 Lon Horwedel | AnnArbor.com
Theresa O'Hara stood to the side in Bloomington, Ind., late Saturday afternoon, watching Michigan's football players walk past. She waited for one person.
Her son.
He's why O'Hara drove from Redford to Indiana. He's why she's traveled across the Big Ten region in recent years. And he's why she worked every weekend this summer as a nurse at the Detroit Medical Center so she could have weekends free in the fall.
As usual, junior nose tackle Mike Martin was among the last Michigan players to exit the tunnel. When he walked out, O'Hara yelled, 'Mike!'
Martin ran to her and gave the woman who supported him as a single mother a big hug.
Quarterback Denard Robinson also came over, hugged O'Hara and called her "Mom."
Martin's response: "That's my mom."
Robinson argued back, jokingly. Then Michigan coach Rich Rodriguez stopped by.
"That made the whole trip, to drive down there and those guys to be so appreciative," O'Hara said. "It's worth it, you know."
O'Hara is a fixture at Michigan practices. She's at once been a supporter, videographer, cheerleader, parent and confidant to her son. She'll likely be there again Saturday when Martin and No. 18 Michigan play host to No. 17 Michigan State (3:36 p.m., ABC).
"She's an amazing woman," Martin said.
Catholic Central the right fit for Martin To understand how Martin reached Michigan, where he's been a stalwart in the middle of the defensive line for the past three seasons, is to understand the relationship O'Hara has with her son.
Theresa O'Hara grew up one of six children, the daughter of an assembly line worker at the Ford transmission plant in Livonia. Her father worked two shifts so he could send his six children to Catholic school and college.
Coming from a religious family where one of O'Hara's uncles is a priest and three aunts are nuns, a Catholic school education is the only option.
When it came for Martin to pick a high school after going to St. Michael School through eighth grade, there were three options - U of D Jesuit, Devine Child or Detroit Catholic Central. Martin picked Catholic Central.
To afford it, O'Hara picked up more shifts as a nurse and worked as much overtime as possible. She added a second job. After all, her father did it for her
"I grew a lot at that school," Martin said of Catholic Central. "I had a lot of male role models at the school that I looked up to, not students but coaches and teachers and stuff that really took care of me in high school.
"In public school, I don't think I would have gotten the same kind of treatment."
It was still a change. Catholic Central rarely offers scholarships, so Martin and O'Hara had to pay for four years of school at close to $10,000 a year.
It's a decision they are still paying for. But in their opinion, it was worth it.
Focused as a high school freshman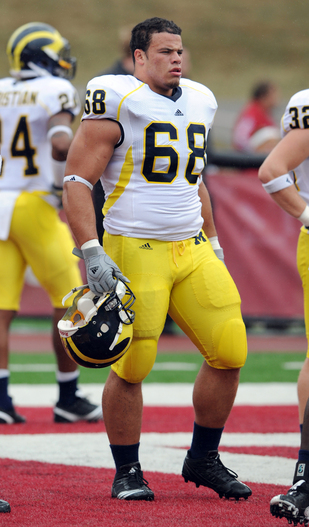 Lon Horwedel | AnnArbor.com
Catholic Central wrestling coach
Mike Rodriguez
walked into the wrestling room at during Martin's freshman year. An assistant coach quickly pulled Rodriguez aside and said, "We have a heavyweight."
Rodriguez figured he already had a good heavyweight, a senior who worked for three years. The assistant shook his head and told Rodriguez to watch.
"(Martin) took my heavyweight and jacked him off the ground, must have been like four feet in the air, and threw him into the mat," Rodriguez said. "My senior didn't get up, he laid there and was in pain. He was weeping he was hit so hard.
"He came up to me before the practice was over and he said, 'Coach, I can't take this anymore.' I said, 'You mean to tell me this guy beat you that bad?' (Martin) was that devastating."
Martin dominated in every sport he played in high school. He won state titles as a heavyweight wrestler his junior and senior years. He won state titles in the shot put as a junior and senior. Then there was football.
It was his way, he saw, to a college scholarship. After his freshman season ended, Martin spent every day in the weight room, working on his strength and toward a college scholarship.
As a freshman, his close friend Shane Morris called him "big-boned." By his sophomore year, Morris described him as "straight knock-your-ass-out kind of kid. No joke."
"Mike was always in the weight room," Martin's best friend, Chris Fischer, said. "Basketball season, we got out of school around 2:45. We'd stay after, go grab food or whatever and then come back for the JV game at 5. But Mike would be in the weight room the whole time. He was the only guy in the weight room.
"That was with sophomores, juniors and seniors who wanted to play college ball not in the weight room. And he was a freshman doing it."
Martin crafted himself into a major college prospect and received offers from some of the country's top football programs.
Michigan the best fit for Martin Charlie Weis sat down at the lunch table, Morris said, right in the midst of Martin and his friends. To the rest, it was shocking, the then-Notre Dame head coach in the Catholic Central lunchroom.
To Martin, it was nothing new. Coaches came from across the country to recruit him. Yet he knew where he wanted to go.
Michigan.
Martin grew up a Michigan fan. O'Hara has class pictures of him, always wearing a Michigan hat or sweatshirt. There was another reason the school down the road appealed to him.
"Think about it, son," Mike Rodriguez said he told Martin. "Your mom is in Redford, she can drive easily to Ann Arbor to see your games."
That was important. O'Hara had been there every step of the way. She filled out coaching inquiries. She made sure Martin had a cell phone, often sacrificing something she might need. She bought a video camera and put together highlight tapes for college scouts.
Martin wanted to go to college. Football was the answer.
"I knew that I didn't have the money to pay for college. Michigan is a lot," Martin said. "I was excited about football being a gateway to that, in a way. My junior year I started getting a lot of looks and stuff, and it excited me because I was going to help my mom out.
"I was real excited about that."
Martin picked up a part-time job the summer after his junior year in high school. When Martin accepted the scholarship, O'Hara learned she wouldn't have to pay for her son's food anymore - an appetite that led her to become friends with the doorman at the Livonia Costco - and she rejoiced.
"To this day, I'm friends with the doorman. They ask about Mike all the time because that's where I lived," O'Hara said. "I spent thousands in groceries. It was ridiculous. Between protein bars and all those things, you know."
Martin started working at Conor O'Neill's in Ann Arbor his freshman year at Michigan, waiting tables and washing dishes.
Anything to make money, to ensure his mother didn't have to provide for him.
"It felt good. Hard work that I put in that I was able to help my mom and stuff like she helped me," Martin said. "At least a little bit, whatever I could do."
Hard work was nothing new. It got him to Michigan. It got him on the field early and led Michigan coach Rich Rodriguez on Monday to call the Martin "our most consistent defensive guy each and every week."
No shortage of support Martin has plenty of support every Saturday.
There are his close friends, who once called themselves "The Dynasty" at Catholic Central, going so far as making fake dog tags lined with fake diamonds.
Those are the friends Martin sometimes stayed with for days when he was at Catholic Central, eating half-trays of lasagna and walking out with grocery bags of leftovers.
"One day, when I get money," Martin said. "I have to go give them a check for the food bill."
Morris watches from Central Michigan most Saturdays, keeping his eyes on No. 68. Fischer calls Martin multiple times a week, including just before every game when he tells his best friend he loves him, to stay healthy and wishes him luck.
"He's already done so much," Fischer said. "The kid started as a freshman at Michigan. I get to play him in a video game. I get to be my best friend in a video game.
"I know he feels the supporting cast behind him."
There are his high school coaches, like Mike Rodriguez, who leapt out of his seat Saturday in Grand Rapids when Martin sacked Ben Chappell. Martin finished off the sack with a wrestling move called a lateral drop that he learned from Rodriguez. It was one of Martin's 17 tackles, 4.5 tackles for loss and two sacks this year.
Then there is his mom, his everlasting bond. She wears a No. 68 jersey to games and a pin with her son's photo on her shoulder.
She waits for him, watches and smiles. She sacrificed for him. She raised him, watched him grow with the help of friends and coaches.
Seeing him now, as the man she hoped he would become, is the payoff.
Michael Rothstein covers University of Michigan basketball for AnnArbor.com. He can be reached at (734) 623-2558, by e-mail at michaelrothstein@annarbor.com or follow along on Twitter @mikerothstein