Posted on
Fri, Oct 29, 2010 : 12:03 p.m.
The connection between Michigan's Denard Robinson, Auburn's Cam Newton and Florida's Tim Tebow
By Pete Bigelow
Could Tim Tebow's decision to stay at the University of Florida for his senior season cost the Gators not one, but two potential Heisman Trophy candidates?
Auburn quarterback Cam Newton acknowledged last week that, in an ideal world, he never would have transferred from Gainesville.
"If it was up to me, I would still want to be at Florida," the Heisman Trophy frontrunner told ESPN.com.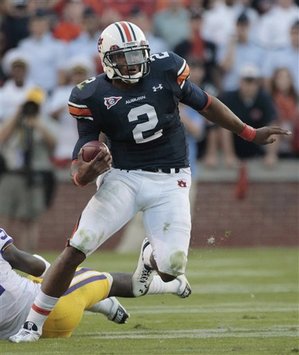 Associated Press
His reasons for leaving were two-fold: one, he was arrested with a stolen laptop, and two, Tebow's presence for another year meant less playing time.
His departure is one the Gators have bemoaned for a few weeks. It's not even October, and they've lost three games. At Auburn, Newton has compiled 1,077 rushing yards, 27 total touchdowns and a No. 3 ranking in the AP Top 25 poll.
But Newton's not the only quarterback who made a career decision, in part, based on Tebow's return for a senior season. The other?
Michigan's Denard Robinson.
Florida, Michigan and Central Florida all stood at the top of Robinson's recruiting list late in the process, according to Art Taylor, his high school coach at Deerfield Beach.
But Robinson wanted to play early in his college career. When Tebow announced he would return for his senior year on Jan. 11, 2009 - less than a month before National Signing Day - Taylor said Robinson knew his chances of sitting behind Tebow and Newton grew.
So his attention turned toward Michigan and Central Florida. Today, Robinson leads the NCAA in rushing with 1,096 yards in seven games. Newton is right behind with 1,077 yards in eight games. Both have reached the Heisman radar this season and drawn comparisons to each other.
As for the unranked Gators, John Brantley has struggled following in Tebow's footsteps, what ESPN.com's Mark Schlabach calls the "nation's toughest job."
Robinson said Monday that he never met Newton during the recruiting process, but he spent part of last week's bye watching Auburn beat LSU, and said Newton "was outstanding."
Michigan coach Rich Rodriguez watched the same game, and recalled watching Newton, a 6-foot-6, 250-pound junior, during his days with the Gators.
"That is a big guy running and having pretty good success," Rodriguez said. "I remember watching him as a younger guy at Florida and when Tebow was there. From the time I saw him at Florida to now, he's done a tremendous job."
Pete Bigelow can be reached at (734) 623-2556 or e-mailed at petebigelow@annarbor.com. Follow him on Twitter @PeterCBigelow.