Posted on
Thu, Nov 10, 2011 : 5:59 a.m.
The curious case of the missing big plays, and how they cost the Michigan football team a win
By Kyle Meinke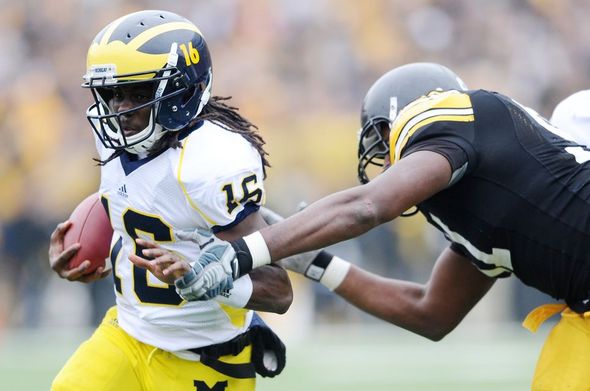 Melanie Maxwell | AnnArbor.com
The Michigan football team beat Iowa in first downs, passing yards, total yards and time of possession.
Yet, the Wolverines scored only 16 points -- well off their season average of 34.8 per game -- and lost to the Hawkeyes. Why?
Offensive coordinator Al Borges said, more than anything, it's because the Wolverines didn't reel off any big plays.
Although it moved the ball more consistently than Iowa, Michigan did not have a single play of longer than 22 yards. Two-thirds of its plays gained 4 yards or less.
"(The) biggest reason that we didn't win this game is because, from an offensive perspective, we had no big plays," Borges said this week. "If you look at the seven games that we've won, almost all of them, there's been huge chunks of yardage taken off in certain drives.
THURSDAY LIVE CHAT
Come back to AnnArbor.com at noon Thursday for a live chat with Kyle Meinke. He'll recap the Wolverines' loss at Iowa, discuss news that emerged this week and preview the game against Illinois on Saturday.
"We failed to get big bites out of the defense. It took a toll on our point production. It took a toll on our yardage. It took a toll on everything. We had 20-something first downs, but that's kind of meaningless when we can't score."
The Wolverines are 17th in the country in plays of 30 yards or longer (24), and second in the Big Ten behind Wisconsin. However, 22 of the 24 came in their seven wins.
Just two came in their losses to Iowa and Michigan State.
Likewise, Michigan averaged 37.7 points in its seven wins, and 15.0 points in its two losses.
Borges thinks the two are correlated.
"Sixteen points? You have to score more points," Borges said, "and the way you do that is you move the ball incrementally, and turn around once in a while and take a big bite of the defense."
If that trend holds, Michigan could have a hard time when it travels to Illinois on Saturday (3:30 p.m., ABC). The Illini have allowed only 10 plays of 30 yards or more this year, which is 14th in the country.
Coach Brady Hoke -- still a defensive line coach at heart -- agreed with Borges' theory, and looked at it from the other side of the ball: When Michigan gives up big plays, it struggles to win. He pointed to a 44-yard pass that Iowa completed on its first drive and turned into seven points.
"I think big plays are a big part of (winning) or we, as defensive coaches, wouldn't stress so much about giving up big plays," Hoke said.
Michigan has allowed the sixth-fewest 30-yarders in the country (eight in nine games), a big reason for its turnaround this season on that side of the ball.
Kyle Meinke covers Michigan football for AnnArbor.com. He can be reached at 734-623-2588, by email at kylemeinke@annarbor.com and followed on Twitter @kmeinke.