Posted on
Sun, May 20, 2012 : 5:58 a.m.
Year of unemployment helped Al Borges create his Denard Robinson-led Michigan hybrid offense
By Kyle Meinke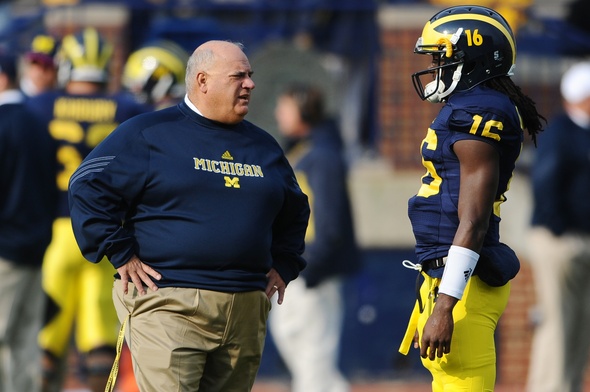 AnnArbor.com file photo
Al Borges took over as Auburn's offensive coordinator in 2004, and promptly guided the Tigers to a 13-0 season. They led the SEC in scoring.
Just three years later, as Borges' offenses floundered, he was out of a job -- and nobody wanted him. So for the first time since 1981, he was out of college football.
He didn't sail off into the sunset, though. Instead, he cracked open the books, queued up some film and called a few colleagues.
He was studying the spread offense.
Borges has always been a West Coast offense kind of guy, and had no intentions of changing that. But he saw the spread as an innovation in college football -- perhaps even the wave of the future -- and figured he could enrich himself by studying the system, even if he never employed it.
Turned out to be a sage move.
He hooked up as Brady Hoke's offensive coordinator at San Diego State in 2009, then followed him to the Michigan football team last year.
And, just like that, he inherited one of the most prolific spread quarterbacks in college football history.
Borges knew right away he would have to change who he was as an offensive coordinator to suit Denard Robinson's skill-set, but much of the legwork had already been done.
"When you have a player that dynamic, you make what you are work," Borges said. "If it means not running your prototypical West Coast offense, well then it means that and that's fine.
"But I wouldn't trade that kid for anybody."
It wasn't always easy, however, as Michigan went through something of an identity crisis. Was it a pro-style team? Or spread? Spread-option? Or some kind of hybrid?
"It took us a few games to really realize what we were," Borges said.
That partly was because Borges was insistent upon making sure his spread offense was different, if he was going to have to run it.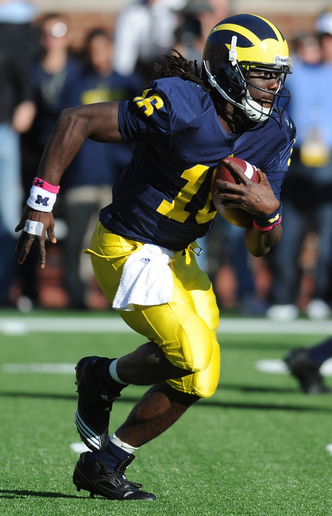 Melanie Maxwell | AnnArbor.com
"Belly-button spread," Borges said. "Everybody had one, right?"
Instead, Michigan developed its own unique blend of the spread and West Coast offenses. It evolved from about two-thirds spread to begin the season to more than 80 percent spread by the end.
Robinson's rushing numbers took a hit, as he gained 1,176 yards on 221 carries (5.3 yards per carry). In 2010, he racked up 1,702 yards on 256 carries (6.6 average), an NCAA record for a quarterback.
Much of that dip had to do with diversifying the offense, as Robinson went from featured runner to part of a two-pronged attack with tailback Fitz Toussaint.
Robinson's carries dropped from 19.7 to 17.0 per game.
Michigan's scoring increased from 32.8 to 33.3 points per game.
Through that process, Borges said Robinson made him a better coordinator.
"It has professionally enriched me," he said. "It's forced not just myself, but everybody in my room to think a little more out of the box, to do a little more research."
Borges said he is not changing Robinson's target carries next year, shooting for 15 to 17 per game, although that can slide depending on circumstances.
Where the evolution will persist is in the passing game. Robinson was erratic for much of last year, completing only 55.0 percent of his throws and tossing 15 interceptions.
Borges said his top offseason concern has been preparing Robinson to limit his interceptions. They've worked on mechanics, such as avoiding throwing of the back foot, and also improving the recognition of coverages.
Their stated goal is fewer than 10 picks next year, although Borges would like to see that closer to five.
"Interceptions is an area where we were weak," Borges said. "The completion percentage was not good, either, but that didn't kill us. That part of the game didn't kill us.
"The interceptions can get you beat, so that's the one area -- and I've talked to Denard about it -- but we have to reduce that number. ... And if we do, it will represent at least one or two more wins we may not have had."
It's been a productive relationship, both for Robinson and Borges. But the days of the spread-West Coast appear to be numbered.
Borges maintains he has no interest in running a spread offense in the long term, and already has picked up a commitment from highly touted pocket quarterback Shane Morris for 2013.
"We're recruiting to (the pro-style offense) because we're the most familiar with that, and we feel that's the best way to win at the University of Michigan," Borges said. "We don't have those kinds of players right now, so we're going to do what we think is the best way to win at the University of Michigan.
"If it's more spread, then it's more spread, and that's fine by me. This is not an identity. This is not about me. This is about our team and trying to do what's best to win."
Kyle Meinke covers Michigan football for AnnArbor.com. He can be reached at 734-623-2588, by email at kylemeinke@annarbor.com and followed on Twitter @kmeinke.