Posted on
Sat, Jan 1, 2011 : 7:29 p.m.
The fall of Rich Rodriguez and Michigan football is hard to process
By Pete Bigelow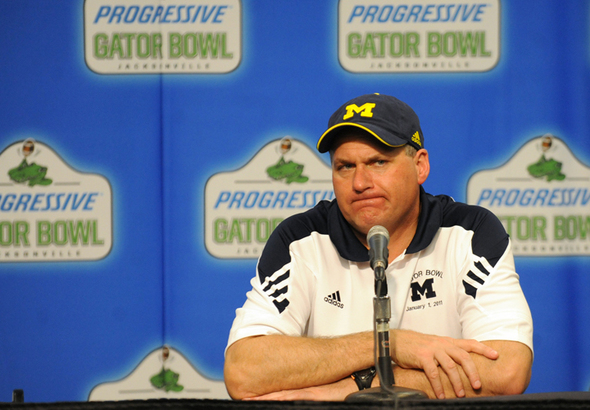 Melanie Maxwell | AnnArbor.com
JACKSONVILLE, Fla. - He wasn't Les Miles, and in retrospect, that was his first mistake.
Rich Rodriguez arrived at Michigan amid a crisis. Michigan football fans clamored for the popular LSU head coach three years ago. When he didn't materialize, Rodriguez inherited a rift that never healed.
He'll leave amid another crisis, this one of his own creation.
A humiliating loss in the Gator Bowl on Saturday made sure of that. After a month of preparation, the Michigan football team turned in a 52-14 stinker against Mississippi State.
There was the worst-case scenario for the Wolverines, and then there was what occurred Saturday.
Michigan athletic director Dave Brandon, earlier this year, had spoken of evaluating the program not on a specific number of wins, but on the direction it pointed toward the end of the season. A 48-28 loss to Wisconsin at home. A 37-7 loss to Ohio State, the team's seventh consecutive defeat against its chief rival. The worst bowl loss in school history. A 15-22 record in three seasons.
There's no question on the direction. It's a matter of time before Brandon makes a coaching change. That's inevitable now.
The only question: How did this all go so very wrong for Rich Rodriguez and Michigan? It is hard to fathom. There were small signs in the beginning - the lingering yearning for a Michigan Man among a large segment of the fan base and the protracted buyout from West Virginia.
But in the beginning, those were easily overlooked because Rodriguez was a bold hire for a program that perhaps had grown a bit too predictable under Lloyd Carr - and predictable meant nine or 10 wins and a January bowl game.
At 44, Rodriguez represented the future. He could have made a career in Ann Arbor, rooting an imprint in the program the same way Bo Schembechler did 40 years earlier.
He was the guy who had invented the spread offense, the guy who turned down Alabama only one year earlier. He was the guy who could do no wrong. Until he arrived at Michigan. There, he stepped into trouble at every turn. Giving away the No. 1 jersey was certainly a forgivable footnote. Earning the once-pristine program its first major NCAA rules violations was another matter.
Bragging that the team had achieved its highest collective GPA when that wasn't the case, an honest mistake of not vetting information.
Offering an emotional plea for his job during the team's senior banquet, a premeditated act committed by a good man reduced to desperate measures - which happened to be set to a Josh Groban soundtrack. There was more: A quarterback who pled guilty to conspiracy to sell cocaine, a troubled recruit with a troubled past ultimately denied admission at Michigan, a real estate investment gone bad.
Last but not least, there was the on-field performance.
On Rodriguez's watch, Michigan lost to Toledo, missed a bowl for the first time in 33 years, suffered the first losing season since the 1960s and employed revolving-door defensive philosophies.
He never beat Ohio State. He never beat Michigan State.
Rich Rodriguez has been a genuine and personable guy throughout the entire debacle, never afraid to be himself. There is no joy in watching him endure a month of questions about his job.
He is a pretty good coach, too, an innovator who sees things on the offensive side of the ball that other coaches do not. He will succeed elsewhere.
But it is clear now that success will be elsewhere, and not at Michigan.
If there was any doubt before Saturday, Mississippi State made sure of it Saturday. The Bulldogs pushed an undersized defense all over the field, and shut down the Wolverines offense after the first quarter. Cowbells clanged as Rodriguez walked into the tunnel, bringing a decibel-piercing end to the season. Afterward, quarterback Denard Robinson tried to explain what went wrong.
"We just didn't execute," said Robinson, echoing a familiar refrain. "We just didn't play Michigan football."
Yes, they did. And that was the problem.
Pete Bigelow covers the Michigan football team for AnnArbor.com. He can be reached at (734) 623-2551, via e-mail at petebigelow@annarbor.com and followed on Twitter @PeterCBigelow.