Posted on
Fri, Nov 18, 2011 : 11:15 a.m.
The key to Michigan stopping Nebraska QB Taylor Martinez? Force him to pass, Lincoln Journal Star reporter says
By Kyle Meinke
The Michigan football team has talked all week about the challenge of slowing Nebraska quarterback Taylor Martinez.
Lincoln Star Journal beat writer Brian Christopherson, who has covered the team for four years, says it's pretty simple, but harder to execute than one might think: Force him to the air.
Christopherson said Martinez has improved as a passer and is much more capable through the air than Michigan's dual-threat quarterback, Denard Robinson, but that Martinez still is most dangerous on the ground.
If the 20th-ranked Wolverines (8-2, 4-2) can force Nebraska's sophomore quarterback to pass when the teams meet at noon Saturday on ESPN, they will be much better off, Christopherson said in this week's beat writer breakdown.
Nebraska, like Michigan, features a running quarterback. How does Taylor Martinez compare to Denard Robinson and what's been the best way to contain him?
Brian Christopherson: I don't believe Taylor Martinez is as elusive as Denard Robinson — but his straight-ahead speed, and ability to kick into a second gear and run away from a defense, is very similar. I'd give a slight edge to Robinson the runner because of his ability to make people miss. I'd give an edge to Martinez the passer because I think he's a little more accurate — at least recently.
Martinez's throwing motion has been made fun of, but he's been on target the past few weeks. Nebraska fans would tell you they'd rather not see the Huskers rely on Martinez's arm to win the game, but I think coaches have a lot of confidence in him. And he does seem a lot more comfortable throwing the ball now than he did even two months ago.
The key to containing Martinez, like with most quarterbacks, is putting him in tough down and distances. He's a guy who, on occasion, will force the issue to try to make a play. He did this against Wisconsin, throwing three interceptions in a 10-minute span. Since then, though, he's been a lot wiser in his decisions. When Martinez has it in is head that he doesn't have to make every play, he's pretty solid and a headache for defenses. When he gets out of that mindset and tries to hit a home run with every snap, that is when he has found trouble.
The Cornhuskers' defense hasn't been as good this year as many expected it would be. What happened, and what in particular is giving Nebraska fits on that side of the ball?
BC: The past two seasons, the Huskers benefited from having Prince Amukamara, Eric Hagg and DeJon Gomes in their secondary. All three are in the NFL now, and I think people underestimated exactly how much that trio would be missed. They had such a chemistry and had figured out the formula to defending the spread offenses of the Big 12. Now in the Big Ten, the Huskers are seeing more rugged offenses. Not better offenses, necessarily, but offenses that will test a defense by running downhill on them.
The Huskers have struggled on their defensive line and at linebacker — aside from All-American Lavonte David, whose been tremendous — to stand up to teams that try to impose their will in the run game. Also, the defensive line lost its best player, Jared Crick, midway through the season. There have been other injuries along that front four. A group that was thought to be the deepest unit on the team is now quite thin.
Bo Pelini's defense is still capable of having an impressive day. It did so against Michigan State and played fairly well at Penn State. But the common thread there is both Kirk Cousins and Matt McGloin aren't mobile quarterbacks. Nebraska has struggled defending the ones that can elude the rush. Braxton Miller, for example, gave Nebraska fits for 2.5 quarters before leaving with injury. So how this defense responds to the challenge of Denard Robinson and his fast feet is the big question of the week.
Where will be Michigan's biggest matchup disadvantage on the field?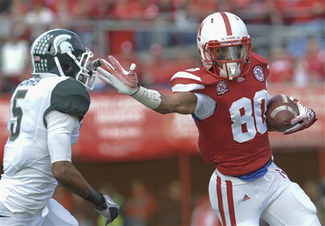 Associated Press
BC: I do think the Huskers can find some success in the passing game. You don't traditionally think of Nebraska as a school with great wide receivers, but the Huskers do have some weapons there this year. When teams have stacked the box to stop Nebraska's run game, offensive coordinator Tim Beck has shown he's not afraid to go deep to loosen a defense up. And he has the kind of speed on the outside to run past people.
Kenny Bell, in particular, is a a guy whose speed could deliver a big play. Tight end Kyler Reed is also a tough matchup for many defenses, because he's faster than your average tight end. Nebraska also has a few big-bodied receivers in Brandon Kinnie and Quincy Enunwa, who are good at getting those 10- to 15-yard catches. The Huskers have had a case of the drops the past two weeks, but don't be surprised to see Nebraska throw it around a little bit early. Make the defense respect the pass, then try to bully them with the run.
Then again, Beck might give it to running back Rex Burkhead 30-plus times like he did against Michigan State. Burkhead is a tough guy to prepare for, because Nebraska uses him in a lot of different ways. He'll run the Wildcat. Last week, he even went under center and took a few snaps. He is reliable, and has a knack for getting tough yards. As Burkhead goes, usually Nebraska's offense goes.
Has anything about Nebraska's first foray through the Big Ten been surprising?
BC: You know, I think it's been about what was expected. Nebraska fans still seem to be excited about having made the move to the Big Ten. As they see all the headlines about other conferences, like the Big 12, that sometimes seem on the verge of imploding, people are happy to be in a league they know is on a solid footing. Granted, everyone is still adjusting to following Big Ten scores instead of the Big 12. But I haven't heard many complaints about the new league.
Mostly, people are excited about seeing the team travel to big venues like Wisconsin, Penn State and Michigan. Also, I expect the border rivalry with Iowa to be intense. The two fan bases already talked a lot of smack when they didn't play. Now that will likely intensify.
How has Big Ten play differed from Big 12 play for Nebraska, and how has its style matched up in league play?
BC: The Big Ten is much more of a smashmouth league, as mentioned above. Nebraska played a lot of nickel and even dime defenses every week in the spread-oriented Big 12. Because of the conference switch, Nebraska will likely need to change its recruiting approach a bit. In the Big 12, Nebraska looked for more hybrid players — guys who could line up in a linebacker spot but also cover a slot receiver like a defensive back.
They might need to recruit a little more size to the linebacker position now after making the league switch in order to combat more of those two tight end offenses some Big Ten teams present. I'd say that's been the biggest adjustment, trying to figure out how to match their defensive personnel against offenses they're not used to seeing.
Brian Christopherson's prediction: I'd be really surprised if this is anything but a close game. I think Nebraska will have its share of success moving the football, but wonder how the defense will do in stopping a dual-threat guy like Denard Robinson. Nebraska does have a good kicking game, which could be crucial in a game like this. But it's tough to walk into a couple 100,000-plus seat stadiums on back-to-back weeks and pick up a win against proud programs, especially seven days after the emotional experience at Penn State. To me, it's a toss up, but I give Michigan the edge due to the homefield advantage.
Michigan 27, Nebraska 24
Brian Christopherson covers Nebraska football for the Lincoln Journal Star. Follow him on Twitter @HuskerExtraBC
Kyle Meinke covers Michigan football for AnnArbor.com. He can be reached at 734-623-2588, by email at kylemeinke@annarbor.com and followed on Twitter @kmeinke.