Posted on
Thu, Aug 12, 2010 : 11:04 a.m.
Michigan football team's defensive unit bridges the language gap
By Michael Rothstein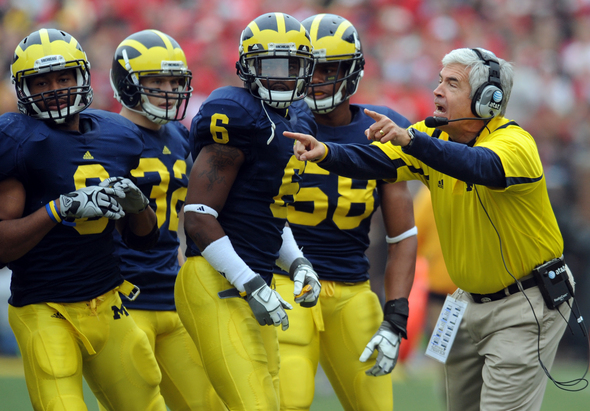 File photo
While football was the primary language on Michigan's defense in 2009, the Wolverines had something akin to British English vs. American English going on, kind of like England's "mind the gap" as opposed to the United States' "watch your step."
Greg Robinson, in his first year as the defensive coordinator at Michigan in 2009 brought his way of describing defensive sets and what he wanted from position coaches and players on certain calls from his time at Syracuse.
His then-new colleagues at Michigan spent years speaking in a coaching dialect handed down from West Virginia.
It led to a communication barrier and some of Michigan's defensive problems in 2009. While there wasn't much they could do about the speed and skill levels of the players once the season started, the coaching staff needed to communicate without needing a football translator.
"If you really think about it, if a coach is having to adjust on the move … I think it gets to be tough," Robinson said. "You don't know where the message is lost."
After Michigan finished 5-7 last year, falling apart on offense and defense during the Big Ten season, Robinson and Michigan head coach Rich Rodriguez had a discussion. English was the primary language.
The result: Robinson scrapped his terms in favor of the West Virginia-based language.
Implemented in the spring, questions no longer revolve around, "What the heck are you talking about?"
"It's been good for our players, because our coaches are comfortable," Robinson said.
While it would be easy to question why Michigan's coaches didn't realize this sooner or why the defensive assistants struggled with the translation during last year, give the Wolverines staff credit - and specifically Robinson -for being willing to compromise.
"I figure it's better for me to do that and so that everybody else, it's just, I can feel it," Robinson said. "I can see what it's done and we're able to get to the point quicker. "The message is delivered in a way where everybody can feel very comfortable."
That out of the way, Michigan can focus on its talent. The secondary is young and inexperienced, even more so with cornerback Justin Turner choosing to transfer Tuesday.
Replacing Brandon Graham on the defensive line is not going to be something one player can do. The linebackers, where Robinson is now also the position coach, underachieved a season ago and have to rediscover their swagger.
But hey, at least everyone understands each other.
"We simplify the defense, and (it) allows us to react instead of be thinking and seeing plays in front of us and still thinking, 'Can I go?'" senior cornerback Troy Woolfolk said. "It just allows us to react to something much sooner, which is also really pleasant, because we have a lot of young players out there."
The terminology change, combined with the typical in-team optimism every August brings regardless if you are Alabama or Eastern Michigan, leads Michigan to believe it will be better on defense.
"There's a strength in numbers," Robinson said. "If there's a number of guys that really feel comfortable with what they got going, we're going to be OK.
"I think they do feel that way."
Michael Rothstein covers University of Michigan basketball for AnnArbor.com. He can be reached at (734) 623-2558, by e-mail at michaelrothstein@annarbor.com, follow along on Twitter @mikerothstein or find him on Facebook.