Posted on
Tue, Nov 16, 2010 : 5:02 p.m.
The necessity of Wisconsin's lopsided win, how Ryan Kerrigan compares to Brandon Graham, football at Wrigley Field and more
By Pete Bigelow
A lot of people across the country thought No. 6 Wisconsin ran up the score against Indiana in Saturday's 83-20 game. Indiana coach Bill Lynch wasn't among them.
"I didn't have any problem," he said Tuesday. "I think it's our responsibility to stop them. We didn't do a good job of that and we didn't take care of the ball, and that's on us."
Case closed?
It's not that simple. Because BCS rankings could play a part in determining which Big Ten team plays in the Rose Bowl should there be a tie atop the league standings, Wisconsin had reason to make the margin of victory as lopsided as possible.
Wisconsin coach Bret Bielema said BCS standings and their role in potentially determining the conference representative played no part in his decisions Saturday - and they never will.
"People will raise an eyebrow to that after what we just did, but we had no intentions of that," he said. "It was a 10-10 game, and it unfolded very quickly."
Maybe consideration of the BCS didn't play a part in the outcome, but should it? Yahoo! columnist Dan Wetzel, author of the best-selling book "Death to the BCS," argues that playing in a flawed system, Wisconsin should have gone for 100 points.
"The smartest coaching move he could've made was purposefully dropping 83 points on Indiana and creating a wow-factor result," Wetzel writes. "Otherwise, the game would've been otherwise ignored by national poll voters who may hold the Badgers' Rose Bowl hopes in their distracted hands."
Melanie Maxwell I AnnArbor.com
KERRIGAN CAMPAIGN UNDER WAY
For a defensive lineman, football doesn't get much better than the four-sack, two-forced fumbles performance Purdue's
Ryan Kerrigan
enjoyed against a respectable Michigan offensive line last week.
He ranks second in the country with 11 ½ sacks, behind Clemson's Da'Quan Bowers, who has 13 ½. Kerrigan's 14 career forced fumbles ties the NCAA mark held by three players.
"He's one of the premier players in the country, not just our conference," Michigan State's Mark Dantonio said Tuesday.
Tuesday seemed like the unofficial start date of the Boilermakers' campaign to place Kerrigan on the first-team all-America squad and procure votes for his Big Ten Defensive Player of the Year candidacy.
One obstacle for Kerrigan might be the subpar season that Purdue (4-6 overall, 2-4 Big Ten) has endured. Good players on bad teams often get overlooked.
Just ask Michigan defensive end Brandon Graham, who was a second-team All-American in 2009 on a 5-7 team -- then drafted 13th overall by the Philadelphia Eagles in the NFL Draft.
"Even though we don't have a winning record, we've had a chance to win some games and a lot of it has to do with Ryan Kerrigan's performance on defense," Purdue coach Danny Hope said.
"He's kept our football team alive in games against top-level competition. That speaks volumes, more so than being a good player on a great team."
Michigan coach Rich Rodriguez, whose team Kerrigan just victimized, was more circumspect in his evaluation. Asked if Kerrigan should be the conference's defensive player of the year, he said he still needed to see Wisconsin's J.J. Watt and Ohio State's Cameron Heyward.
"Kerrigan is certainly all-Big Ten and probably all-American as well," Rodriguez said.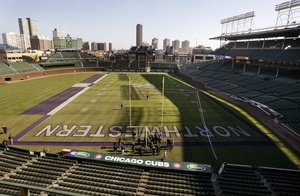 AP Photo
NEUTRAL-SITE WEEKEND
As a kid growing up on the South Side of Chicago, Northwestern coach
Pat Fitzgerald
would visit his dad downtown and then take the L to Wrigley Field for an occasional Cubs game.
As a college student , he worked security on a rooftop adjacent to the stadium for a summer, and watched approximately 40 baseball games.
Now, as Northwestern's football coach, Fitzgerald will coach on the sidelines Saturday at Wrigley Field. The venue will host the Wildcats' annual rivalry game against Illinois, an event two years in the making.
"It's just icing on the cake for rivalry," Fitzgerald said.
Limited space between the ivy-covered brick and the end zone was a concern when officials first scheduled the game, but Illinois coach Ron Zook said that worry has been alleviated.
"They've got it padded up pretty good," he said. "I jokingly told the wide receivers that they'll be ready for the Arena League. … It's tight, but I thought there's a lot of fields that have tight spots."
It's not the only neutral-site conference game this weekend: Indiana and Penn State will play at FedEx Field in Landover, Md.
"We've always recruited down there," Penn State coach Joe Paterno said. "We're not as successful as we used to be because Virginia Tech has become strong and Virginia is working at it and Maryland, what have you. … It's a good sports town."
Still, Fitzgerald thinks the Northwestern-Illinois game (3:30 p.m., ESPNU) is the marquee location.
"It's a bowl game here in Chicago, and no offense to you in other parts of the country, but this is the best sports town in the world," he said.
NEUTRAL SITES II Neutral-site games within Big Ten play are relatively infrequent, much less two on one weekend. Since 1990, only three conference games have been played at neutral sites.
The most recent came one decade ago when the Hoosiers and Nittany Lions met on Oct. 28, 2000 at the RCA Dome in Indianapolis.
The other two came nearly 20 years ago. Michigan State played Wisconsin in Tokyo, Japan on Dec. 4, 1993 and Northwestern faced Ohio State in Cleveland on Oct. 19, 1991.
Pete Bigelow covers the Michigan football team for AnnArbor.com. He can be reached at (734) 623-2551, via email at petebigelow@annarbor.com and followed on Twitter @PeterCBigelow.