Posted on
Sat, Oct 30, 2010 : 10 a.m.
Michigan football team savors opportunity to face Penn State in prime-time atmosphere
By Pete Bigelow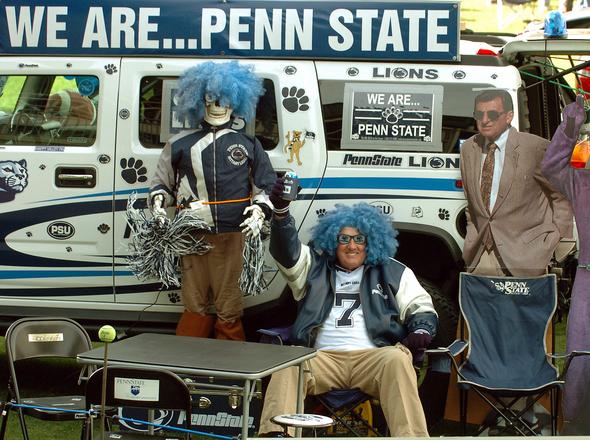 File photo
The Wolverines have waited two weeks for a chance to stop a two-game losing streak. A few more hours won't hurt.
Kickoff isn't until 8 p.m. today. The Michigan football team has a prime-time matchup against Penn State in Happy Valley on ESPN.
In their lone night game of the season, the Wolverines face a team in a similar quandary: Like the Wolverines, Penn State was once ranked in the Top 25 and now holds a two-game Big Ten losing streaks.
Both are eager to regroup in front of a national audience.
"I'm excited, because you don't have too many of these games in prime time," running back Vincent Smith said. "It takes me back to my high school games when we played on a Friday night."
The Wolverines (5-2 overall, 1-2 Big Ten) thrive in the night atmosphere.
Against No. 12 Iowa last year, Denard Robinson scored a late touchdown and underdog Michigan nearly upset the Hawkeyes at a rowdy Kinnick Stadium before falling, 30-28.
"I love the night games," linebacker Craig Roh said. "There's kind of an electricity about them. You take them more as a challenge, and you just feed off of that."
They'll face a similar atmosphere tonight. Penn State plans a "White Out" at Beaver Stadium, an atmosphere that devoured the Wolverines on their last visit in 2008, a 46-17 defeat.
Today's meeting will be the last chance the Wolverines have to notch a win against Penn State for a while - the schools don't face each other on the 2011 and 2012 Big Ten schedules.
The Nittany Lions (4-3, 1-2) have won the past two meetings with Michigan, but lost their last three night games. Michigan coach Rich Rodriguez can understand why.
Night games present an unusual challenge.
"The hard thing is just waiting around all day to play," he said. "you can watch football games all day, but your mind has to be ready. … You don't want to lie around all day in the room."
Position coaches will take their players for a walk near the team's hotel Saturday and the team will hold a walk-through.
Once the Wolverines get on the field, one of their first challenges will be adapting their game plan to Penn State's quarterback. Former walk-on Matt McGloin is expected to make his first career start.
Another possibility is sophomore Kevin Newsome, who also practiced this week.
Regular starter Rob Bolden, whom Rodriguez wooed during recruiting, will likely miss the game because of a head injury, although he's been cleared to play by doctors.
Penn State coach Joe Paterno said there's an outside chance he'll play Bolden. It will be a game-time decision. McGloin relieved Bolden during last week's win over Minnesota, completing six of 13 passes for 76 yards and two touchdowns. No matter who starts, Rodriguez expects the Nittany Lion offense to generally be the same.
"With Newsome in there, they'd probably run more a little, but I don't think they'll change much of what they do," he said. "If (Bolden's) clear, I think we'll see him first and I've been really impressed."
No matter who has been quarterbacking, the Nittany Lions offense has struggled this season. It ranks 10th out of 11 conference teams with a 20.3 points-per-game average. The team's once-dominant rushing attack, led by senior Evan Royster, ranks 10th as well, averaging 128.7 yards per game.
Michigan's defense has equally underperformed. The unit ranks last in the league in total defense, allowing 441.0 points per game - a struggle that hasn't been lost on Rodriguez.
"We're not going to stick our head in the sand and not think we don't have any issues," he said. "You learn why we did lose and correct those mistakes.
"But the doom and gloom and all that, we take the positives and build on those."
Pete Bigelow covers Michigan football for AnnArbor.com. He can be reached at (734) 623-2556, via email at petebigelow@annarbor.com and followed on Twitter @PeterCBigelow.