Posted on
Fri, Nov 25, 2011 : 4:35 p.m.
There comes a time when Michigan has to beat Ohio State, and that time is now
By Kyle Meinke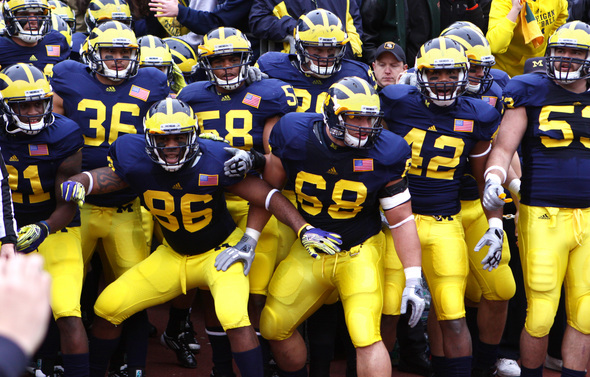 Jeff Sainlar | AnnArbor.com
Those who stay will be champions. Right?
Not for this class of Michigan football seniors. They stayed through a coaching change, and fifth-year players endured two, paying perhaps the greatest price of any Wolverines player in recent history to stay.
Their reward for sticking around for one of the most tumultuous three-year stretches in school history? They have never won a Big Ten title. They will never even play for one.
They will never beat Michigan State.
The only thing they have left to play for, as far as the standards by which Michigan players judge themselves: Beat Ohio State.
For as good as the 17th-ranked Wolverines (9-2, 5-2) feel about the direction of their program after their stunning turnaround this year, they will not truly be back if they cannot beat Ohio State on Saturday (noon, ABC) — no matter what players say.
"I wouldn't say the whole season rests on this game, as far as if Michigan is back or not," senior defensive lineman Ryan Van Bergen said this week. "It's another game. We want to win 10 games, we're on the brink, and that's all were focused on."
Don't buy it.
The Wolverines went 15-22 under Rich Rodriguez, and never beat Ohio State. In fact, they were outscored 100-24 and haven't beaten the Buckeyes since 2003.
A year ago this week, the question wasn't so much whether Michigan would fire Rodriguez as when they would do it. Ohio State, meantime, was amid securing a sixth consecutive Big Ten title and Sugar Bowl bid.
A year later, the tables have swung in Michigan's favor. It is 9-2 under first-year coach Brady Hoke, vaulting into BCS consideration, and Ohio State is spiraling toward a .500 season. It's under NCAA investigation and reportedly in talks with a new coach before this season has passed.
It's lost two in a row heading into the biggest game of the year, and has first-year (only-year?) coach Luke Fickell avoiding TV.
"If it is (on), it's probably 'Animal Planet' or something that the kids are watching," he said this week.
So, the question is, if the Wolverines can't beat Ohio State this year, when will they?
Hoke has built toward this game, wisely, in a way his predecessor never did. He installed countdown clocks around Schembechler Hall. He has broken each team meeting since he was hired with "Beat Ohio!" That is, after informing his players who Ohio actually was.
He pounded on a lectern in January, demanding he be judged by this game. And that, he shall.
The Wolverines already have lost seven consecutive times to the Buckeyes, a program record. Now, it appears Urban Meyer looms and the rivalry again will escalate on both sides.
This is the Wolverines' year, and they must draw a line in the sand. If they don't, it will be a major blemish on an otherwise successful season.
Nine wins or 10 wins? There's a difference, although only marginal, and this isn't about that.
It's about legacies. It's about a group of seniors who are 0-7 against the program's two biggest rivals and posted the worst season in school history. They'll be remembered more for that three-year run of mediocrity than a nine-win season.
Unless they can beat Ohio State. Unless they can lift Michigan into a BCS bowl. And then they'll be remembered for being the group that persevered long enough to end the school's longest-ever losing streak to its biggest rival. For restoring glory.
Seniors such as Van Bergen and David Molk called a January meeting, imploring their teammates to stick beside them through transition — something that did not happen as Rodriguez took over before their freshman season. It led to mass attrition, setting Michigan back several years.
This time, Van Bergen and Molk — players who have won no titles, who have never beaten Michigan State or Ohio State and will leave this school as some of the school's biggest losers in decades — wouldn't let that happen.
And now, as they sit on nine wins and the precipice of an invitation to the sport's biggest postseason stage, they must know what's on the line.
Everything.
PREDICTION
Let's not overthink this one: Michigan has better players and better coaching, and its defense against Ohio State's one-dimensional offense will be especially overpowering. The Wolverines showed the past two weeks they are strong against mobile quarterbacks — and QB Braxton Miller is the nucleus of OSU's offense.
Rivalries have a way of procuring the unexpected, and this one is no different. Underdogs have a history of scoring big wins. It's also possible the Buckeyes won't score a single touchdown against Michigan.
The Wolverines are just that much better, especially when Ohio State has the ball. As long as Michigan QB Denard Robinson doesn't commit multiple turnovers and the Wolverines rush with a modicum of success, they will win easily. And that's what will happen.
Michigan 24, Ohio State 10 (and berth in the Sugar Bowl)
Kyle Meinke covers Michigan football for AnnArbor.com. He can be reached at 734-623-2588, by email at kylemeinke@annarbor.com and followed on Twitter @kmeinke.