Posted on
Tue, Nov 2, 2010 : 3:12 p.m.
Third-down plays have the Michigan defense down and unable to get out
By Michael Rothstein
Penn State quarterback Matt McGloin lofted a pass. Considering the down and distance, the result shouldn't have been a surprise.
Wide receiver Graham Zug caught the ball in the front left corner of the Beaver Stadium field and scored, helping Penn State to a 41-31 victory on Saturday. Once again, the Michigan football team's defense came up short on its dreaded defensive down-and-distance.
Third and long.
A down most teams use as a pressure down - a reward for two good defensive plays - has been a mess for Michigan.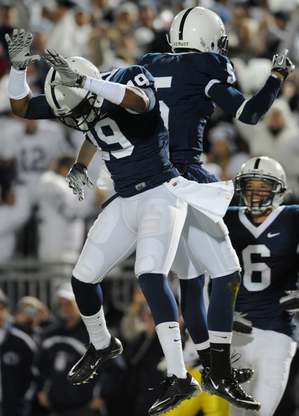 Melanie Maxwell | AnnArbor.com
When most teams face a third-and-long play, they have two options: Play it safe and improve field position or go for a first down. Against Michigan, anything is possible. A halfback gut run turns into a long gain. A corner route ends up boxing the defense into a corner.
This season, Michigan (5-3, 1-3 Big Ten) has forced opponents into third-and-10 or longer 31 times. Opponents converted for first downs nine times, a 29 percent success rate.
Big Ten opponents convert 48.3 percent (28-of-58) of third-down plays against Michigan. The Wolverines are 95th in the country in third-down conversion defense at 44.83 percent - but the long-distance disconnects are the most obvious.
"It's pretty clear we have struggled on third down," Michigan safety Jordan Kovacs said. "Just like turnovers, third downs are key parts of the game that we definitely need to improve on.
"I don't know what it is, why we're struggling with it."
Michigan was better last season on third-and-long. Through eight games with a similar schedule - seven FBS teams, one FCS team and the same Big Ten teams - Michigan allowed just five of 32 third-and-longs to be converted.
"If it was just one particular thing it would be easier to solve or try to solve," Michigan coach Rich Rodriguez said. "But it's almost been, or one particular guy, I wouldn't give you a guy's name, but it's been one guy (one time), one technique one time. Sometimes it's a call that didn't match up right. That happens.
"It's hard to pin it on one particular thing."
Rodriguez said his defensive staff met Monday morning about the issue. Rodriguez said he's going to work more this week with Michigan's defense in advance of facing a 5-3 Illinois team on Saturday (noon, ESPN).
Not that there are any easy solutions.
"It's not something you can improve on just in practice," Kovacs said. "It comes with game reps. And I think we've been getting a lot of reps and a lot of the young guys have been in those situations.
"The more we're in those situations, the more that we'll improve."
And once that is fixed, Michigan can go on to its next problem. It's 106th in the country in fourth-down conversion defense, allowing opponents to convert 13 of 19 times.
Michael Rothstein covers University of Michigan basketball for AnnArbor.com. He can be reached at (734) 623-2558, by e-mail at michaelrothstein@annarbor.com or follow along on Twitter @mikerothstein