Posted on
Sun, Feb 5, 2012 : 5:58 a.m.
Tight ends? A fullback? Michigan football team continues evolution with latest recruiting class
By Kyle Meinke
The Michigan football team's offense hummed along last year, hardly missing a beat despite installing a new spread-West Coast hybrid scheme.
But, there's no question offensive coordinator Al Borges -- and, by extension, head coach Brady Hoke -- still plans to eventually ditch the shotgun-heavy offense in favor of a more traditional pro-style scheme once quarterback Denard Robinson graduates.
That means, first and foremost, Michigan must restock at positions such as tight end and fullback, which were neglected under former coach Rich Rodriguez.
Borges said Michigan got what it needed in its latest recruiting haul, which includes two tight ends and one fullback. It's the first time since 2001 the Wolverines have taken at least three players from those two positions.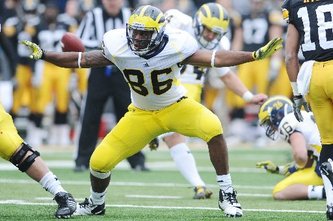 Melanie Maxell | AnnArbor.com
"I don't think there are any holes," Borges said Wednesday. "We're evolving still. As we go, we'll fill our needs and, if for some reason we didn't get a guy, or as many guys at one position (we would have liked), we'll just go out and get that position next year."
Borges said "it's always a challenge" to recruit tight ends and fullbacks for an offense that is not yet being run, but said his long track record with coaching pro-style offenses helped his sell.
"My history is such that it's easy," added Borges, who has coordinated offenses at nine schools spanning 25 seasons. "You can pull out things (on film). And there are things that are pro-style (in the offense already), so it's not far removed."
Michigan's only tight end commit in the previous three years was Chris Barnett in 2011, but he did not even make it through fall camp before leaving the program. That makes Kevin Koger and Brandon Moore, who arrived in 2008, the Wolverines' most recent tight end additions (although receiver Ricardo Miller has since been converted to the position).
Koger and second tight end Steve Watson completed their eligibility last season. Barnett's gone, as well, and Michigan also lost tight end Pharaoh Brown from its 2012 class.
That means the Wolverines' two-man tight end recruiting class is paramount to the future success of the new offense.
A.J. Williams of Cincinnati and Devin Funchess of Farmington Hills Harrison will be leaned upon, perhaps as soon as next year. The team's most experienced returner, the redshirt senior Moore, has only two career catches.
Williams could see the field first. He's 6-foot-6, 275 pounds and although his pass-catching lags, he could be plugged in right away as a blocking tight end.
Hoke called him "a very physical young lad at the point of attack."
"That position is so important and, with Kevin leaving, (he's needed)," added offensive line coach Darrell Funk, who dispelled rumors Williams might slide over to tackle. "A.J.'s a dominant run blocker and he's got a great skill set, but he's coming here to play tight end."
Funchess is more of the Koger mold -- an athletic, pass-catching tight end. However, he needs polish and bulk up (he's listed at 6-foot-4, 206 pounds, although Hoke said he's closer to 220) before he cracks the rotation.
"He's a little bit of a hybrid-type player, and I think he brings a lot to the table as a receiver," Borges said. "As he gets sturdier, more overall strength -- because he's explosive enough to be a good blocker, too -- as he gets bigger, he could be the total package."
Funchess and Williams are expected to have important roles in shepherding Michigan's transition from the spread to the pro-style offense, especially with the crater left on the depth chart by the departures of Koger, Watson, Barnett and Brown.
Same goes for Sione Houma, who is the Wolverines' first true fullback recruit since Saline High School's Vince Helmuth in 2007.
Converted tailback Stephen Hopkins will return next year for his junior season, and Houma likely will redshirt. But, he appears to be the heir apparent at fullback, considering the lack of options at that position
"Within the offense, we really need to get ourselves some fullback-type bodies," Hoke said. "He's an extremely strong, physical guy."
Kyle Meinke covers Michigan football for AnnArbor.com. He can be reached at 734-623-2588, by email at kylemeinke@annarbor.com and followed on Twitter @kmeinke.