Posted on
Fri, Dec 2, 2011 : 5:59 a.m.
The top 5 first-year coaching jobs in Michigan football history ... and Brady Hoke's among them
By Kyle Meinke
File photo
It took Michigan football coach Brady Hoke only one season to return the Wolverines to prominence, despite following the worst coaching hire in school history. The defense, likewise, made one of the greatest single-year leaps in the school's history.
Not bad for a guy who many considered a Plan B hire.
But where, exactly, does Hoke's first-year coaching job rank in the long, accomplished tradition of Michigan football?
AnnArbor.com assembled a list of the top five debuts among the Wolverines' 18 coaches -- and, yes, Hoke makes the cut.
Not to jinx the guy or anything, but the other four went on to do pretty well for themselves (three are Hall of Famers, and the other is a Michigan legend).
Without further ado, your first-year wonders: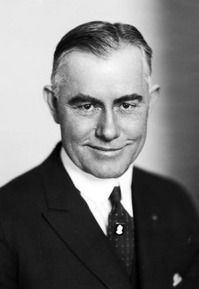 File photo
1. FIELDING H. YOST
Year:
1901.
Record: 11-0.
Titles: National, Rose Bowl.
Captain: Hugh White.
All-American: Neil Snow.
What happened: The first season of Yost's famed "point-a-minute" offense averaged 50.0 points per game — although one would have done just fine for Michigan to still go 11-0. Michigan was unscored upon in Yost's first season, and outscored opponents by a combined 550-0. It culminated with a 49-0 victory against Stanford in the first bowl game, the 1902 Rose Bowl, and the first of his four consecutive national titles. The season predates the modern era, sure, but its feats are too great to be ignored for the top spot. Simply put: They'll never be repeated (much to the chagrin of Greg Mattison).
What followed: Yost went on to have the longest tenure in program history, guiding the team through 1923 and again from 1925-26. His "point-a-minute" teams from 1901-05 outscored opponents 2,821-42, and went 56 consecutive games without a defeat, the second longest streak in history. His run helped give Michigan the lead in all-time wins, which the Wolverines still maintain to this day.
Legacy: Six national titles, 10 Big Ten titles, 165-29-10 record, inducted into College Football Hall of Fame.
-----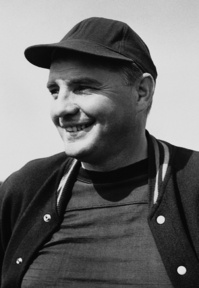 File photo
2. BENNIE OOSTERBAAN
Year:
1948.
Record: 9-0, 6-0 Big Ten.
Titles: National, Big Ten.
Ranking: No. 1.
Captain: Dominic Tomasi.
All-Americans: Richard Rifenburg, Pete Elliott, Alvin Wistert.
All-Conference: Dick Rifenburg, Wistert, Tomasi, Elliott.
What happened: Oosterbaan is the second -- and most recent -- coach in Michigan history to win a national title in his first year, and was named national coach of the year. The Wolverines' most-impressive victory was a 28-0 win against then-No. 3 Northwestern, which propelled them from fourth to first in the national rankings. They recorded five shutouts and allowed an impressive 4.9 points per game.
What followed: Oosterbaan won Big Ten titles in each of his first three seasons and went on to win the 1951 Rose Bowl, but never again had a season like his first. He lost fewer than three games just twice after his second season, and went 2-6-1 in his final season (1-5-1 in the Big Ten).
Legacy: 63-33-4 record, three-time first-team All-American as a player (as well as a two-time All-American in basketball and all-Big Ten baseball player), his jersey was the first to be retired by Michigan.
-----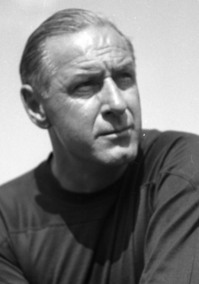 File photo
3. FRITZ CRISLER
Year:
1938.
Record: 6-1-1, 3-1-1 Big Ten.
Titles: None.
Ranking: No. 16.
Captain: Fred Janke
All-American: Ralph Heikkinen.
All-Conference: Heikkinen, Forest Evashevski, Tom Harmon.
What happened: Michigan's only loss was to Big Ten champ Minnesota by a 7-6 score, and the Wolverines tied Northwestern, 0-0. It fell half a game short of catching the Gophers in the Big Ten standings. This also was the first season with wings on the Michigan helmets, which Crisler employed to aid the passing game. It worked, as Michigan nearly doubled its passing yards, cut its interceptions by almost half and improved its completion percentage.
What followed: Crisler introduced the "two-platoon" system — a fancy way of saying offensive and defensive specialists — to football in general, and the winged helmet to Michigan in particular. He was, in other words, a revolutionary who had a significant effect on modern football despite most of his tenure pre-dating the modern era. His 1947 team is considered by some to be the greatest team in the history of Michigan football.
Legacy: 71-16-3, inducted into College Football Hall of Fame, finished lower than second in the Big Ten only twice, .805 winning percentage ranks him second in school history behind only Yost.
-----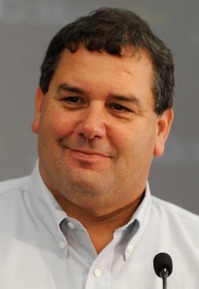 Melanie Maxwell | AnnArbor.com
4. BRADY HOKE
Year:
2011.
Record: 10-2, 6-2 Big Ten, pending bowl game.
Titles: None, pending bowl game.
Ranking: No. 17, pending bowl game.
Captains: David Molk, Kevin Koger, Mike Martin.
All-Americans: N/A (Haven't been announced, although none are expected to be first-teamers).
All-Conference: Molk, Martin, Taylor Lewan, Denard Robinson.
What happened: Hoke did not win a national title, nor did he win a Big Ten title. What lifts him to fourth on this list -- and one spot ahead of a key mentor -- is he was able to join Yost as the only coaches in Michigan history to win 10 games in their first season, despite facing the unique challenge of following the worst coaching hire in Michigan history. He has a chance to match Yost's first-season record of 11 wins in the Wolverines' impending bowl game, even though his team features mostly the same players who went 7-6 the year before and posted the worst defensive performance in school history. The Wolverines rocketed up to No. 9 in scoring defense under Hoke. He also ended a seven-year losing streak to Ohio State, the longest in school history.
What followed: N/A.
Legacy: It took Hoke only one season to bring winning football back to Ann Arbor, rescuing the program during a time in which some considered Michigan to be losing its footing as a national power. The rest of his legacy, naturally, is yet to be written.
-----
File photo
5. BO SCHEMBECHLER
Year:
1969.
Record: 8-3, 6-1 Big Ten.
Titles: Big Ten.
Ranking: No. 9.
Captain: Jim Mandich.
All-Americans: Jim Mandich, Tom Curtis.
All-Conference: Mandich, Phil Seymour, Curtis, Dan Dierdorf, Guy Murdock, Billy Taylor, Marty Huff.
What happened: Schembechler's first season culminated with a win against top-ranked Ohio State, which snapped the Buckeyes' 22-game unbeaten streak and secured an unexpected Big Ten championship for the Wolverines. It's considered the greatest win by the school's winningest coach, and ended a run of futility against the Buckeyes, much as Hoke did in his first year. Despite the upset of a top-ranked team, and the league title, Schembechler slides in behind Hoke because he inherited a team that went 8-2 the season before his hire and had returning stars such as Jim Mandich and Tom Curtis. His first season was exemplary, but Hoke's was more difficult to achieve.
What followed: Schembechler became one of the all-time greats, and established a winning tradition that, with the exception of the Rodriguez era, has kept Michigan among the nation's elite programs. He won Big Ten titles in five of his first six seasons, and eight of his first 10. He finished worse than second in the conference only four times in 21 seasons. He finished with more than four losses only once. The only blemish was his performance in bowls, where he lost his first seven bids and finished 5-12, and never won a national championship.
Legacy: Winningest coach in school history with 194 victories (as well as 48 losses and five ties), 13 Big Ten titles, two Rose Bowl wins, six-time Big Ten coach of the year, established Michigan as an elite program, inducted into College Football Hall of Fame.
Kyle Meinke covers Michigan football for AnnArbor.com. He can be reached at 734-623-2588, by email at kylemeinke@annarbor.com and followed on Twitter @kmeinke.