Posted on
Wed, Sep 15, 2010 : 10:55 a.m.
Top 5 Michigan football players through 2 games, besides Denard Robinson
By Pete Bigelow
Denard Robinson is a one-man show, accounting for 94 percent of Michigan's offense against Notre Dame, Rich Rodriguez is OK with that fact and Big Ten Network executives are about to spin-off "The Shoelace Show" for a sure-fire ratings bonanza.
Whew.
As much as Robinson dominated the talk, there are other Wolverines off to pretty good starts. Here's a look at the top five Wolverines, besides Robinson, through two games: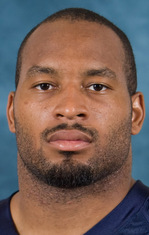 Jonas Mouton
Ever since Lloyd Carr recruited him, Michigan coaches and fans have waited to see Jonas Mouton fulfill his considerable potential. He finally is doing just that.
Against UConn, Mouton flashed a lot of sideline-to-sideline speed and registered eight tackles, including one for a loss. Against Notre Dame, he had a team-high 13 tackles, including one for a loss, one interception and one tipped ball that led to another interception.
"Man, I love having him on my side," cornerback J.T. Floyd said. "He's a heck of a football player."
Mike Martin
Martin doesn't have statistics that jump off the page, but that's not necessarily the role of the defensive tackle in Michigan's defense.
I can't say I've followed Martin every single play of the UConn and Notre Dame games, but when I have, he's drawn a double team on every play. Opponents are respecting him for a reason.
In the post-Brandon Graham era, he's the anchor of the defensive line.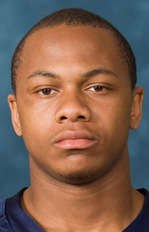 Roy Roundtree
How can you not include a guy who gets hit so hard he spits up blood, then essentially smiles and asks for more?
Roundtree sustained internal bruises after getting popped hard by the UConn defense, loved watching tape of the hit and then played against Notre Dame when he probably should have sat out.
Against the Irish, he had eight catches for 164 yards and a TD. His catch at the 2-yard line with 30 seconds left in the game, despite being smothered by a defender, set the stage for Robinson's game-winning score.
Roundtree also laid a nasty downfield block that sprung Robinson on his 87-yard touchdown run earlier in the game.

David Molk
Molk made it clear Monday while speaking with reporters that he doesn't like attention, doesn't like being ranked and doesn't like much of anything except hitting people.
It's good for him that he does that better than most. Molk's shown no signs of the foot and leg injuries that limited him to four games last year, and is back to being the glue that holds the Michigan offensive line together.
So far, the unit hasn't allowed a sack and paved the way for 575 rushing yards. Sure, part of that is Robinson's mobility, but there have been some awfully big holes out there, especially against UConn.
J.T. Floyd
He entered the season as Michigan's most experienced starting cornerback -- with all of three career starts under his belt.
There have been some uncertain moments. But Floyd is showing signs of being a playmaker in the secondary -- something Michigan decidedly lacked in 2009 when it finished 10th in the Big Ten with 16 takeaways.
Floyd jarred a fumble loose from UConn's D.J. Shoemate near the goal line that stemmed the Huskies' momentum, then had his first career interception against the Irish.
He had the unenviable task of going up against Notre Dame receiver Michael Floyd, who killed the Wolverines in 2009, but had just five catches for 66 yards last Saturday.
Pete Bigelow can be reached at (734) 623-2556 or e-mailed at petebigelow@annarbor.com. Follow him on Twitter @PeterCBigelow.