Posted on
Sun, Aug 29, 2010 : 6 a.m.
Top 5 things we think we learned about the Michigan football team in summer camp
By Pete Bigelow
With few exceptions, outsiders haven't had a peek at the Michigan football team's practices all summer. So it's impossible to say for certain how the Wolverines progressed over the past few weeks.
Combine the comments of coaches with the occasional snippet of information, though, and patterns emerge. Here's a look at a few of the storylines that emerged this summer, and a look at what we think we learned about Michigan:
1. The secondary is in trouble. Four years from now, this could be a terrific group. Safety Marvin Robinson headlines a promising class. But true freshmen aren't ready yet. "My biggest worry is my experience defensively," Rich Rodriguez said at media day.
"With young kids, you guys know, it's like having kids all in diapers right now instead of one in diapers and one a teenager," defensive backs coach Tony Gibson said.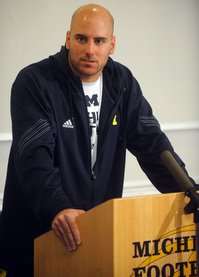 Melanie Maxwell | AnnArbor.com
2. Mark Moundros may start at middle linebacker.
That's a dramatic leap up the depth chart, to be even with Obi Ezeh and Kenny Demens.
Defensive coordinator Greg Robinson said that when he first arrived in Ann Arbor last year, he had mistaken Moundros, the team's fullback, as a linebacker when he saw him weight lifting.
At 6-foot-1, 233 pounds, he fits the mold, and this off-season Moundros made the position switch. When the Big Ten Network filmed a summer practice for its preview, commentators made note of the fact that Moundros played significantly with the first team.
3. Devin Gardner is the real deal. Maybe it won't be for a year or two, but Gardner is going to make a big impact on the Wolverines. He's got the size (6-foot-4, 210 pounds) and speed ideal for a prototype Rich Rodriguez quarterback.
(By comparison, Pat White was approximately 6-foot-2, 185 pounds at West Virginia under Rodriguez).
Asked about Gardner's progress this summer, his competitor Denard Robinson said, "Pssh, he'll play." Robinson paused, and his eyes opened as wide as saucers. "He's a player. He's a player."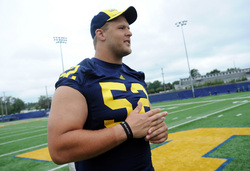 Melanie Maxwell | AnnArbor.com
4. There's depth on the offensive line.
Interior linemen Steve Schilling, David Molk and Patrick Omameh might be the strength of this team. The guys on the outside and on the bench aren't so bad either.
The Wolverines spent the summer examining different combinations at tackle. Mark Huyge will anchor one of the positions, and Taylor Lewan or Perry Dorrestein at the other. Michael Schofield is a capable backup.
Hard to imagine, but in two short years the line has gone from the most suspect unit on the team to the most stable and reliable.
5. Youth movement continues. By the third year of the Rich Rodriguez era, the Wolverines probably had hoped to fortify their ranks enough that upperclassmen dominated the depth chart.
With 18 returning starters, Michigan is getting there. But the youth movement will continue this fall. As many as 12 true freshmen have a shot at playing. That's a lot.
Want one to watch? Keep an eye on defensive lineman Jibreel Black. "He wears No. 55 and looks a little like BG at times," Rodriguez said, referencing the departed Brandon Graham. "But he's got a burst and some natural athletic ability. I've been really pleased with his progress."
Have a question about Michigan football? Email Pete Bigelow at petebigelow@annarbor.com or join him on Twitter @PeterCBigelow.