Posted on
Tue, Aug 9, 2011 : 11:30 a.m.
Top Michigan football cornerback Troy Woolfolk returns from devastating injury a faster, smarter player
By Kyle Meinke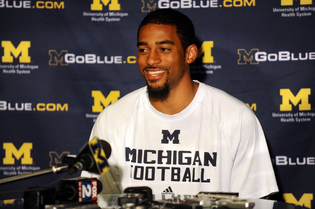 Melanie Maxwell | AnnArbor.com
One of the Michigan football team's most pressing concerns entering fall camp was whether top cornerback Troy Woolfolk would be at 100 percent after missing all of last season due to a devastating leg injury.
So, is he at full speed?
"Faster," the fifth-year senior said after Michigan's first fall workout Monday. "I pay more attention to the mechanics of running. I never worried about that (before the injury) because I always had the speed to catch up to people.
"When I first came back, I didn't have my speed, so I just tried to pay attention to the mechanics of things. Once my speed came back, I just tried to tie that in with my mechanics, so I'm faster than ever before."
Michigan would settle for getting back the Woolfolk of old. Anything more is a major plus.
The Sugar Land, Texas, native was expected to be the No. 1 cornerback last season, and would match up against opponents' top receiver — until he fractured his right fibula, broke his right ankle and tore several ligaments during an August practice.
Woolfolk was ruled out for the year, dealing a significant blow to the Wolverines' already-tenuous secondary because of various forms of attrition.
Perhaps the only thing that rivaled the physical pain of the injury was the emotional pain of watching his replacements struggle mightily in his absence — particularly after fellow starter J.T. Floyd went down with a season-ending injury of his own.
The decimated secondary was forced to play several overmatched freshmen and sophomores, and it showed. Michigan allowed 261.8 passing yards per game last year, 112th in the country, and posted the worst overall defensive season in school history.
Woolfolk is hungry to restore the Michigan defense to the level it was at when he first was recruited to play for the Wolverines under former coach Lloyd Carr.
"This is, strangely, one of the first times I've been excited going into camp, because you know what you have coming up in the next few weeks," he said. "Especially after last year, I just want to get back to the Michigan tradition, and the main thing about that Michigan tradition is winning.
"I just feel like we veered from that (under former coach Rich Rodriguez). I think we have a great chance to get back to that this year."
Woolfolk returned to the field late in the spring. The rust wasn't hard to see.
"I actually felt like I came back a little too early," he said. "I took a shot to my pride, because I tried to do 1-on-1s. It wasn't pretty. I felt like a freshman again, getting turned around and falling everywhere.
"But, I feel like it's been a good progression, and I'm back to 100 percent now."
Michigan quarterback Denard Robinson said last month during the Big Ten media days in Chicago that Woolfolk has hounded him during summer workouts.
"It's hard to go deep on Troy these days," said Robinson, who finished sixth in Heisman Trophy voting last year. "I tried to throw a couple deep, but he always seems to catch up to them."
A healthy Woolfolk would be a major boon to Michigan's chances of fielding an effective defense this year. Floyd also is back, there is a new 4-3 scheme that should help put more pressure on the quarterback and those freshmen and sophomores who took their lumps last year will be a year older.
Hoke said Woolfolk and Floyd are healthy, and won't be limited when the team starts wearing pads later this week.
"We're pretty doggone healthy," Hoke said.
Woolfolk said he thinks he is a more complete player after the arduous path he has followed to get back on the field.
"I didn't really pay attention to the mental aspect of the game (before)," he said. "I was just going out there trying to benefit off my athletic ability.
"I don't want to say I'm glad I broke my ankle, but to look at the bright side, I now understand why I have to play Cover-2, why I have to re-route the receiver outside."
The bottom line for Woolfolk? Helping Michigan get back to winning games.
"I feel like I experienced being Michigan by winning games (as a freshman)," Woolfolk said. "I feel like we kind of veered away a little bit.
"I feel like it's coming back."
Kyle Meinke covers Michigan football for AnnArbor.com. He can be reached at 734-623-2588, by email at kylemeinke@annarbor.com and followed on Twitter @kmeinke.