Posted on
Sat, Sep 3, 2011 : 9:48 p.m.
Toussaint makes most of opportunity as Michigan's No. 1 running back
By Nick Baumgardner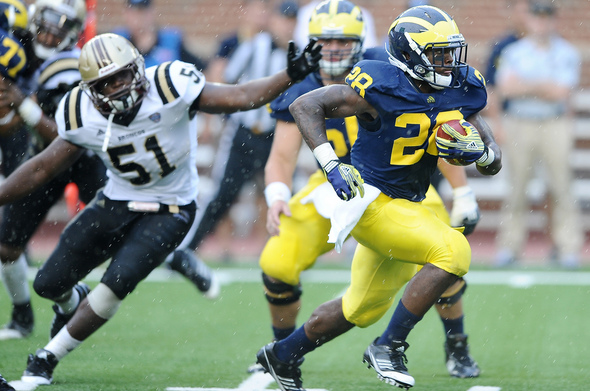 Melanie Maxwell | AnnArbor.com
Fitzgerald Toussaint saw an opportunity and ran with it.
With the Michigan football team taking control of what turned out to be a mutually agreed-upon, weather-shortened 34-10 win over Western Michigan on Saturday, Toussaint -- the newly anointed No. 1 running back in the Wolverines' new pro-style offense -- found a gap that ended any doubt.
"I was just running to daylight," the sophomore back said.
The 5-foot-10, 195-pounder from Youngstown, Ohio, showed a combination of speed and power on a 43-yard, third-quarter run that seemed to snap Western Michigan's spirit and cement his status as Michigan's feature back.
Even though his primary backup and main competitor in camp, Michael Shaw, followed the run with a 44-yard touchdown scamper of his own, Toussaint's run capped an 11-carry, 80-yard day that featured runs from the spread and power formations.
The 80 yards were seven shy of Toussaint's entire output in 2010, when he missed six total games due to injury.
Michigan coach Brady Hoke announced that Toussaint would be the team's No. 1 back Friday, just hours before the Wolverines kicked off the season.
After Saturday's performance, Hoke seemed confident in his decision.
"I thought he finished off fall camp real well; I thought he had a nice finish," Hoke said. "I thought Fitz ran the ball up in there pretty hard and took some guys on, which is what you want to see out of your back.
"If you noticed, on the one long run by Fitz, he lowered himself to go through a guy … that was exciting to me, that was good football to me."
Toussaint's solid performance Saturday not only gives Michigan a legit threat in its new pro-style scheme, but perhaps more importantly, it allows the Wolverines to lessen the rushing load taken on by junior quarterback Denard Robinson.
Robinson set an NCAA record in 2010 for rushing yards by a quarterback in a single season with 1,702 yards. Entering this season, offensive coordinator Al Borges said he'd like to limit Robinson's carries to 10 to 15 per game.
Robinson finished Saturday's game with 46 yards on eight carries --Â and said he was more than happy to defer to his lead back throughout the contest.
"I don't want to juice his head up too much, but Fitz is probably one of the best running backs I've played with," Robinson said. "He runs hard, makes guys miss and he's fast -- he's a good back."
Toussaint made the most of an opportunity in fall camp, made the most of it this Saturday and says that he feels that he's ready to continue that trend for the remainder of the season.
"It was a good experience for me," Toussaint said. "I just want to stay healthy and continue to keep pushing forward with my teammates."
Melanie Maxwell | AnnArbor.com
Woolfolk goes down with ankle injury
Senior cornerback Troy Woolfolk was set to make a return he waited a year to make Saturday after missing the entire 2010 season with a right ankle dislocation.
And while Woolfolk did start the game, he didn't last long --Â going down early in the second quarter with a left ankle injury.
Woolfolk had the ankle taped and was carted off the field before the half. He returned to the sidelines in uniform in the third quarter, but did not play again. Hoke didn't seem to be overly concerned afterward.
"He sprained (his left) ankle, and if we had needed him, he would've gone back in," Hoke said.
Despite missing the majority of the contest due to injury, Hoke said that Woolfolk still managed to make an impact.
"He got banged up there and all that, and he worked himself with the trainers," Hoke said. "You could keep hearing him on the sidelines encouraging both sides."

Hoke says hold outs will be back for Notre Dame

Prior to kickoff, Michigan announced that starters Ricky Barnum (left guard) and Cam Gordon (outside linebacker), as well as reserves Stephen Hopkins (running back) and Marrell Evans (middle linebacker) would not dress against Western Michigan.
Gordon missed the game due to injury. Barnum, Hopkins and Evans were held out due to "team issues."
Following the game, Hoke declined to elaborate much on the situation -- but when asked if the three players that were held out would be back for next week's game against Notre Dame, he replied with an affirmative.
"Yes," Hoke said simply.

Kickoff coverage dubbed "awful"

Hoke said Michigan has several areas that it needs to work on, kickoff coverage being one in particular.
Western Michigan averaged 31.3 yards per return, something Hoke said isn't acceptable.
"Kickoff returns were awful," he said. "On the one, the defense had been on the field for a long drive and (Brandon Herron) gets the pick and runs it back (for a touchdown). And there's a celebration, which you want to see because it's fanaticism for the game -- and a lot of them, no all of them, are on the kickoff team.
"I thought about taking a timeout, but we put some other guys in (instead)."

Big Ten trophy to visit Ann Arbor

ESPN.com's Adam Rittenberg reported earlier this week that the new Stagg-Paterno Big Ten football championship trophy will visit all 12 Big Ten schools this season. Â  The trophy will be in Ann Arbor on Oct. 1 when Michigan plays host to Minnesota. Â  Rittenburg wrote that the new trophy stands 30 inches tall, and features a removable silver-plated, hand-polished football with a mirror finish. Â  Rittenburg also noted that rather than handing out the entire 18-pound trophy to the eventual Big Ten champion following the conference's first ever title game on Dec. 3 at Indianapolis' Lucas Oil Stadium, conference commissioner Jim Delaney will instead present the winning team with the removable football.

Odds and ends

Hoke declined to pin all the blame of the team's blocked extra point on sophomore kicker Brendan Gibbons. "We got knocked back a little bit," he said. "And we'll correct that. … Michigan forced a total of three turnovers Saturday and committed none. Last season, Michigan finished 109th nationally in turnover margin. … The Wolverines committed only one penalty for 5 yards Saturday. Western Michigan countered with eight penalties for 50 yards.
Nick Baumgardner covers Michigan sports for AnnArbor.com. He can be reached at 734-623-2514, by email at nickbaumgardner@annarbor.com and followed on Twitter @nickbaumgardner.