Posted on
Fri, Aug 27, 2010 : 12:46 p.m.
Trashing the Michigan-Ohio State football rivalry, the case for Tate Forcier and Jon Falk's book
By Pete Bigelow
With due respect to Michigan State and Notre Dame, there really is only one rivalry.
Ohio State and Michigan's annual meeting defines the legacies of its coaches and players, schools and states. It's more than a fixture on the late November calendar.
It's a destination on the calendar.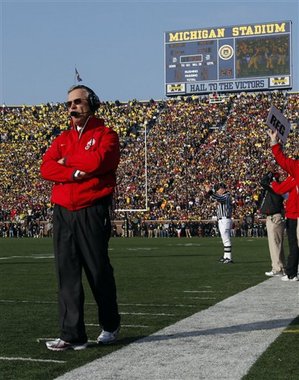 Associated Press
Survive the Big Ten schedule, and there's still the biggest test of all waiting at the end. Suffer through an early slump, and there's still a chance to save the season by spoiling the other team's season at the last possible minute.
By now, you already know that tradition is about to be trashed in the name of … well, what exactly?
Even if the two schools are placed in separate divisions in the Big Ten's upcoming alignment, they'll still face each other once a season in a preserved "cross-over" game.
Scheduling the cross-over for the final week of the season seems relatively easy enough - except conference officials want to avoid the possibility Ohio State and Michigan face each other in back-to-back weeks should they both win divisions and reach the new Big Ten championship game.
So the regular-season matchup will be forever diluted to preserve the mere possibility of a championship game matchup.

This arrangement isn't official yet, but it might as well be. Michigan athletic director Dave Brandon and Ohio State president E. Gordon Gee have already been making the media rounds, getting an early jump on tempering the outcry before the official decision is announced.
Moving the game won't ruin it. Reporters will still cover the game, fans will still pack stadiums and the Big Ten will still reap television profits.
But moving the game strips it of its importance, and cheapens one of the country's great sports events. In the middle of October, Ohio State-Michigan isn't a destination. It's just another conference game.


Making the case for Tate Forcier
After Denard Robinson's sensational spring and Tate Forcier's summer-long struggles, it makes sense that momentum has swung in Robinson's favor for Michigan's starting quarterback job.
Let's not be so quick to cast Forcier aside.
He started all 12 games as a true freshman in 2009, often playing with a bum shoulder and other assorted injuries.
This was not 2004 when Chad Henne started as a true freshman. Henne inherited an experienced offensive cast, led by a sturdy offensive line and receivers Braylon Edwards, Jason Avant and Steve Breaston.
For Forcier, it was the blind leading the blind. An inexperienced an oft-injured offensive line, a rotating cast of receivers, some split series with Robinson.
Forcier didn't have it easy.
Michigan nonetheless finished the season with the Big Ten's third-ranked scoring offense. Twice, he led comeback drives in the final minutes that resulted in wins over Notre Dame and Indiana.

Robinson may indeed be the more talented of the two. He certainly has more speed.
But the most important question for the Wolverines and a coach whose job may hinge on this season may not be which quarterback has the most long-term potential, but the one who has the best chance to win right now.
Catching up with U-M equipment manager Jon Falk
There are dozens of books that detail the on-field exploits of the Michigan football team. There aren't many that tell readers what occurred on the sidelines or in the locker room after the Wolverines' biggest games.
"If These Walls Could Talk" does just that.
The book, written by Jon Falk, Michigan's long-time equipment manager, was released earlier this month and contains a treasure trove of colorful anecdotes fans won't find anywhere else.
"The history that's in this book is so much different than what the history books are going to say," Falk said.
Falk, who has been with the team since 1974, shared a few of the stories in his book with me last week.
One involved a request from many years ago. Bo Schembechler wanted Falk to purchase him a new pair of headphones because he couldn't hear on the sidelines.
Falk followed the instructions and bought a $350 set, a premium model at the time reserved for airline pilots. The equipment manager gave the coach the headset, along with some instructions of his own.
"'Here's the thing,' I told him," Falk recalled. "'You can't throw it on the ground.' Bo looked at me and said, 'Well, Jon, I don't throw headsets on the ground.' And I said, 'Well let me tell you, if you're not, there's somebody out there who looks just like you giving you a bad name.'"

Sure enough, on game day a questionable officiating call had Schembechler steamed and reaching for his headset. Falk jumped onto the field and stood in front of the angry coach.
"Bo lifts his headset up and says, 'Damn you, Jon,' and puts his headset back on," Falk said.
In talking about his book, I asked Falk if, after 36 years, the seasons blurred and the memories faded when it came time to actually sit down and write.
Not in the least.
After my question, Falk immediately recalls a punt blocked in the 1984 Ohio State game, Earle Bruce's final game at Ohio State in 1987 and more. He remembers everything, especially the Ohio State games.
"Every one of them," Falk says. "The Ohio State games are ingrained in your heart and in your mind. Every one, you remember every one of them."
Maybe Jim Delany should take note.
Tweet of the week
"Tampering with the Ohio State-Michigan game is the worst thing to happen in the history of college sports." - treblig.
This week's mailbag
Q: What did you think of the radio reporter who wore a Florida hat to the Arkansas press conference a few weeks ago? - Kevin, Minneapolis.
A: Kevin, I never want to see anyone lose their job, but the Renee Gork's hat-wearing was, at best, careless and unprofessional.
Same goes for the opposite situation, incidentally. Had she worn a Razorbacks hat, it would have been just as bad, although I'm not sure Bobby Petrino would have minded as much.
Q: My wife and I are coming to Ann Arbor for the first time for the UConn game on Sept. 4. Where should we eat? What should we do? - Eddie, California.
A: Eddie, you'd probably get a different answer from every person you ask, but in my book, you can't go back to California without eating a reuben from Zingerman's Deli on Detroit Street in Kerrytown.
Be aware: You will probably pay $15 for that sandwich and a drink and on a game weekend, you might stand in line a while for the privilege. But once you get the sandwich, you won't be disappointed.

Have a question about Michigan football? Email Pete Bigelow at petebigelow@annarbor.com or join him on Twitter @PeterCBigelow.